(UPDATED) A fake website article is spreading on Facebook (FB), marketing a nutritional supplement the Philippine Heart Center (PHC) supposedly developed and endorsed by a local cardiologist.
The website ph.mednewspro.club, which used the logo and name of the PHC, claimed in its article that a particular product called "Heart Keep" cleanses blood vessels and extends one's life by 12 to 17 years.
It also mentioned that the PHC allegedly developed the supplement in 2015 and featured a one-on-one interview supposedly with Dr. Rody Sy, a multi-awarded and pioneering cardiology expert, endorsing the product.
These claims are bogus. In a July 18 email correspondence with VERA Files Fact Check, the PHC said: "The hospital strongly denies developing any such medication due to the fact that the hospital does not possess the capability to independently develop and produce drugs."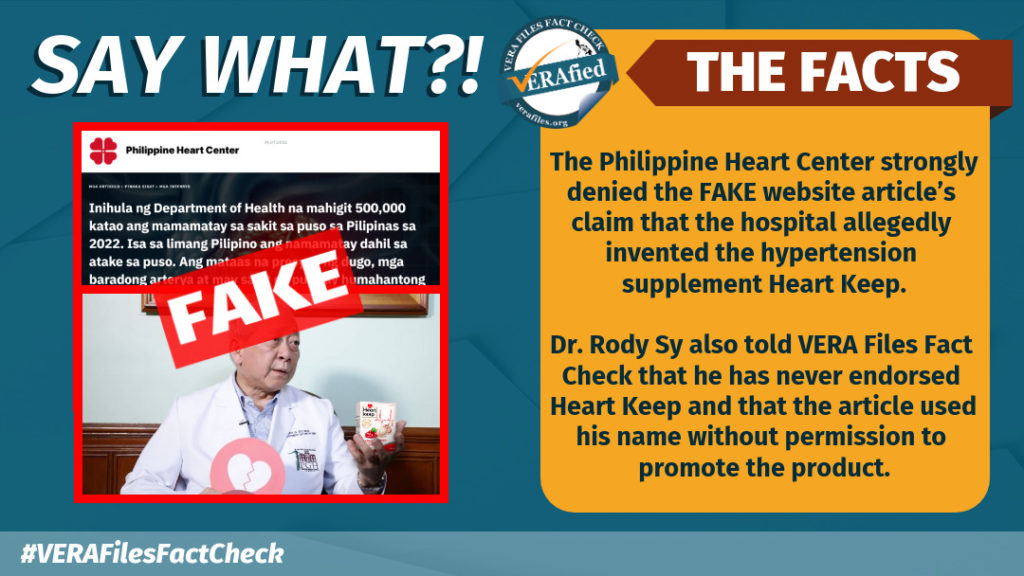 Meanwhile, in a July 18 phone interview, Sy told VERA Files Fact Check he is not involved with Heart Keep and that the fake article has been using his name to promote the product for "more than a month already."
"So many patients have been calling me – (as well as) friends and relatives – asking me if this is true or not. I've been denying it," Sy said.
Further adding to the deception, the website grabbed a frame from Sy's February 2020 interview with the Department of Science and Technology and manipulated it to make it look like he was holding the "Heart Keep" product.
The PHC also pointed this out in its email response, saying the product was not mentioned "in any way, shape or form."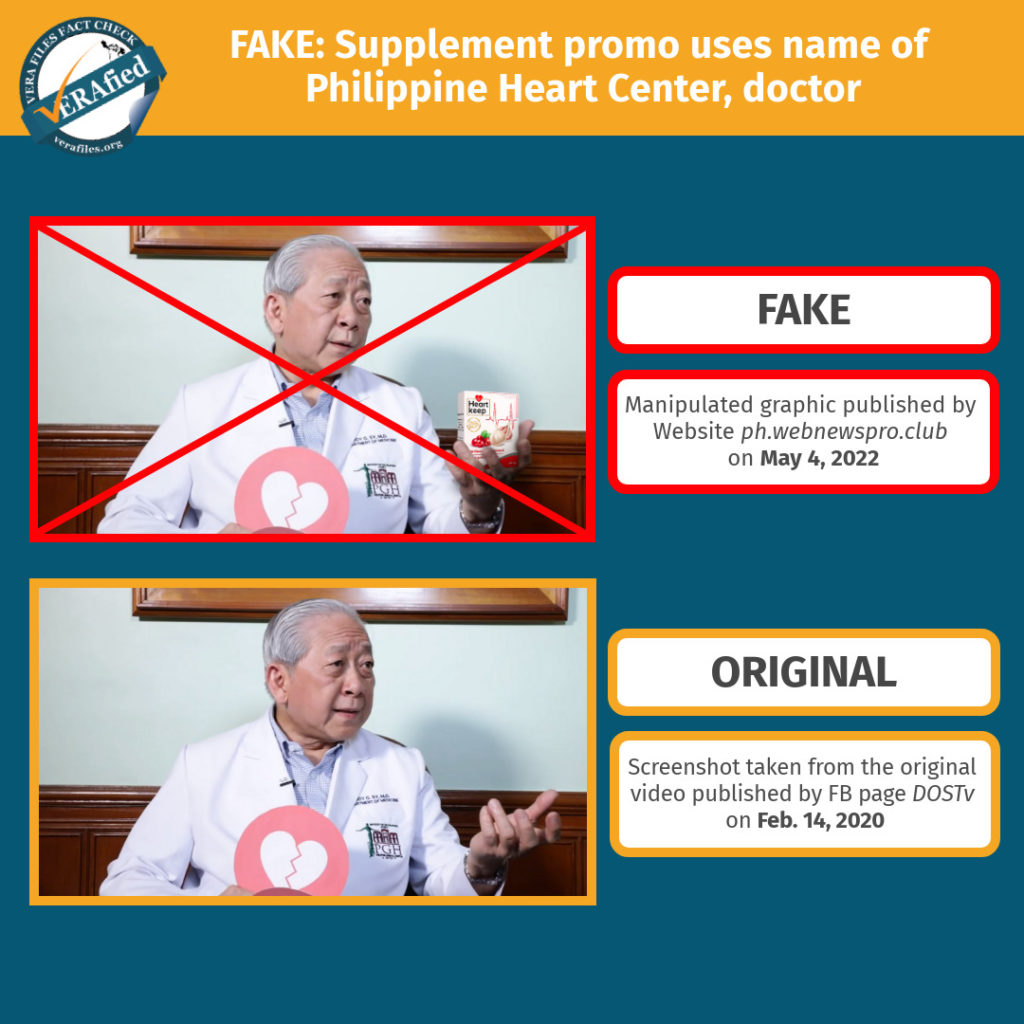 Heart Keep is not in the Food and Drug Administration (FDA)'s Verification Portal, which carries a list of all foods and drugs in the country with a certificate of registration.
In July 2020, the FDA issued a warning against the purchase and consumption of the unregistered food product, stating that the agency cannot assure the supplement's quality and safety.
Sy, a member of the National Academy of Science and Technology (NAST), said other bogus articles promoting a different product have been using his name without permission. NAST issued a public advisory on June 7, calling the online posts fake and encouraged the public to get their information only from credible and verified sources.
The made-up article, originally published on May 20, continues to circulate this week, garnering more than 67,800 recent views on FB. Its top traffic generators are FB pages Sharp Jayson Mark 5461 (created on May 22, 2022), Innate curve (July 11, 2022) and Deef (July 11, 2022). Aside from their profile pictures, all three FB pages have not posted any other content.
(UPDATE: On Jan. 18, 2023, VERA Files Fact Check flagged two other articles that carried the bogus interview with Sy. Instead of HeartKeep, the articles promoted a product called Friocard. Based on FDA records, there is a product of the same name registered as a "food product" but it was not developed by the PHC and neither is it stated that it is meant to cure hypertension.)
Have you seen any dubious claims, photos, memes, or online posts that you want us to verify? Fill out this reader request form or send it to 'VERA, the truth bot' on Viber.
(Editor's Note: VERA Files has partnered with Facebook to fight the spread of disinformation. Find out more about this partnership and our methodology.)