A Facebook (FB) post resurfaced a claim that had been debunked in 2016 about former presidential sister Kris Aquino "frequently" wearing jewelry sequestered from former first lady Imelda Marcos.
On July 3, an FB page uploaded a video bearing a false headline which read: "Nakakagulat! Buong Detalye sa mga Alahas ni Imelda Marcos Na Madalas Suot ni Kris Aquino! (Shocking! Full details on the Imelda Marcos jewelry frequently worn by Kris Aquino!) #KrisAquino #imeldamarcos"
However, the video's voice over did not support the false headline, and instead belied the claim by citing pieces of evidence to prove that Aquino never got any sequestered jewelry from the Marcoses.
The video's introduction contained three photos: Marcos wearing several jewelry pieces, a diamond necklace from the Roumeliotes Collection – one of the three Marcos jewelry sets secured by the government – and Aquino donning a similar-looking necklace.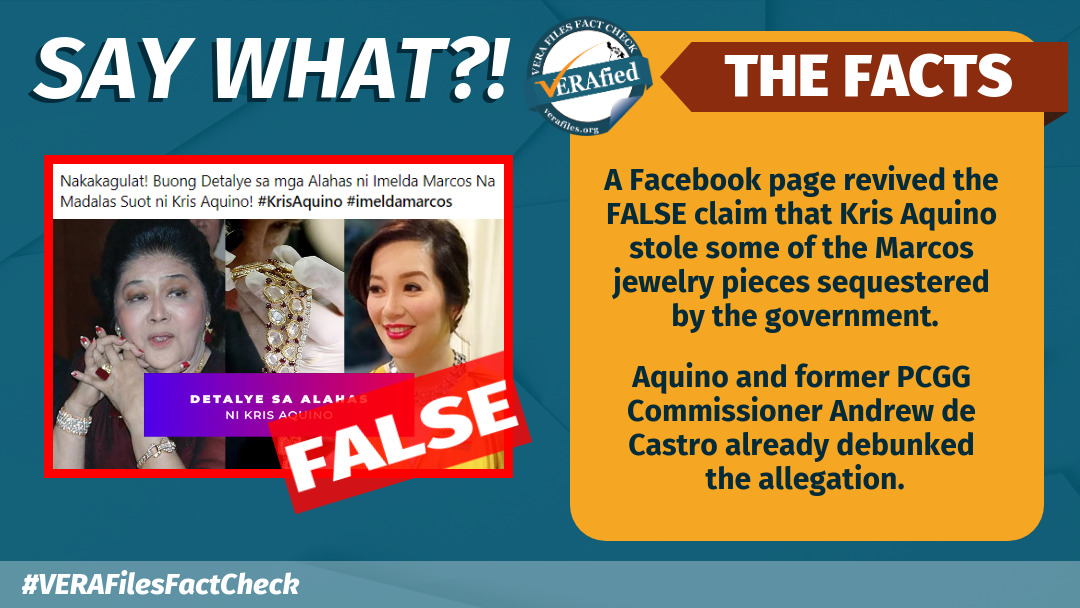 Andrew de Castro, former commissioner of the Presidential Commission on Good Government, said in 2015 that it is "impossible" for Aquino to have the necklace since all the sequestered jewelry pieces are stored in a high-security vault in the Bangko Sentral ng Pilipinas. He also said the Marcos necklace "looks completely different" from Aquino's.
Aquino had debunked the allegation in a now-deleted October 2016 Instagram (IG) post. She clarified that she paid for her necklace with her "hard earned" money and further said "trolls" should stop "perpetuating lies" about her.
VERA Files Fact Check debunked a similar claim earlier this year. (Read VERA FILES FACT CHECK: FALSE posts claim Aquino wore Marcos sequestered jewelry)
The video came a few days after Aquino shared the latest on her health condition in a June 30 IG post. Snippets of the video show Aquino undergoing several blood tests and procedures for the treatment of her autoimmune disease.
The video with the incorrect headline was published by FB page Showbiz Philippines DAILY News (created on May 15, 2020) and has received more than 4.2 million views. It also garnered more than 78,000 reactions, 15,000 comments and 10,000 shares.
Have you seen any dubious claims, photos, memes, or online posts that you want us to verify? Fill out this reader request form.
(Editor's Note: VERA Files has partnered with Facebook to fight the spread of disinformation. Find out more about this partnership and our methodology.)