A screenshot of a Facebook (FB) post erroneously claims Vice President Leni Robredo slept in an airport lounge for five hours. The sleeping woman in the photo is actually her daughter.
On May 15 and 16, several FB pages published a screenshot of an erroneous post where a woman in pink can be seen sleeping with a caption that read: "Habang naghihintay ng flight papuntang US para umatend ng graduation ng kanyang anak na si Jilian ay natulog si VP Leni Robredo sa mga upuan sa airport ng 5 oras. (While waiting for their U.S. flight to attend her daughter Jillian's graduation, VP Leni Robredo slept on the airport seats for 5 hours.)"
One of the posts bore the caption: "This is exactly the reason why you lost, and lost big time. Too much fakery. Over the top hypocrisy. As if naman ung naka-assign sa iyong PSG (being incumbent VP) eh papayag sa ganyang condition mo? As if walang VIP lounge ang airport para sa mga katulad mo? (As if your PSG detail, being the incumbent VP, will allow you to be in that condition? As if there's no VIP lounge in the airport for people like you?)"
The person in the photo is actually Tricia Robredo, the vice president's second daughter, sleeping during a 5-hour layover en route to New York. The vice president published the image in her Instagram story with the text tagging her daughter: "Parang galing duty lang (Just like coming off from duty) @jpgrobredo"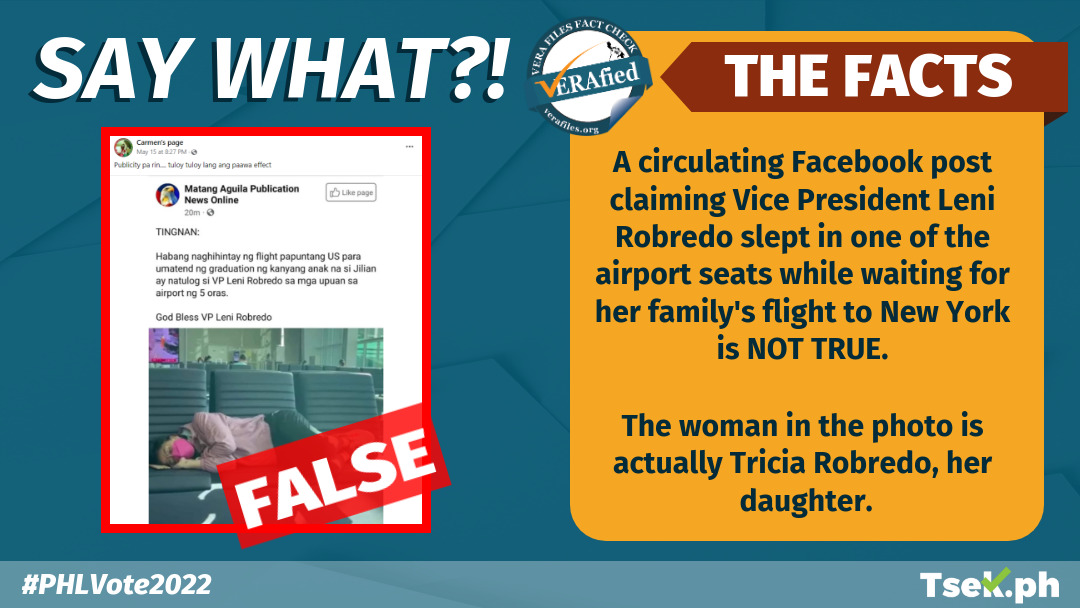 The screenshot was from a May 15 post of FB page Matang Aguila Publication News Online. The FB page has since edited its caption, deleting the part where it claimed the vice president was the one asleep on the airport bench after a barrage of criticisms from netizens.
Still, commenters called Robredo a "hypocrite" for supposedly pretending to sleep and daring to stage a photo-op during her flight to New York together with her daughters.
Robredo announced in a May 14 post on her personal FB page that her family is flying to New York to attend daughter Jillian's graduation in New York University while also taking a "well-deserved rest" before resuming her duties as vice president.
The misrepresented photo was published by FB page Carmen's page (created on Nov. 11, 2021), Punyeta 2.0 (Sept. 25, 2016), VP Leni's Spaghetti and Catering Services (Feb. 2, 2021) and Tekamots Yorme (Aug. 1, 2019). Their posts have collectively garnered more than 1,840 reactions, 410 comments, and 110 shares.
Have you seen any dubious claims, photos, memes, or online posts that you want us to verify? Fill out this reader request form.
(Editor's Note: VERA Files has partnered with Facebook to fight the spread of disinformation. Find out more about this partnership and our methodology.)