Netizens reuploaded a snippet of a YouTube video containing claims about the Marcos family wealth that is without basis.
A TikTok user and Facebook page Kristine DIARY (created on Oct. 11, 2020) shared on April 19 and May 16, respectively, an excerpt of an April 20, 2021 video produced by YouTube channel Tuklas ni Kulas (May 28, 2020), with the following claims: 
Former president Joseph Estrada was nearly impeached for almost signing the last will and testament of the late dictator Ferdinand Marcos Sr. to distribute wealth to Filipinos; and

Filipino hero Jose Rizal lived until 1974 and handed over to Marcos Sr. wealth allegedly owned by a Rev. Dr. Floro E. Garcia. 
Estrada was impeached based on a complaint accusing him of bribery, graft, and corruption, among other charges. History has established that Rizal died by firing squad on Dec. 30, 1896.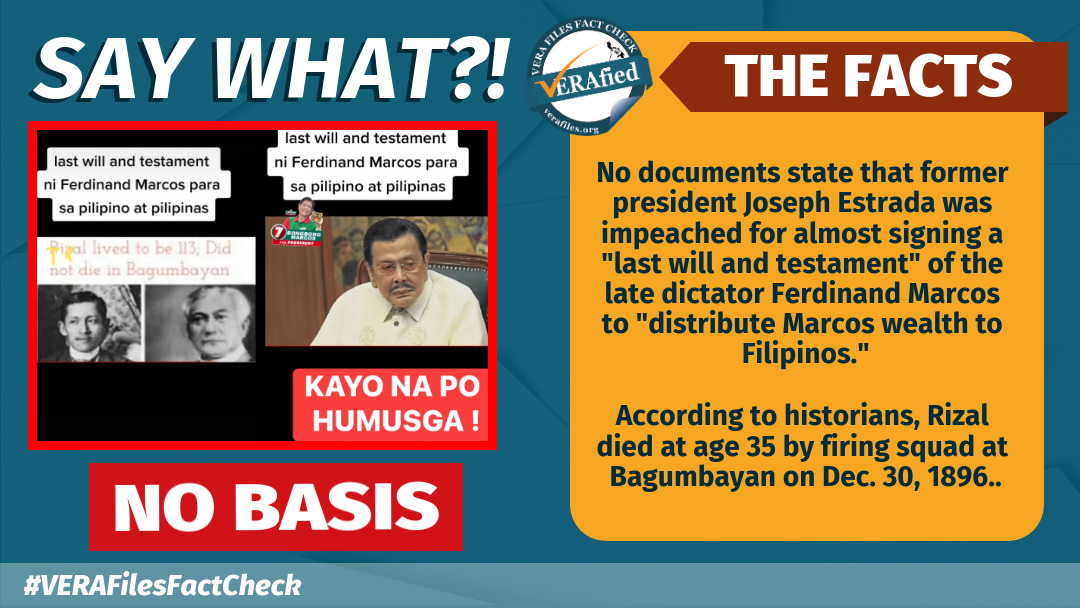 On Estrada being impeached 
There is no record of Estrada "close to signing a last will and testament" of Marcos, which allegedly provided for the distribution of the Marcoses' wealth to the Filipinos. And he did not face impeachment related to it. 
The impeachment case against Estrada stemmed from accusations of bribery, graft and corruption, betrayal of public trust, and culpable violation of the Constitution, which led to his removal from office in 2001.
For the claim to be more convincing, the video included part of a 1998 Associated Press clip where former first lady Imelda Marcos addressed senators to help establish a Marcos humanitarian foundation as part of her late husband's "last will and testament." 
[Read: VERA FILES FACT CHECK: Netizens revive MISLEADING video about Marcos wealth, foundation]
On Rizal dying in 1974 and giving wealth to Marcos 
It was impossible for Marcos to have received wealth directly from Rizal, who died by firing squad at 7:03 a.m. on Dec. 30, 1896 at Bagumbayan, according to a timeline produced by De La Salle University professor Xiao Chua. 
The remains of the Filipino martyr were exhumed on Aug. 17, 1898 upon the request of his sister Narcisa. Custody was transferred to the Rizal family.
The video also claimed that Marcos received wealth said to be the property of alleged priest and doctor Floro Garcia. Historian Ambeth Ocampo, who wrote a column on the same claim, described such videos as "ridiculous." 
A cursory search reveals that this claim came from a 2021 Facebook post which allegedly carries legal documents of unknown origin.
Kristine DIARY's clip had over 184,200 interactions, while the TikTok clip post it reuploaded received more than 42,300 views. The YouTube video by Tuklas ni Kulas, the source of both clips , has almost 798,500 views.
Imelda Marcos previously promised to distribute the family's wealth to the Filipino people. Ferdinand "Bongbong" Marcos Jr has dismissed criticisms about his family's ill-gotten wealth as "fake news."
Have you seen any dubious claims, photos, memes, or online posts that you want us to verify? Fill out this reader request form.
(Editor's Note: VERA Files has partnered with Facebook to fight the spread of disinformation. Find out more about this partnership and our methodology.)