As the world grapples with coronavirus disease (COVID-19), a netizen published a false post claiming United States President Donald Trump has announced that a multinational pharmaceutical company will be launching on "Sunday" a vaccine to treat the disease that is now a pandemic.
The untrue post features a 28-second clip uploaded on March 18 by a Facebook user showing an NBC News broadcast where Matt Sause, president and chief executive officer of Roche Diagnostics in North America was speaking at a press conference in front of the White House while standing next to Trump.
A graphic above the clip reads, "now, direct Trump announced that Roche Medical Company will launch the vaccine it invented next Sunday, and millions of doses are ready from it!!! –the end of the play."
The post also carries this caption: "Great news for everyone. Carona (sic) virus vaccine invented."
The video does not show either Sause or Trump announcing the launch of a vaccine to fight SARS-CoV-2, the virus behind COVID-19.
The short clip — lifted from NBC News' 80-minute live coverage of Trump declaring a national emergency in the U.S on March 13 — shows Sause thanking the U.S. Centers for Disease Control and Prevention (CDC) and the Food and Drug Administration (FDA) for authorizing the emergency use of Roche's newly developed SARS-CoV-2 testing kits.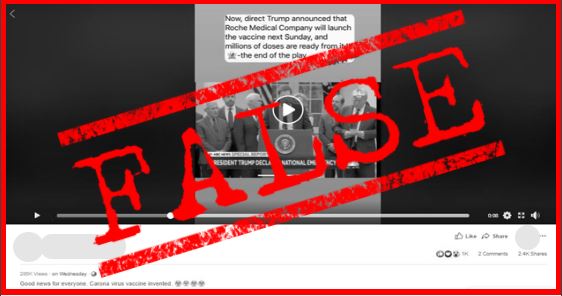 A March 12 press release on the company's website says the FDA has issued an Emergency Use Authorization (EUA) for their testing kits, meant to detect positive cases of COVID-19. The EUA means the kits are not yet cleared or approved by the FDA but are authorized for use in laboratories given the current emergency.
Roche's testing kits can supposedly provide up to 96 test results in about three-and-a-half hours, the news release read. There are currently over 55,000 confirmed COVID-19 cases detected in the US, according to a Johns Hopkins case tracker.
In the Philippines, the Research Institute for Tropical Medicine (RITM), which conducts tests on suspected COVID-19 patients, takes 24 to 48 hours to produce test results.
The false FB post surfaced following reports that American pharmaceutical company, Kaiser Permanente, started conducting on March 16 the first trial of a coronavirus vaccine in humans in the U.S.
The netizen's false and misleading post has already been shared over 2,700 times, gained over 1,100 reactions, and viewed more than 311,000 times since March 18.
(Editor's Note: VERA Files has partnered with Facebook to fight the spread of disinformation. Find out more about this partnership and our methodology.)