A video posted on Facebook (FB) claims to show a gas station in Israel exploded by Iran amid the ongoing Israel-Hamas conflict. This is false. The video actually shows a gas station in Russia that caught fire in 2014. 
Posted on Oct. 28, the one-minute, 25-second clip captured how the fire started and spread throughout the establishment. It bore this text: "Iran attack on Petrol pump Israel. Israel today."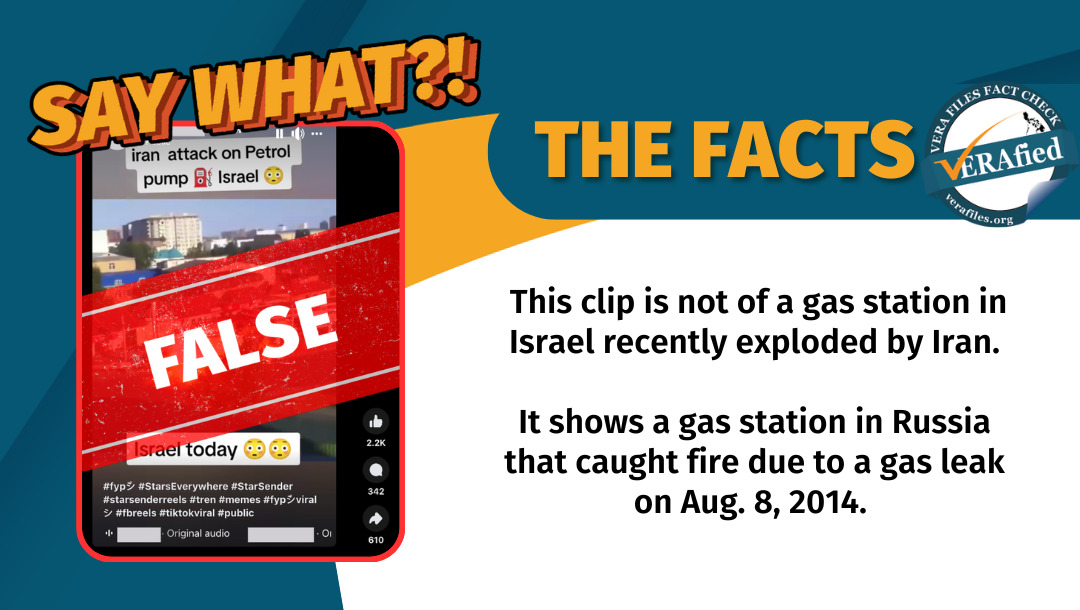 The original and longer clip of this video was uploaded on YouTube by a Russian news agency RIA Dagestan on Aug. 9. 2014, a day after an explosion caused by methane leak at a gas station in Russia's Dagestan region.
Reuters has also flagged an altered version of the clip passed off as footage of a Direct Energy Weapon in action last August.  
The circulating clip of the explosion is a mirrored and cropped version of the original with a siren sound added and falsely described as an incident related to the ongoing conflict between Israel and the Palestinian militant group Hamas. 
Iran has a regional alliance with Hamas, Syria and the Shi'ite Islamist group Hezbollah in Lebanon, opposing United States policies in Israel and the Middle East. 
According to Iran's United Nations Ambassador Amir Saeid Iravani's statement to CNN on Nov. 9, Iran was not directly involved or consulted on Hamas' Oct. 7 attack on Israel, despite them providing the group financial support. 
VERA Files previously debunked a video claiming to show Iranian aircraft targeting Israel. (Read Video is an air show rehearsal, NOT Iran attacking Israel)
The reel uploaded by a FB user garnered 2,200 reactions, 342 comments, 610 shares and 94,000 views.
Have you seen any dubious claims, photos, memes, or online posts that you want us to verify? Fill out this reader request form or send it to VERA, the truth bot on Viber.
(Editor's Note: VERA Files has partnered with Facebook to fight the spread of disinformation. Find out more about this partnership and our methodology.)