Several Facebook (FB) pages published a graphic claiming Senator Imee Marcos said in an interview that "four hours of sleep is enough for [her]." This is fake. She never made that statement.
The graphic, which started to circulate on Feb. 11, cited as source a supposed 2017 interview Marcos had with TV host Toni Gonzaga entitled "The Insomniac Governor." It read: "I am a certified insomniac. Four (4) hours of sleep is enough for me. Most of the time, I work, work and work, alam yan ng mga tiga-Ilocos Norte (people from Ilocos Norte know that)."
The quote card also bore the old logo of British media organization Sky News.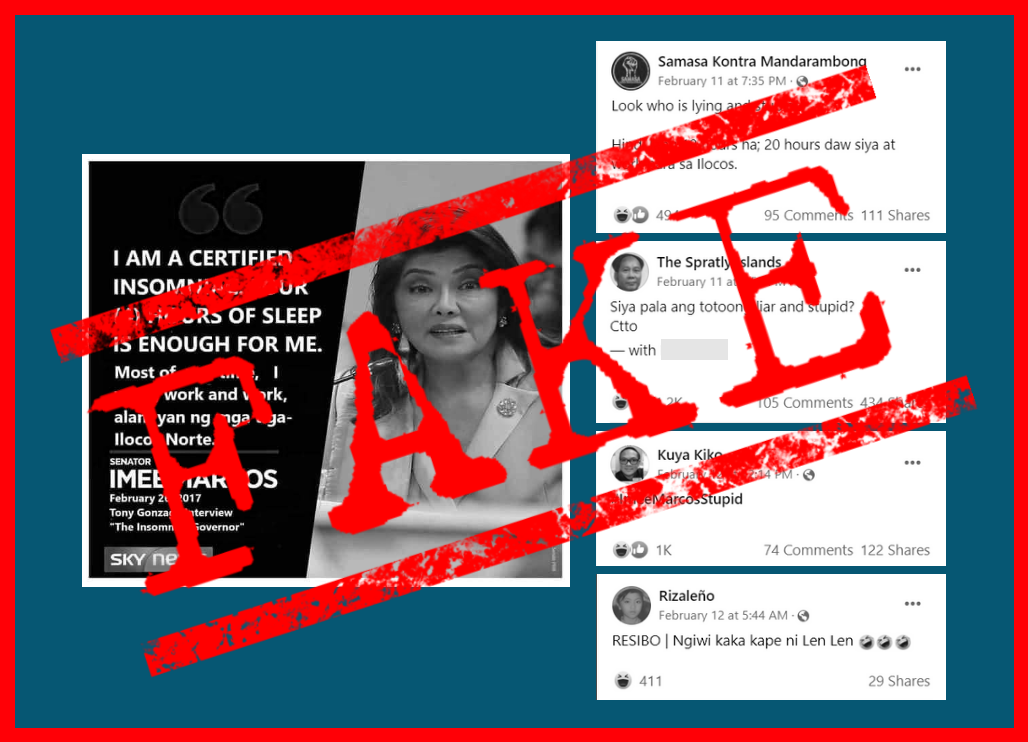 The former Ilocos Norte governor never had an interview with Gonzaga back in 2017 as the latter's official Youtube channel was created on Jan. 14, 2019. No media outlet published or aired the remark attributed to the senator. A cursory online search yielded no Sky News article or report mentioning the statement.
The altered graphic was originally taken from a 2020 FB post published by ABS-CBN on its official FB page where Marcos said President Rodrigo Duterte's threat of decisive action against inefficient telecommunication companies could attract investors into the country.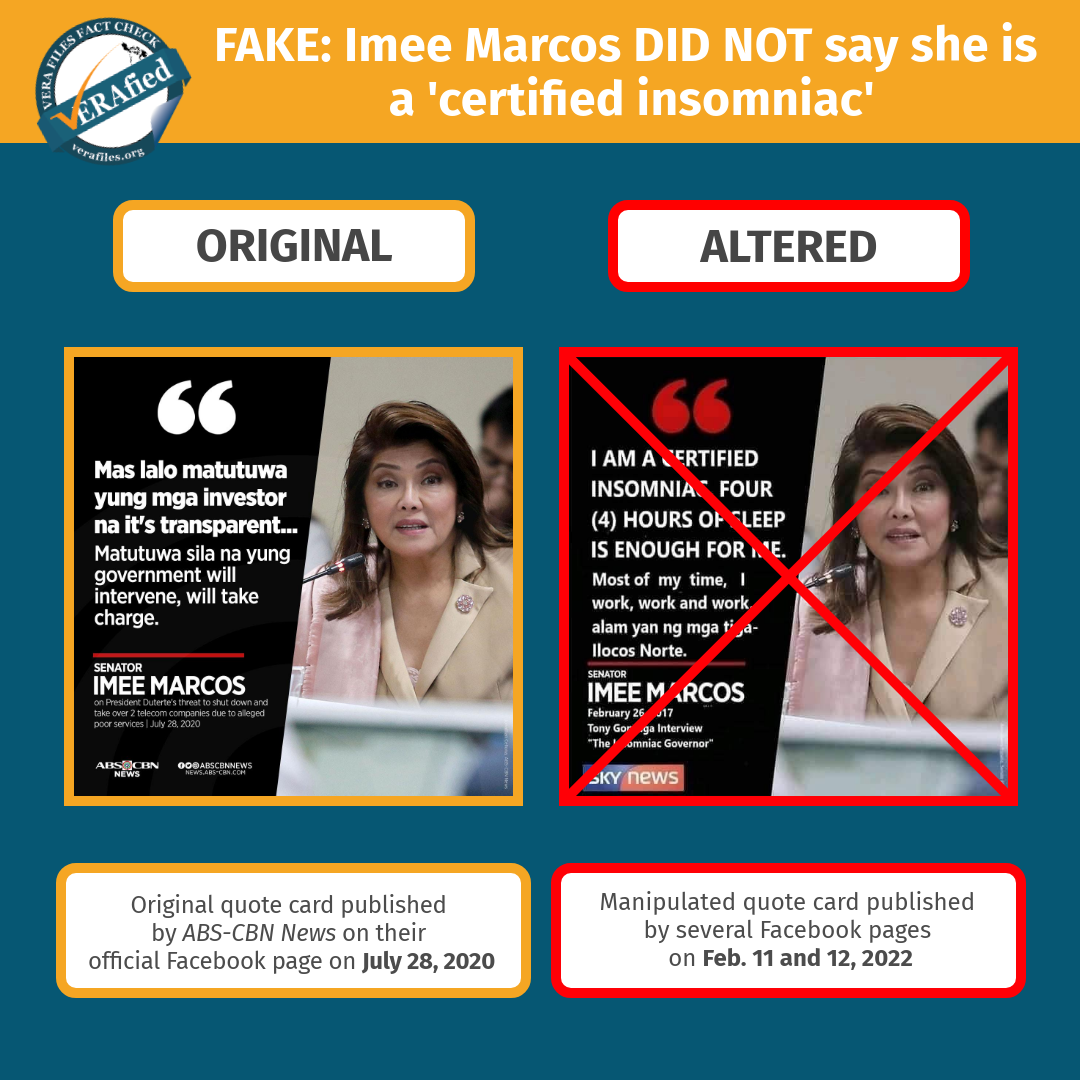 The fabricated quote card emerged after Marcos reacted to Vice President and presidential aspirant Leni Robredo's comment that she works an average of 18 hours daily.
The comment was the subject of a Feb. 10 video entitled 'Pagod Len Len' (Tired Len Len), in reference to Robredo, which was published on Marcos' official FB page. The video features Marcos and two other women in a comical conversation. At the end of the five-minute video is a line flashed on the screen that says: "Anyone who claims to work 18 hours a day is either lying or stupid."
Marcos defended the statement after receiving backlash from netizens, saying the quote was not hers and that the video is "merely satire".
The following FB pages published the manipulated quote card: The Spratly Islands (created on Aug. 13, 2012), Kuya Kiko (May 6, 2020), Samasa Kontra Mandarambong (April 9, 2016) and Rizaleño (Nov. 4, 2021). Their posts have garnered more than 3,140 reactions, 320 comments and 730 shares.
It was also shared by 14 other FB groups and pages, according to social media monitoring tool CrowdTangle.
Have you seen any dubious claims, photos, memes, or online posts that you want us to verify? Fill out this reader request form or send it to 'VERA, the truth bot' on Viber.
(Editor's Note: VERA Files has partnered with Facebook to fight the spread of disinformation. Find out more about this partnership and our methodology.)