A netizen, who has a history of publishing pro-Marcos Facebook (FB) posts, uploaded on Aug. 27 a quote card of the late Senate President Jovito Salonga saying former senator Benigno "Ninoy" Aquino Jr. is not a hero. This is fabricated.
The fake post featured a photo of Salonga taken by his son, lawyer Steve Salonga. The metadata of a high quality copy of the image shows it was shot in July 2007.
Edited with a black gradient over it, the bottom part of the photo bore text that reads, "Ninoy is not a hero… Ever since he became a politician, he did nothing but talk… talk and talk… and talk… and talk."
The post's caption further claimed that Salonga, who passed away in 2016, called Aquino a "mere ambitious politician" who only thought about becoming president, and did not deserve to be called a hero by Filipinos.
There are no official records nor media interviews of the late Senate president saying such a thing. The netizen also wrongly described Salonga as the 14th Senate president of the country; he was the twelfth.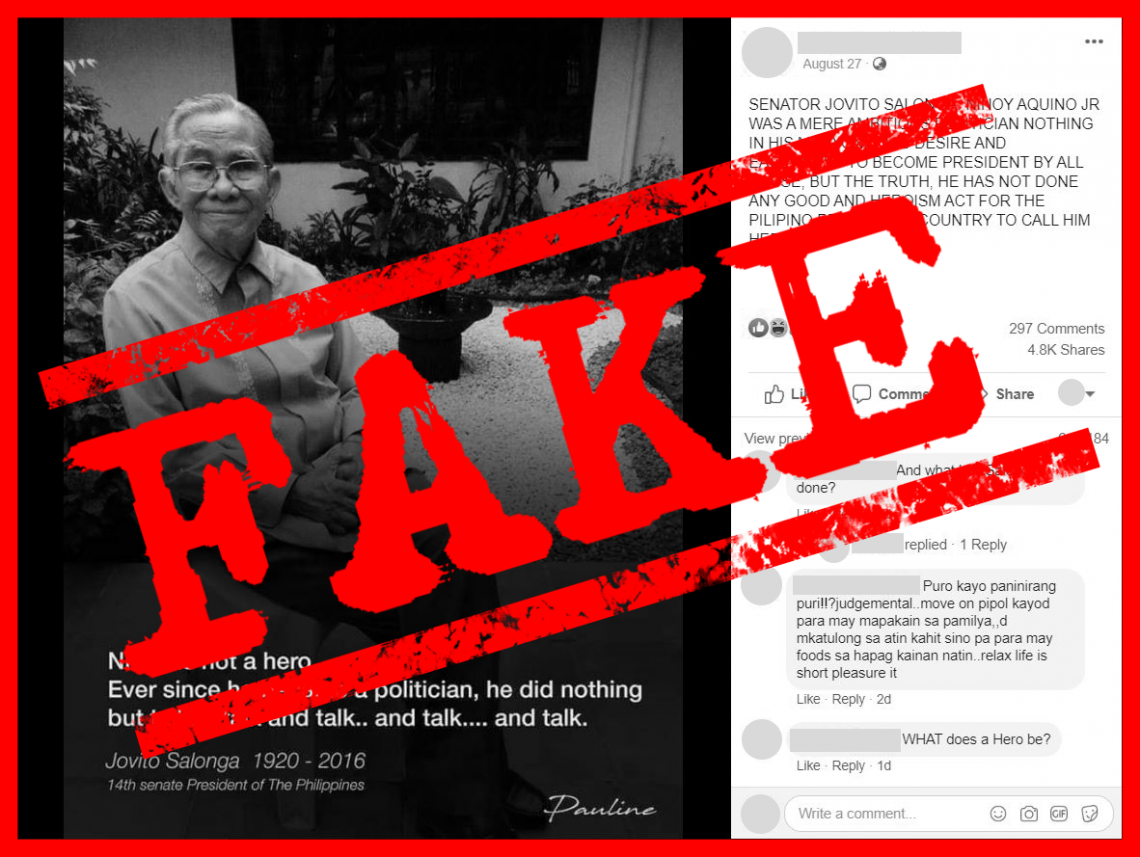 Both Aquino and Salonga were prominent opposition leaders before and during the years the late President Ferdinand Marcos placed the country under martial law. Salonga was Aquino's lawyer when the latter faced an electoral case filed against him by Marcos in 1971.
He was also the first chairperson of the Presidential Commission on Good Government, an agency specifically created to investigate and retrieve the Marcos family's ill-gotten wealth.
The fabricated quote card made the rounds on social media six days after the commemoration of the 36th death anniversary of Ninoy Aquino. It got around a thousand reactions and was shared over 4,800 times by netizens.
A search on FB shows that the netizen has published several pro-Marcos posts in groups such as MARCOS LOYALIST, BONGBONG MARCOS LOYALIST FACEBOOK WARRIORS and SenaThorBongbongMarcosGroupPage_TeamKulit.