A graphic claiming the proposal to revive mandatory Reserve Officers' Training Corps (ROTC) passed into law has gone viral. It is misleading.
On May 19, a graphic attributed to news organization Manila Bulletin carried the text that House Bill (HB) 8961, which seeks to make ROTC mandatory for grades 11 and 12 in public and private high schools, passed on third and final reading.
Several Facebook (FB) groups and pages published the graphic and one of the posts bore the caption: "HELLO MGA AKTIBISTA… MANDATORY ROTC IS ON THE GO NA! (Hello, activists… Mandatory ROTC is already on the go!)"
No such bill making ROTC mandatory has been passed. Both Houses of Congress need to pass a bill on third reading, reconcile both versions, and ratify the final measure before transmitting it to the President for signing into law.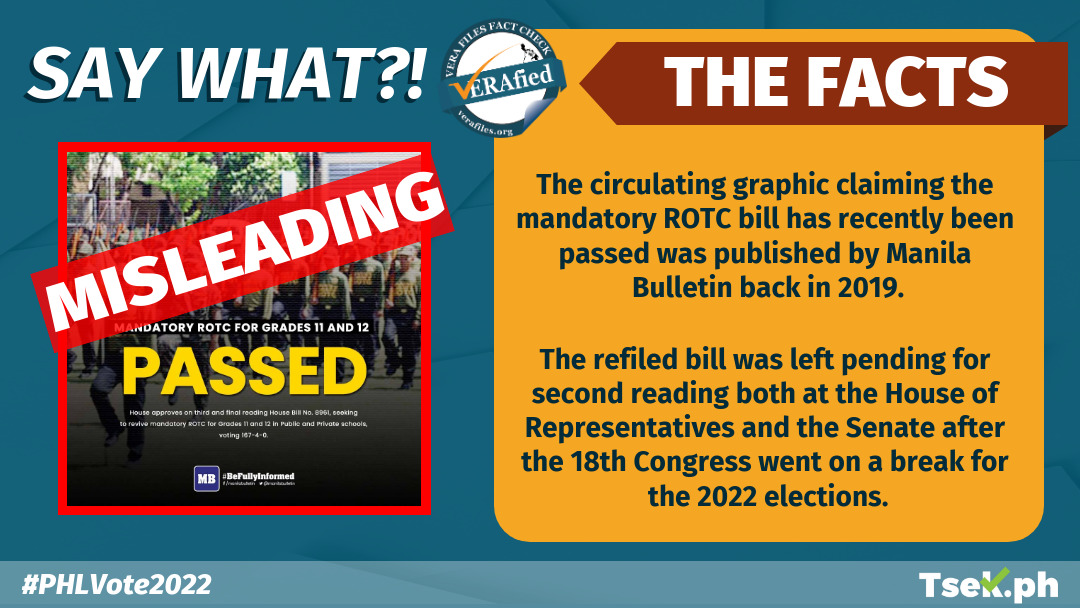 While the image is original, the FB posts did not indicate the creation date of the graphic. Manila Bulletin published this in 2019 after the House of Representatives voted 167-4-0 in favor of HB 8961. 
Its counterpart bill in the Senate, Senate Bill 2232, was left pending for second reading after the 17th Congress adjourned its third regular session in June 2019, despite the measure being certified by outgoing President Rodrigo Duterte for immediate enactment.
There are currently 23 bills in the House of Representatives and seven in the Senate seeking to make the ROTC mandatory. All are pending at the committee level. The 18th Congress is presently on break and will resume its third regular session on May 23 before adjourning sine die on June 4.
The misleading graphic made the rounds on social media sites a few days after presumptive vice president Sara Duterte-Carpio clarified that her appointment as the Department of Education secretary has nothing to do with her pushing for mandatory ROTC.
At least 64 FB groups and pages spread the misleading graphic and garnered more than 32,800 interactions, according to social media monitoring tool CrowdTangle. Its top traffic generators are FB pages Pasada Risconada Camarines Sur (created on March 21, 2017), The Manila Paper (April 14, 2020) and a netizen. A Twitter user also shared the misleading image and got more than 41,000 interactions.
Have you seen any dubious claims, photos, memes, or online posts that you want us to verify? Fill out this reader request form.
(Editor's Note: VERA Files has partnered with Facebook to fight the spread of disinformation. Find out more about this partnership and our methodology.)