A YouTube video's headline and thumbnail claim President Ferdinand "Bongbong" Marcos ordered the closure of media giant GMA Network Inc. This is not true, but a mere clickbait.
Posted on Jan. 30, the video carried the headline:
"KAPAPASOK LANG (JUST IN)!  KARMA! PRES MARCOS may MATINDING UTOS, GMA NETWORK SUMU-SUBRA na KAYO TUMIGIL KAYO (PRES MARCOS HAS A SERIOUS ORDER, GMA NETWORK YOU HAVE GONE TOO FAR STOP IT)!"
The thumbnail featured images of GMA News broadcasters Mel Tiangco and Jessica Soho juxtaposed with images of Marcos, made to look like he was showing a document, and Chief Presidential Legal Counsel Juan Ponce Enrile. In the middle was GMA Network's logo cropped from a file photo of their building.
The thumbnail bore the text:
"LAGOT! IPAPA-SARA NA ITO ANG MATINDING UTOS NG PANGULO. SUBRA NA PANINIRA NINYO (YOU'RE IN TROUBLE! WILL BE CLOSED DOWN THIS IS THE SERIOUS ORDER OF THE PRESIDENT. YOUR ATTACKS ARE TOO MUCH)!"
This is false. There is no order to shut down the TV station, whose operations are covered by   Republic Act No. 10925 signed by former president Rodrigo Duterte on April 21, 2017 which renewed GMA Network, Inc. 's franchise for another 25 years.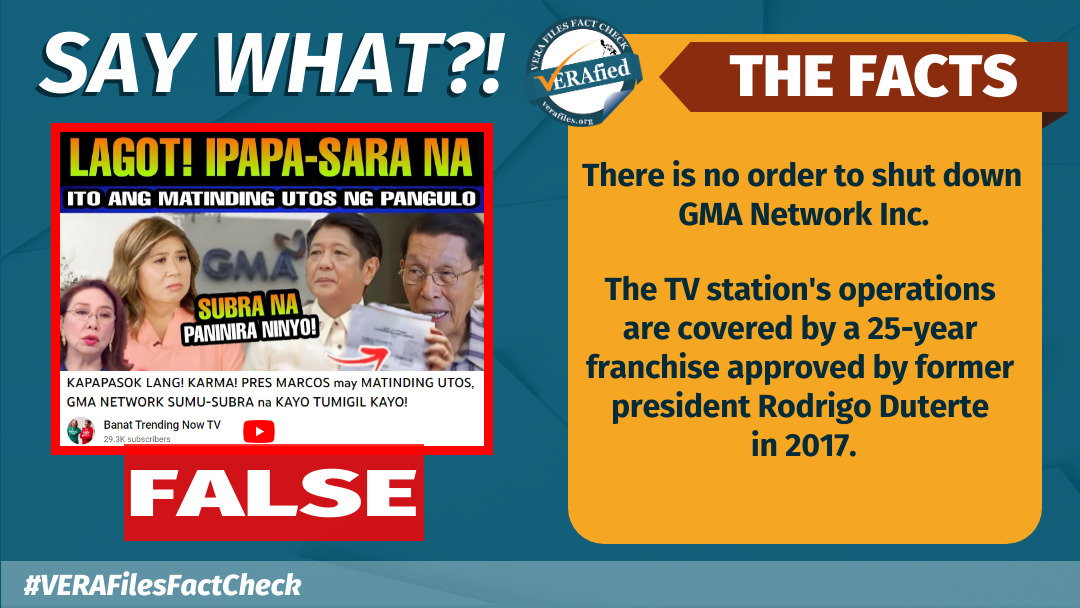 There are currently no bills filed in The House of Representatives and the Senate aiming to repeal the franchise.
The video's headline is a clickbait designed to attract attention and entice readers to click on the link and read or view the content. The video carried no evidence to support its claim but a vlogger made comments on GMA's coverage of the garlic shortage in the market, calling out the station's critical reporting of the situation.
The vlogger likewise commented on other unrelated issues like the Maharlika Investment Fund and the International Criminal Court's probe on Duterte's drug war. 
GMA Integrated News was among the Philippine broadcast media invited to a special interview with Marcos in Malacañang last Jan. 23.
The video uploaded by Banat Trending Now TV (created March 22, 2022) has 16,940 views as of writing. Some netizens also shared the video link on Facebook.
Have you seen any dubious claims, photos, memes, or online posts that you want us to verify? Fill out this reader request form.
(Editor's Note: VERA Files has partnered with Facebook to fight the spread of disinformation. Find out more about this partnership and our methodology.)