A Facebook (FB) post claimed that former president Ferdinand Marcos ordered soldiers to "disperse the crowd at EDSA without shooting them" because he did not want to hurt Filipinos. This needs context.
Without citing its source, FB page "Marcos Notebook," quoted the ousted former president to have said, "you disperse the crowd without shooting them." This was posted last Feb. 25 as the country marked the 37th anniversary of the EDSA People Power revolution.
Various sources and declassified documents say otherwise.
"Verified ang order mula sa Malacañang para paulanan ng bala ang mga nagproprotesta, (The order from Malacañang to rain bullets to protesters is verified)," the UP Third World Studies Center (UP TWSC) said in their its Twitter account.
The ex-president made statements about being ready to fight — even with potential casualties — during the EDSA People Power revolution, Miguel Paolo Reyes, a researcher from the UP TWSC, told VERA Files Fact Check.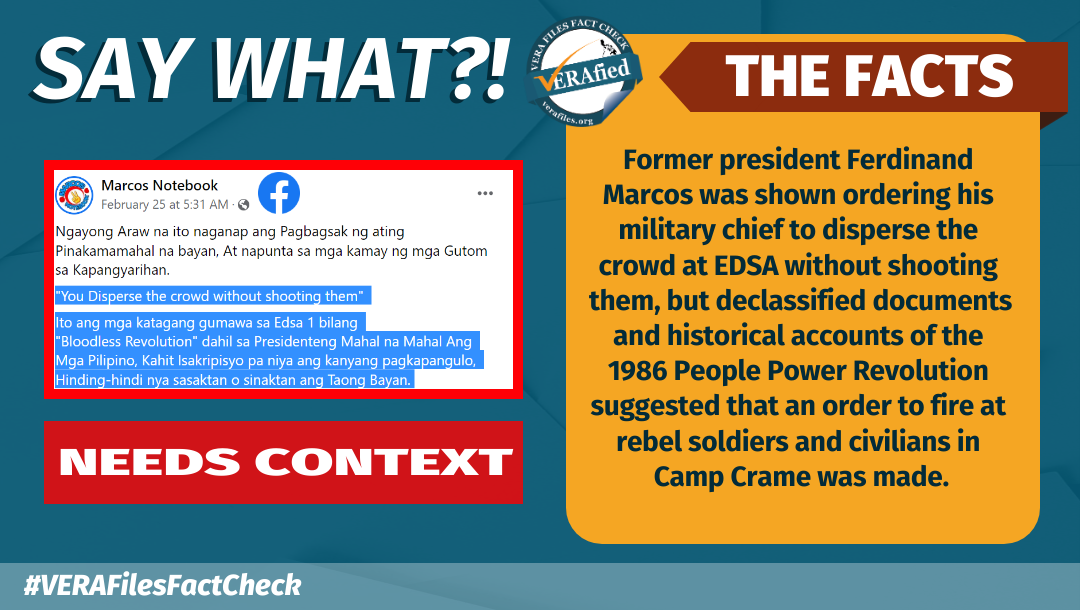 The "kill" order
During a Feb. 24, 1986 press conference, Marcos told his armed forces chief Gen. Fabian Ver, to not fire on civilians. But he actually issued a "kill order" to attack Camp Crame where former defense minister Juan Ponce Enrile and former Constabulary chief Gen. Fidel Ramos had gone after they announced their defection from the Marcos government hours earlier, according to the Official Gazette.
Official accounts state that former army chief Gen. Josephus Ramas ordered former Marine deputy commandant Col. Braulio Balbas to fire howitzers and mortars at Camp Crame and nearby EDSA. Balbas replied, "We are still positioning the cannons and we are looking for maps."
Balbas asked former Brig. Gen. Artemio Tadiar to check whether Malacañang had confirmed the order to fire at Camp Crame. Tadiar verified the order with Ver and gave Balbas permission to fire. The latter did not obey as he did not want to kill innocent civilians, according to Balbas' participation report provided by the UP TWSC.
On being ready to fight
Marcos said over the radio: "We'll wipe them out. It is obvious they are committing rebellion," according to anecdotes cited in author Angela Stuart-Santiago's Chronology of a Revolution.
In a declassified telegram, former U.S. ambassador to the Philippines Stephen Bosworth reported this: "Marcos said he will do everything he can to prevent violence but 'when it comes to our lives, I will defend myself.'"
Replying to the U.S. government's suggestion to leave the presidency, Marcos reportedly told Bosworth: "I'm terribly disappointed. You don't understand. Your government doesn't understand that it's a military coup and I have to resist it."
The misleading FB post got a total of 2,700 reactions, 281 comments, and 900 shares.
(Editor's Note: VERA Files has partnered with Facebook to fight the spread of disinformation. Find out more about this partnership and our methodology.)