A TikTok video claims President Ferdinand "Bongbong" Marcos took home a mining shovel from his recent state visits. This is FAKE. 
Posted on Sept. 13, the TikTok video shows a picture of Marcos standing in front of a massive mining shovel with a small Philippine flag. 
The video carries the text: "Ito Pala Yung Pasalubong ni President BBM !" (So this is President BBM's gift!) and the caption: "# wow grabe ito pla (sic) yong 800 billion na pasalubong ni bbm sa bansa…." (Wow. So this is bbm's 800 billion gift for the country….)
The video contains an image of a mining shovel designed and produced by a US-based company, as shown in a 2010 YouTube video. The photo was reversed and edited with a picture of Marcos, replacing the man in the original. A small picture of the Philippine flag was also attached to further mislead netizens.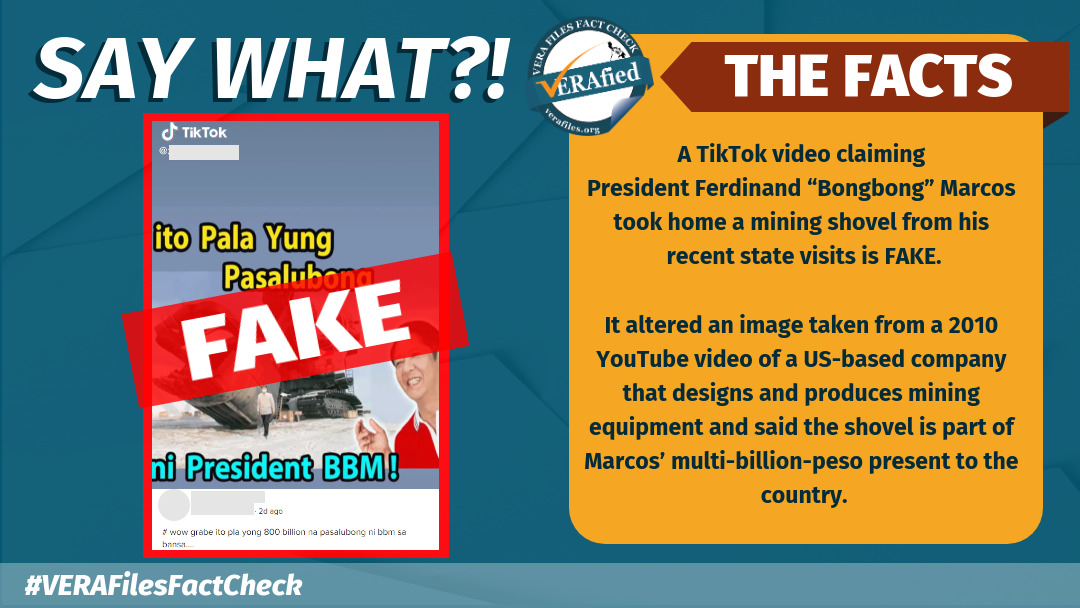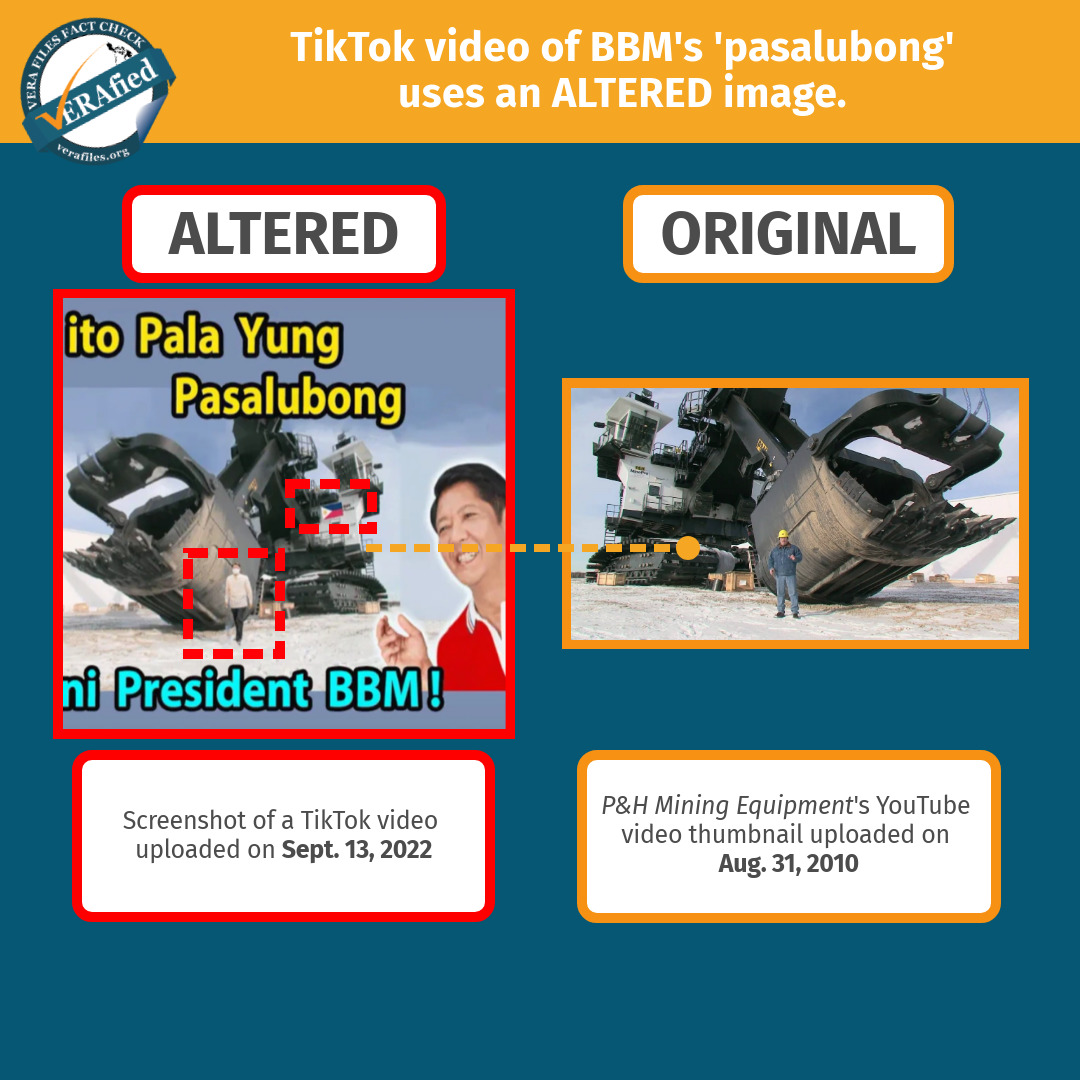 The fake TikTok video came out a week after Marcos' return from his state visits to Indonesia and Singapore, where he secured around P804 billion in investment pledges. His itinerary in those countries did not include meetings with mining industry executives and there have been no reports of Marcos taking home a mining shovel. 
In his arrival statement, Marcos said he signed and sealed letters of intent and memoranda of understanding with foreign investors.
"I am proud to announce that we have signed and sealed a total of 10 letters of intent and 12 MOUs in the sectors of renewable energy, data centers, e-commerce, broadband technology, startups, government housing and agriculture, and witnessed the signings of several letters of intent and MOUs from 22 Indonesian and Singaporean investors," he said. 
Several netizens were misled by the video, with some praising Marcos and others asking what the mining shovel is for. 
The fake TikTok video posted by user @xanyacameron now has 68,100 views, 2,458 reactions, 84 comments and 18 reposts. 
The altered image was first used as a clickbait video thumbnail by YouTuber Ask Teacher Popong (created on Dec. 29, 2018). It has garnered 230,000 views and was reposted by some Facebook netizens and the page Stunning Facts That You Didn't Know – And Beyond (created on Oct. 23, 2017).
Have you seen any dubious claims, photos, memes, or online posts that you want us to verify? Fill out this reader request form.
(Editor's Note: VERA Files has partnered with Facebook to fight the spread of disinformation. Find out more about this partnership and our methodology.)