A Filipino Facebook netizen posted a screenshot of a tweet claiming that the late Queen Elizabeth II's corgis will be "buried alive with her." It is a satire.
The tweet, originally posted on Sept. 9 by Twitter account @Reductress, read: "Queen Elizabeth's Corgis prepare to be Buried Alive With Her." 
In its Twitter About page and website, Reductress (founded in 2013) described itself as "the one and only fake women's news magazine." The New York Times, Cosmopolitan and Wired have written features on Reductress' success as a popular satirical web magazine. 
There was no satirical label in either text or photos accompanying the circulating screenshot. Though a comment on the Facebook group Pinoy Krazy Thumbnails III — where a netizen posted the image — pointed out that it is satirical and others laughed it off as a joke, several people who reshared it on Sept. 10 thought it was true.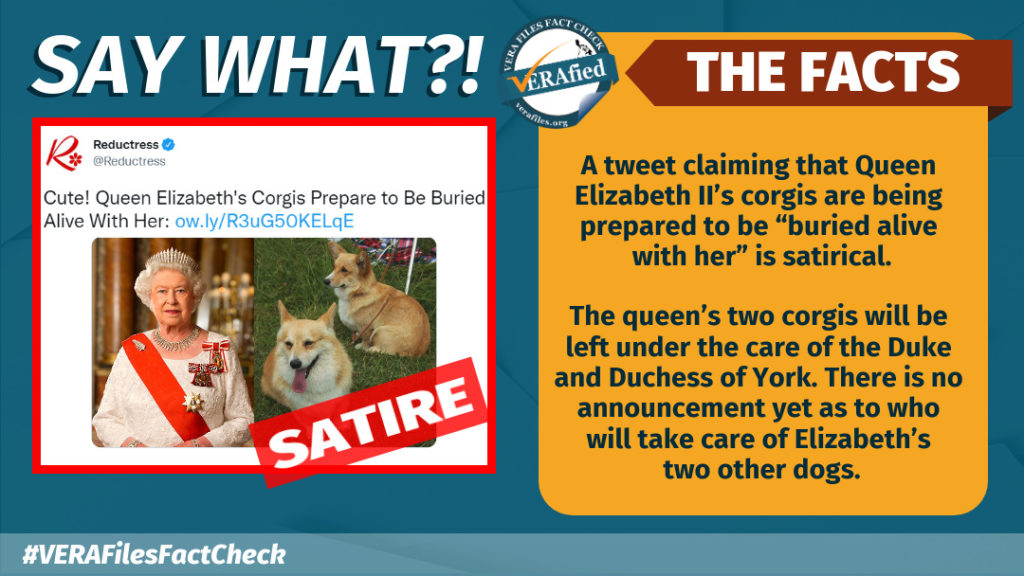 The late queen's dogs won't be buried alive. Prince Andrew, the Duke of York, and his ex-wife Sarah Andrews, the Duchess of York, will take care of the queen's two surviving corgis named Muick and Sandy, multiple news organizations reported on Sept. 11. 
No announcement has been made yet as to who will look over the queen's two other dogs — a cocker spaniel named Lissy and a dachshund corgi hybrid named Candy.
The netizen's post on FB group Pinoy Krazy Thumbnails III (created on July 20, 2021) got 5,200 reactions, 227 comments, and 2,000 shares. Reductress' tweet has received over 301,000 interactions as of publishing. 
Both tweets appeared a day after the Royal Family announced the death of Queen Elizabeth II on Sept. 8.
Have you seen any dubious claims, photos, memes, or online posts that you want us to verify? Fill out this reader request form or send it to 'VERA, the truth bot' on Viber.
(Editor's Note: VERA Files has partnered with Facebook to fight the spread of disinformation. Find out more about this partnership and our methodology.)