A Filipino Facebook (FB) page published a video claiming that Russian President Vladimir Putin has been ambushed and is allegedly "in serious danger." This is FALSE.
On Sept. 15, the page published the erroneous video with the caption: "PUTIN INATAKE! Sasakyan Ni Putin TINAMBANGAN Habang Siya Ay Papauwi! (Putin attacked! Putin's car ambushed while he was on his way home!)"
Further in the comments, the FB post added: "Russian President Vladimir Putin nanganganib ang buhay ngayon! Limousine tinambangan habang siya ay papauwi! (Russian President Vladimir Putin is currently in serious danger! Limousine ambushed while heading home!)"
No legitimate news organizations have reported on the alleged incident or any recent attempt on Putin's life. Putin was in Uzbekistan on Sept. 15-16, to attend the Shanghai Cooperation Organization Summit.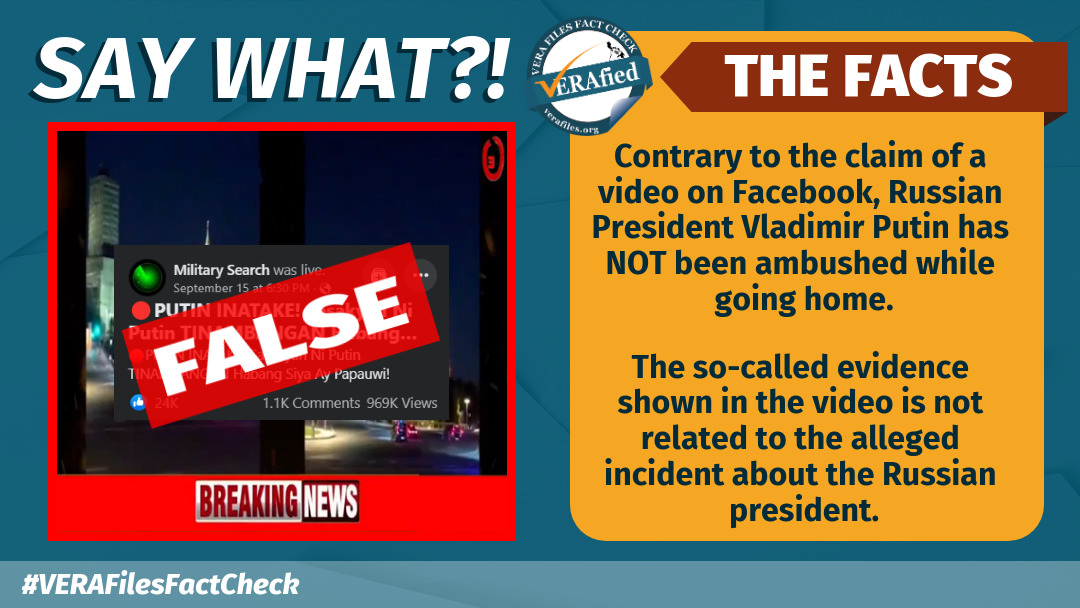 The video showed a still image of three cars on a street and a short blue-tinted video of cars slowly moving while people in suits walk beside it. The still image and the short video did not feature an attack on Putin nor were they taken recently.
The still images of three cars driving in the middle of the night were taken from a video published by a Telegram user about Putin's sudden arrival at the Kremlin in June this year.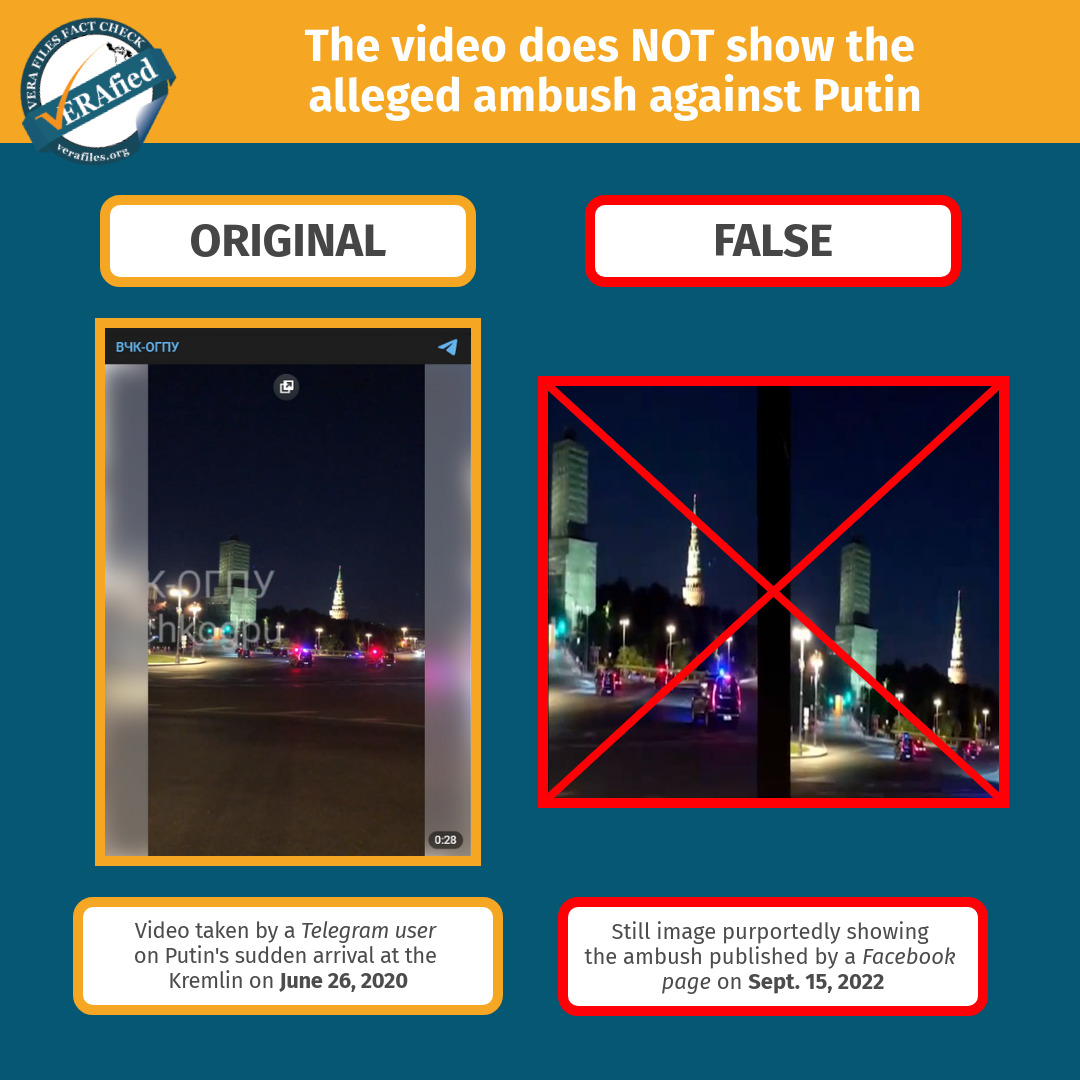 The short clip of the convoy is not related to Putin at all, but actually features the security detail of India's Prime Minister Narendra Modi shown in a May 2020 video.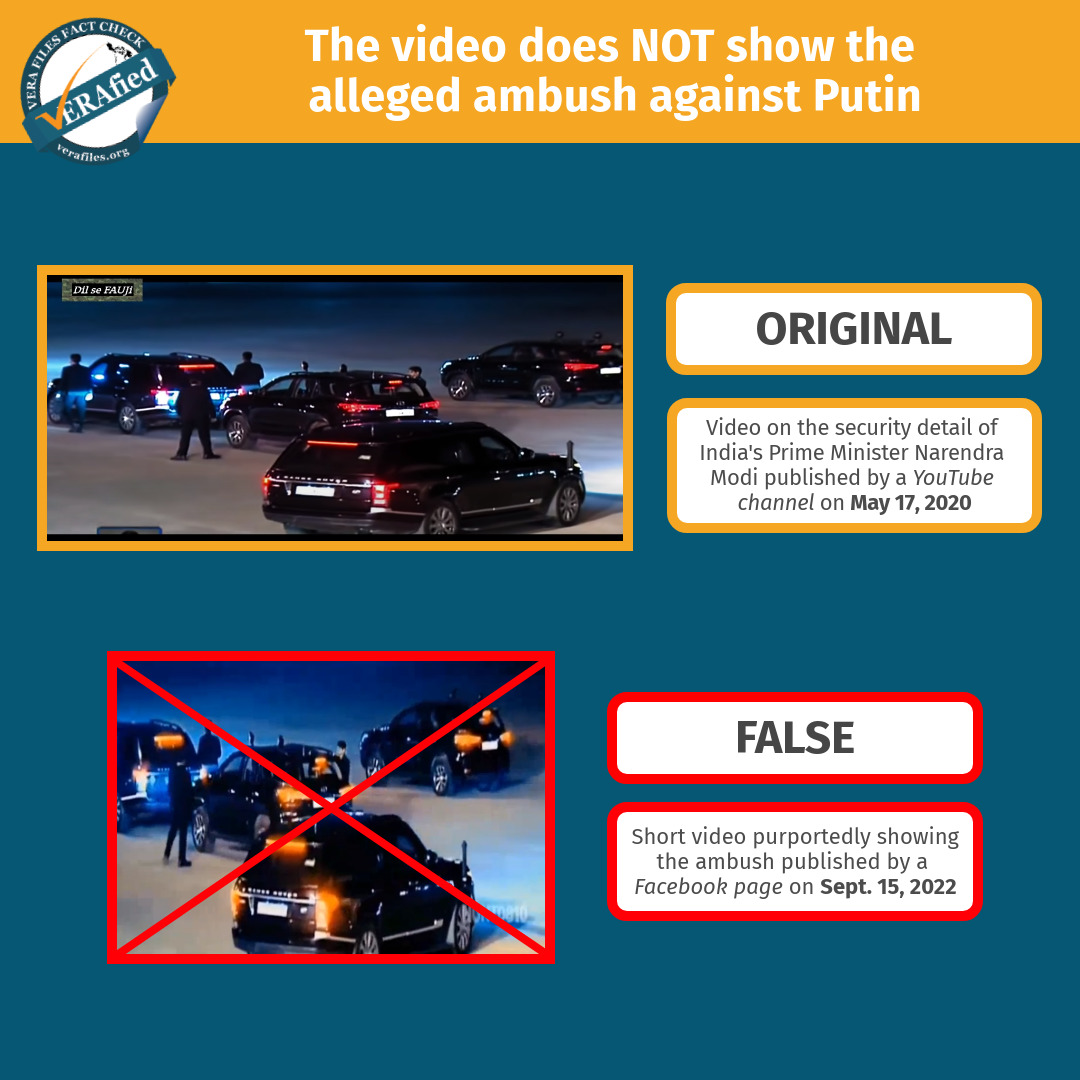 Days before the video appeared, it was announced that Ukraine had regained the Kharkiv region, a Ukrainian territory that was occupied by Russia for over six months before the successful reclamation.
The video was published by Military Search (created on May 28, 2022) and has garnered over 24,000 reactions, 1,100 comments, 1,300 shares and 969,000 views.
Have you seen any dubious claims, photos, memes, or online posts that you want us to verify? Fill out this reader request form.
(Editor's Note: VERA Files has partnered with Facebook to fight the spread of disinformation. Find out more about this partnership and our methodology.)