A Facebook video falsely claimed that National Security Adviser Clarita Carlos fired Lorraine Badoy as spokesperson for the National Task Force to End Local Communist Armed Conflict (NTF-ELCAC). 
Part of the video posted by FB page Duterte News Info on July 12 claimed: "Viral at trending ngayon sa social media ang diumano'y balitang: National Security Adviser Professor Clarita Carlos, sinibak na sa pwesto si former spokesperson Lorraine Badoy." 
(This alleged news is now viral and trending on social media:  National Security Adviser Professor Clarita Carlos sacked former [NTF-ELCAC] spokesperson Lorraine Badoy.) 
Carlos has nothing to do with Badoy's removal from the NTF-ELCAC. Badoy's position was under the Presidential Communications Operations Office (PCOO) and not the National Security Council.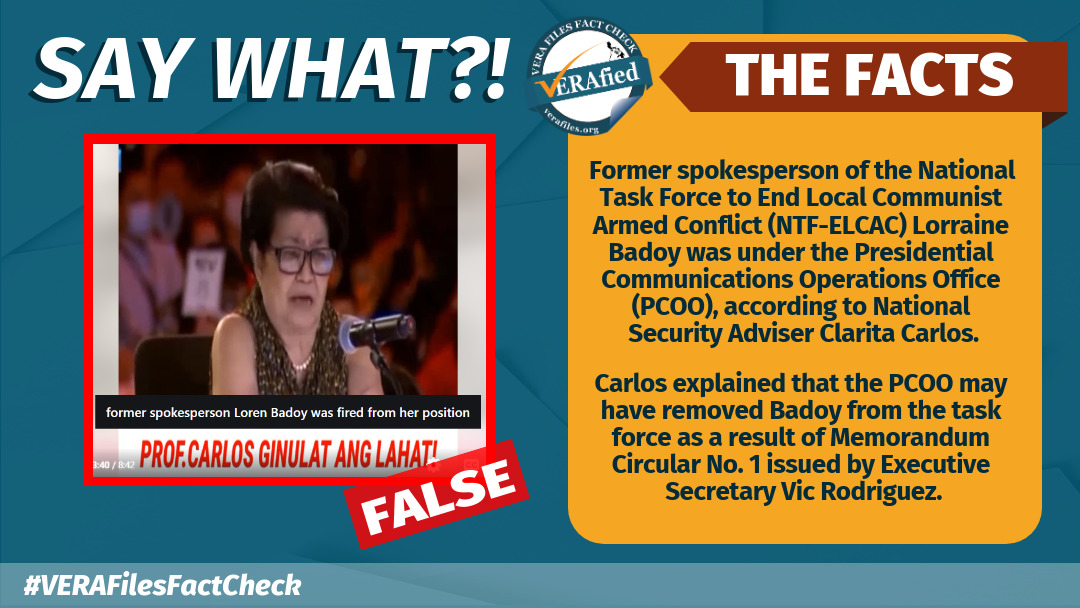 Carlos set the record straight during a July 12 interview with former ABS-CBN broadcast journalist Anthony Taberna: "Badoy doesn't belong to the NTF-ELCAC. She was designated as spokesperson kasi galing siya sa (because she came from the) PCOO." 
"Ang PCOO siguro ang nag-ano [nag-tanggal] kasi yun naman ang aksyon ni Vic Rodriguez (The PCOO might have [removed Badoy] because that was [Executive Secretary] Vic Rodriguez' action): 'Anyone who is co-terminus, you end your political life by June 30,'" she added.
Deputy National Security Adviser Rommel Banlaoi explained during a July 8 press conference that Badoy's dismissal was caused by the implementation of Memorandum Circular No. 1 issued by Rodriguez.
Among the provisions of the memo was to vacate positions in the executive department previously held by presidential appointees classified as co-terminous, or whose terms were limited based on an appointed officer or authority. 
Former president Rodrigo Duterte appointed Badoy as an undersecretary of PCOO on October 18, 2017. Badoy began working in the NTF-ELCAC as early as June 2019.   
The video by FB page Duterte News Info (created on June 22) got 14,000 reactions, 1,100 comments, and 511,000 views. Its original version was posted by YouTube channel BANAT NEWS TV (created on Dec. 26, 2015), which got over 437,700 views. 
Both videos appeared a day after Badoy confirmed in a July 11 FB post that she was no longer NTF-ELCAC's spokesperson. She did not blame Carlos for losing her position, but said that the new national security adviser made changes to the task force's structure and personnel.
Have you seen any dubious claims, photos, memes, or online posts that you want us to verify? Fill out this reader request form.
(Editor's Note: VERA Files has partnered with Facebook to fight the spread of disinformation. Find out more about this partnership and our methodology.)