With the escalating tensions between the United States (U.S.) and China following the visit of  House Speaker Nancy Pelosi to Taiwan, a Filipino Facebook (FB) page published a video erroneously claiming the U.S. dared its geopolitical rival to engage in warfare. This is not true.
The video appeared on Aug. 9 bearing this false headline: "American hinahamon Ang china sa gyera (U.S. challenges China to war)"
Throughout the video's seven-minute run, there was no evidence supporting its headline. It cited an Aug. 4 UNTV news report on the recent Chinese military drills on Taiwanese waters in response to Pelosi's Aug. 2 visit to Taipei, and made a brief primer on the history between the two superpowers.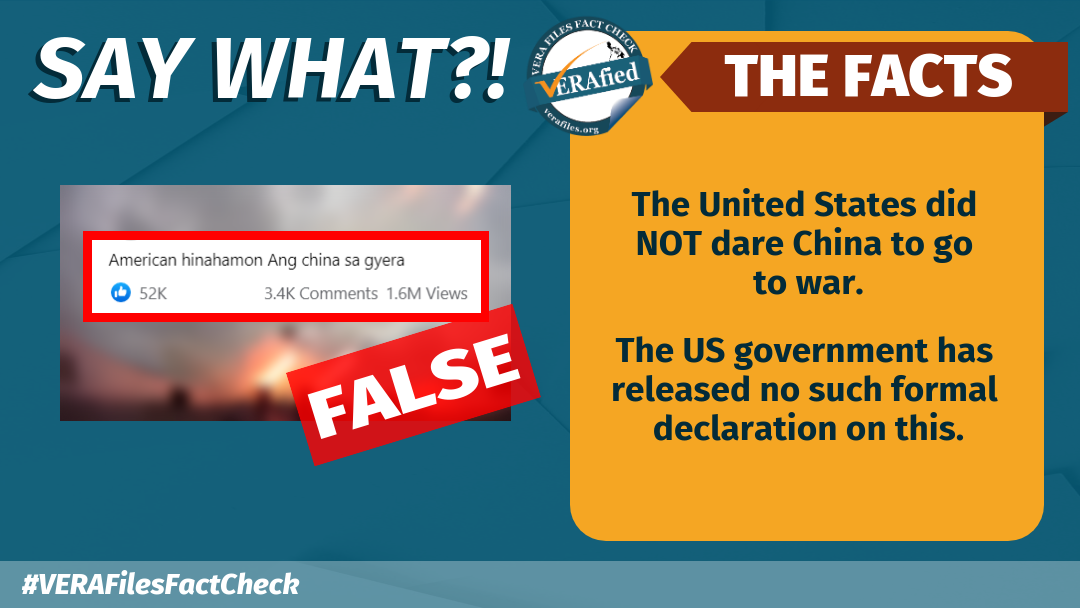 The U.S. has made no formal declaration of war against China. Neither has it challenged its rival. 
While U.S. President Joe Biden said last May that the U.S. would "militarily" intervene if China moves to invade Taiwan, he clarified that no U.S. policy has changed and that Washington's long-standing foreign policy towards Taiwan remains in place.
The video with the false headline emerged amid China's war games of sea and air blockade after Pelosi's visit to Taiwan, which China considers a renegade province that must be reunified with the mainland.
It was published by FB page Saliksik (created on Dec. 4, 2021) and has garnered more than 52,000 reactions, 3,300 comments, 4,400 shares and 1.5 million views.
Have you seen any dubious claims, photos, memes, or online posts that you want us to verify? Fill out this reader request form.
(Editor's Note: VERA Files has partnered with Facebook to fight the spread of disinformation. Find out more about this partnership and our methodology.)