For the third time in three years, a video of Sen. Grace Poe spuriously edited to make it look like she wants to block Facebook (FB) in the country, is circulating on social media.
The clip was uploaded by at least four YouTube channels from May 9 to 11 and all took out the preface of Poe's question during a four-hour January 2018 Senate hearing on disinformation. Cyberspace law expert Jose Jesus Disini had posed a question about what kind of leverage the country has on social media platforms.
Poe's complete statement was: "Not that we're going to do this – I'll be the first to disagree if they do – but, let's say, can you block a particular company like Facebook, for example, from being accessed in the Philippines? I know they do this in China."
The viral videos did not include the crucial clause (italicized part) of the senator's question.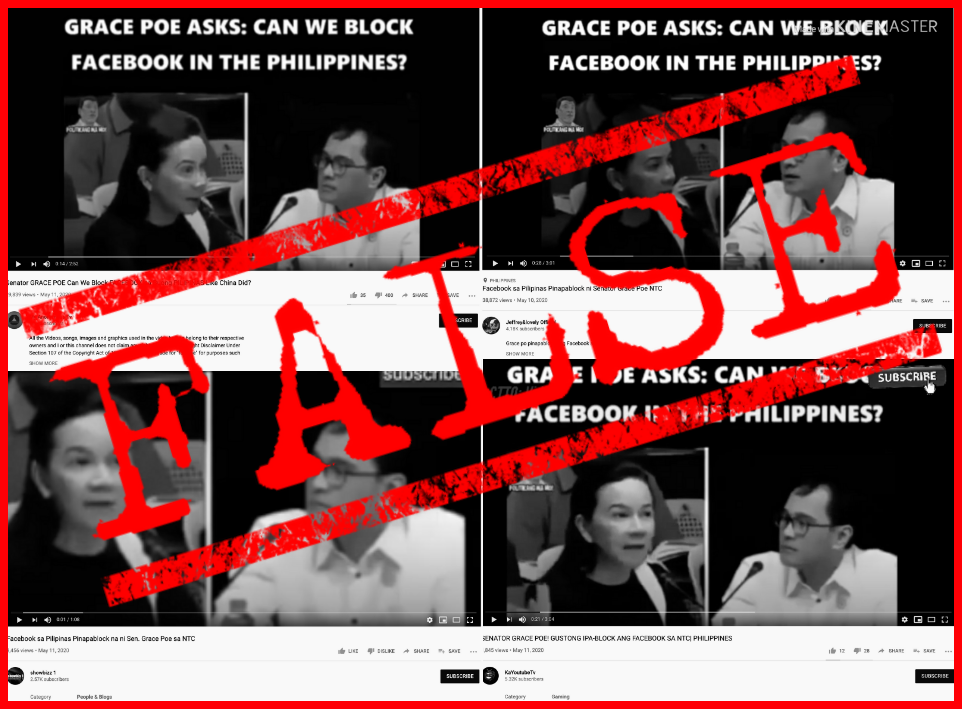 Surfacing after the National Telecommunications Commission (NTC) issued a cease and desist order on May 5 against ABS-CBN, YouTube channels Jeffrey&lovely; Official, showbizz 1, and KaYoutubeTv published their false posts with headlines that essentially said: "Facebook sa Pilipinas Pinapablock ni Senator Grace Poe NTC (Senator Grace Poe wants NTC to block Facebook in the Philippines)."
My Anonymous Tv's version of the fallacious post was titled, "Senator GRACE POE Can We Block FACEBOOK sa Buong PILIPINAS (in the whole country) Like China Did?"
The senator has also debunked the viral video back in 2018 when it was first shared on social media, denying she wants to ban FB in the country.
The untrue posts were uploaded a few days after Poe released a statement supporting the renewal of ABS-CBN's legislative franchise, which expired May 4. Collectively, the four uploads have been viewed over 102,000 times.
Social media monitoring tool CrowdTangle shows there are 103 FB posts by pages and public groups carrying a link to Jeffrey&lovely; Official's video — which got the most views of the four — with traffic coming largely from FB groups PROTECT THE PRESIDENT DUTERTE, RAFFY TULFO IN ACTION ADMINS GROUP S MEMBER, and SSS(E-1 & Statistic Report), PhilHealth(MDR), PagIbig(MID no.).
Jeffrey&lovely; Official, showbizz 1, and KaYoutubeTv were created in April, September, and February 2019, while My Anonymous Tv was made just last month.
(Editor's Note: VERA Files has partnered with Facebook to fight the spread of disinformation. Find out more about this partnership and our methodology.)