A YouTube channel is erroneously claiming that President Ferdinand Marcos recently revealed that the Asian Development Bank (ADB) will give the Philippines $30 billion to support its development programs. It made a miscalculation.
On May 23, the channel published a video carrying this false headline:
"PBBM ISINIWALAT 30BILLION $ ANG FUTURE PLAN NG PILIPINAS PARTNERSHIP SA ADB ASIAN DEV'T BANK (Marcos reveals a $30 billion future plan of the Philippines in partnership with the ADB)".
A narrator claimed that the $30 billion is a total of the following: $12.7 billion assistance that the ADB gave from 2018 to 2020, $14 billion to cover 2022 to 2025, and $4 billion for 2023. 
The $14 billion budget is not earmarked for the Philippines alone.
Announced in September 2022, the amount is intended for distribution to ADB's 49 member countries in the Asia Pacific to ease the worsening food crisis.
ADB President Masatsugu Asakawa reiterated this pledge during his meeting with Marcos at the ADB Headquarters in Mandaluyong City last week.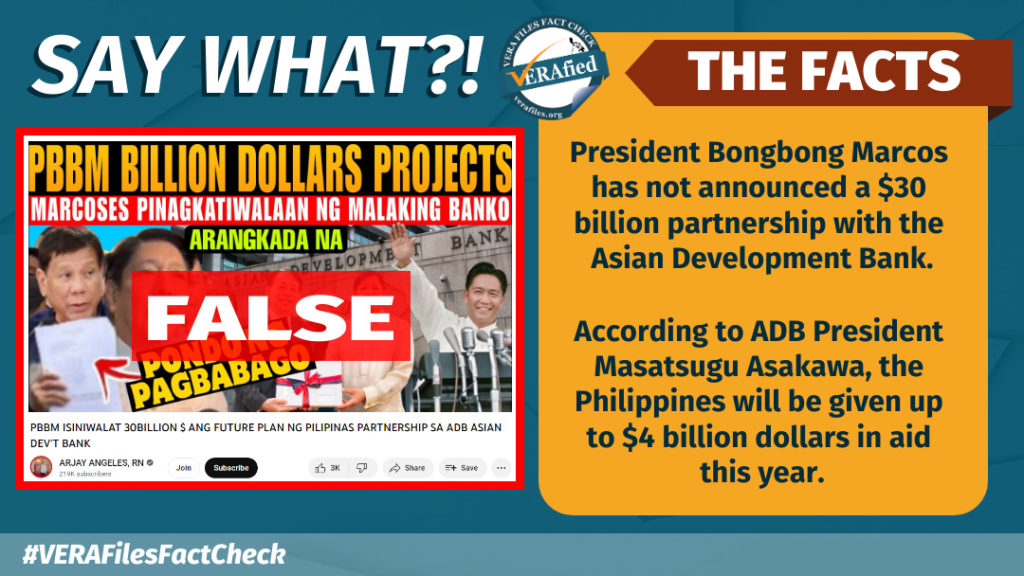 The grant amounts mentioned from 2018 to 2020 and 2023 are correct.
In his welcome remarks during the May 22 reception at the ADB Headquarters, Asakawa said:
"ADB has increased its financing to the Philippines by fourfold, reaching a total of $12.7 billion between 2018 and 2022. This year alone, in 2023, we expect to provide up to $4 billion to support the government's socio-economic agenda and build better and more infrastructure development programs."

Source: Asian Development Bank Reception in Honor of the President 5/22/2023, RTVMalacanang YouTube channel, May 22, 2023 (from 5:02 to 5:29)
According to the Presidential Communications Office, the ADB was the country's top source of active Official Development Assistance (ODA) among 20 development partners last year, accounting for 34% of the $31.95 billion of total active ODA.
This video emerged a day after the ADB honored Marcos and his entourage in a reception held in the financial institution's Manila headquarters.
YouTube channel ARJAY ANGELES, RN (created on Jan. 22) published the video, garnering over 107,000 views and 3,400 interactions. At least 5 other pages reposted this video on Facebook.
Have you seen any dubious claims, photos, memes, or online posts that you want us to verify? Fill out this reader request form or send it to VERA, the truth bot on Viber.
(Editor's Note: VERA Files has partnered with Facebook to fight the spread of disinformation. Find out more about this partnership and our methodology.)