With the rise of COVID-19 cases overseas, a text post is spreading among Filipinos on social media and private messaging platforms claiming the new COVID-19 subvariant XBB.1.5 is more lethal than the Delta variant. This is not true.
The text, which started to circulate after New Year's day, cited as its source an unspecified "Singaporean news report" on a new COVID-19 subvariant that is "different, deadly and not easily detected."
A portion of the text post read:
"XBB is 5 times more toxic than Delta variant and has a higher mortality rate. It takes a shorter time for the condition to reach extreme severity, and sometimes there are no obvious symptoms."
It further claimed that the person infected by the subvariant will have no cough or fever, but may experience joint pain, headaches, pneumonia and loss of appetite. A memorandum from the Department of Health (DOH) on reinforcing stricter border controls was attached to emphasize its seriousness.
There is no evidence supporting the claim that the XBB variant is deadlier than the Delta variant, according to international health authorities.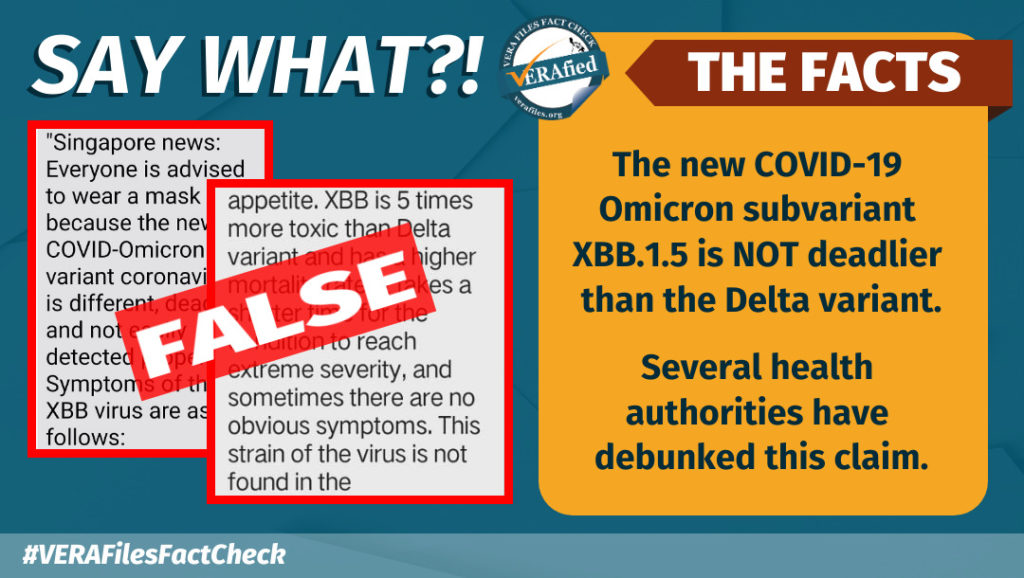 In October 2022, the World Health Organization said while more information is needed, current data "do not suggest there are substantial differences in disease severity for XBB infections." Instead, evidence shows it may have a higher reinfection risk compared to the other Omicron subvariants.
Likewise, Singapore's Ministry of Health has previously debunked similar circulating rumors in an October 2022 statement. It said:
"There is also no evidence of XBB causing more severe illness. So far, the large majority of patients [in Singapore] continue to report mild symptoms such as sore throat or slight fever, especially if they have been vaccinated."
The DOH has disowned the circulating post in a Jan. 4 advisory, warning against such messages with "inaccurate information" on Omicron XBB subvariant symptoms.
"In general, COVID-19 exhibits Flu-like symptoms such as fever, cough, fatigue, loss of taste or smell, sore throat, headache, body pain, diarrhea – among others," the health agency said.
The baseless rumors about the new COVID-19 subvariant appeared as several countries raised restrictions on travelers from China amid the rise of COVID-19 cases.
A keyword search on Facebook shows that there are at least 58 copies of it making the rounds online.
Have you seen any dubious claims, photos, memes, or online posts that you want us to verify? Fill out this reader request form or send it to 'VERA, the truth bot' on Viber.
(Editor's Note: VERA Files has partnered with Facebook to fight the spread of disinformation. Find out more about this partnership and our methodology.)