Amid soaring prices of rice, a YouTube video claimed that President Ferdinand Marcos Jr. has ordered that the price of the commodity be pegged at P20/kilo. This is false. The president, as agriculture secretary, only announced plans to crack down on rice hoarders and later imposed price controls. 
Marcos signed Executive Order 39 on Aug. 31 setting a price ceiling of P41 per kilo for regular milled rice and P45 for well-milled rice. 
On Aug. 27, a 13-minute video was uploaded with this erroneous headline:
"KAPAPASOK LANG SAWAKAS PRES MARCOS UMAKSYON na 20 PESOS PER KILO BIGAS MANG-YAYARI na VP SARA NATUWA. (Just in. Finally, President Marcos took action. 20 pesos per kilo of rice will now happen. [Vice President Sara Duterte] was delighted."
Its thumbnail also bore the text "P20 KILO IPAPATUPAD NA ITO ANG BALITANG NAGPA-SAYA SA MGA CONSUMERS (P20 per kilo of rice will now be implemented. This news made all consumers happy)." It included a photo of rice sacks with prices ranging from P17 to P23 a kilo.  Reverse image search found that the photo was originally uploaded around 2008. 
In an Aug. 16 press release, the Presidential Communications Office said Marcos had ordered the agriculture and trade departments to closely monitor rice prices across the country. The president also emphasized that there is no rice shortage and blamed hoarders for the recent spike in prices. There was no mention of lowering the price of the commodity.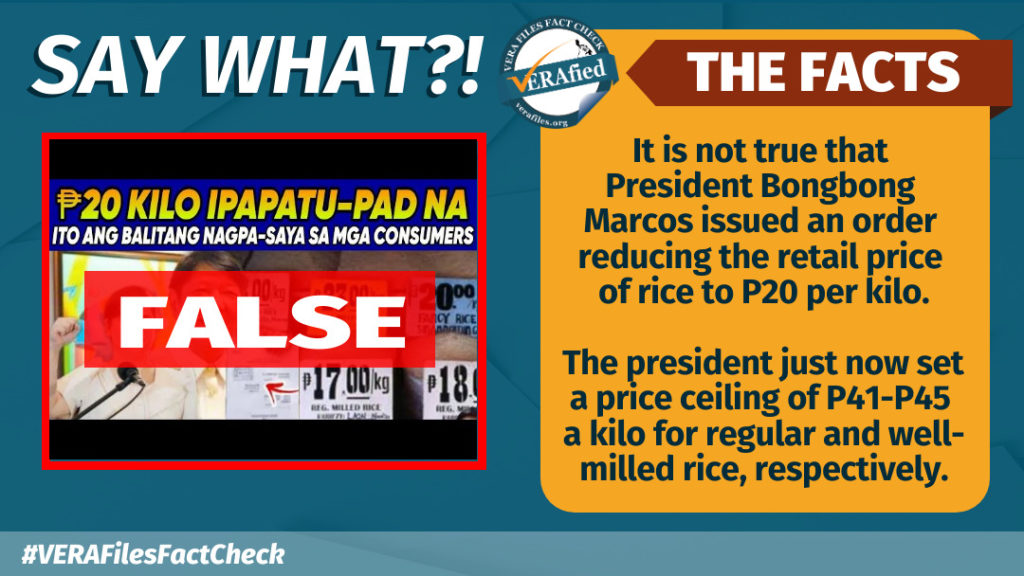 Two weeks later, price ceilings on rice were imposed to curb further increases. A kilo of rice currently costs P42 to P65 depending on its variety, according to the Department of Agriculture's price monitoring bulletin as of Aug. 30. This is a five-peso increase from July prices of P37 to P60 a kilo. 
During his 2022 presidential campaign, Marcos declared he will lower rice prices to P20 to P30 if he wins. But in an Aug. 23 budget hearing at the House of Representatives, Agriculture Undersecretary Mercedita Sombilla said it would be difficult to achieve this within the next two years. 
Uploaded by previously fact-checked YouTube channels BALITAAN NG BAYAN TV and WANGBUDISS TV, the video has so far garnered 20,124 views and 1,223 likes.
Have you seen any dubious claims, photos, memes, or online posts that you want us to verify? Fill out this reader request form or send it to VERA, the truth bot on Viber.
(Editor's Note: VERA Files has partnered with Facebook to fight the spread of disinformation. Find out more about this partnership and our methodology.)