A Facebook user posted April 20 an image of swollen tonsils with white spots, and alleged it was the "throat of someone with COVID-19 spread to the lungs and body." It's not.
Digital photo analyzing tool Fotoforensics shows the picture was taken on May 29, 2018, or more than 18 months before the emergence in Wuhan, China of the severe acute respiratory syndrome Coronavirus 2 (SARS-CoV-2), which causes coronavirus disease (COVID-19).
The image's earliest traceable upload came from social media site Reddit where a user asked if the photo showed a "normal looking strep throat." Strep throat is a bacterial infection in the throat and tonsils. The user later said test results showed it was a case of MRSA or Methicillin-resistant Staphylococcus aureus, another kind of bacterial infection.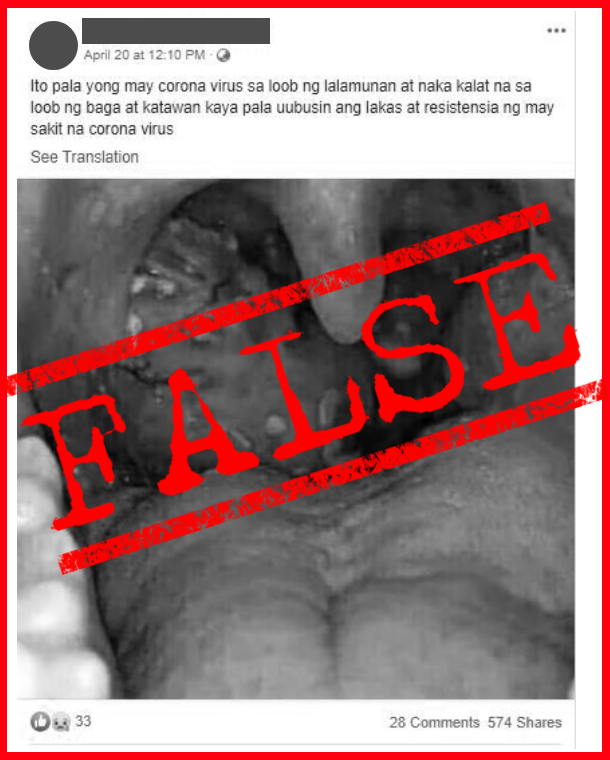 The photo was revived on April 9, in a misleading tweet that claims the novel coronavirus "eats the lungs" and "hatches under the tongue."
The World Health Organization (WHO) has listed fever, dry cough and tiredness as the most common symptoms of COVID-19. "Some patients may have aches and pains, nasal congestion, sore throat or diarrhea," the agency added.
The false post has been shared about 600 times on Facebook.
(Editor's Note: VERA Files has partnered with Facebook to fight the spread of disinformation. Find out more about this partnership and our methodology.)