A July 16 video posted on Facebook used an old news report to claim that Ramon Ang, president and chief executive officer of Petron Corp, has offered to sell the oil refining company to the administration of President Ferdinand "Bongbong" Marcos, Jr.
This is misleading. It was in November last year, during a session of the House of Representatives, that Ang said he was open to selling Petron back to the state. There are no reports of any new offer to sell the company to the new government.
The one-minute-clip's in-video text read: "Breaking News: Ramon Ang handa ipautang ang Petron para sa BBM Administration (ready to lend Petron to [Marcos Jr.'s] administration)!" 
The old news footage was lifted from the Nov. 8, 2021 House ways and means committee's virtual briefing on the price monitoring of petroleum products.
"'Yong sina-suggest na bilhin ng gobyerno ang Petron, privatization, anytime po, pwede ko pa ipa-utang sa Philippine government, bilhin ninyo ito nang over five years to pay (On the suggestion that the government buy Petron, anytime, I can loan it to the Philippine government, buy it over five years to pay)," Ang had said.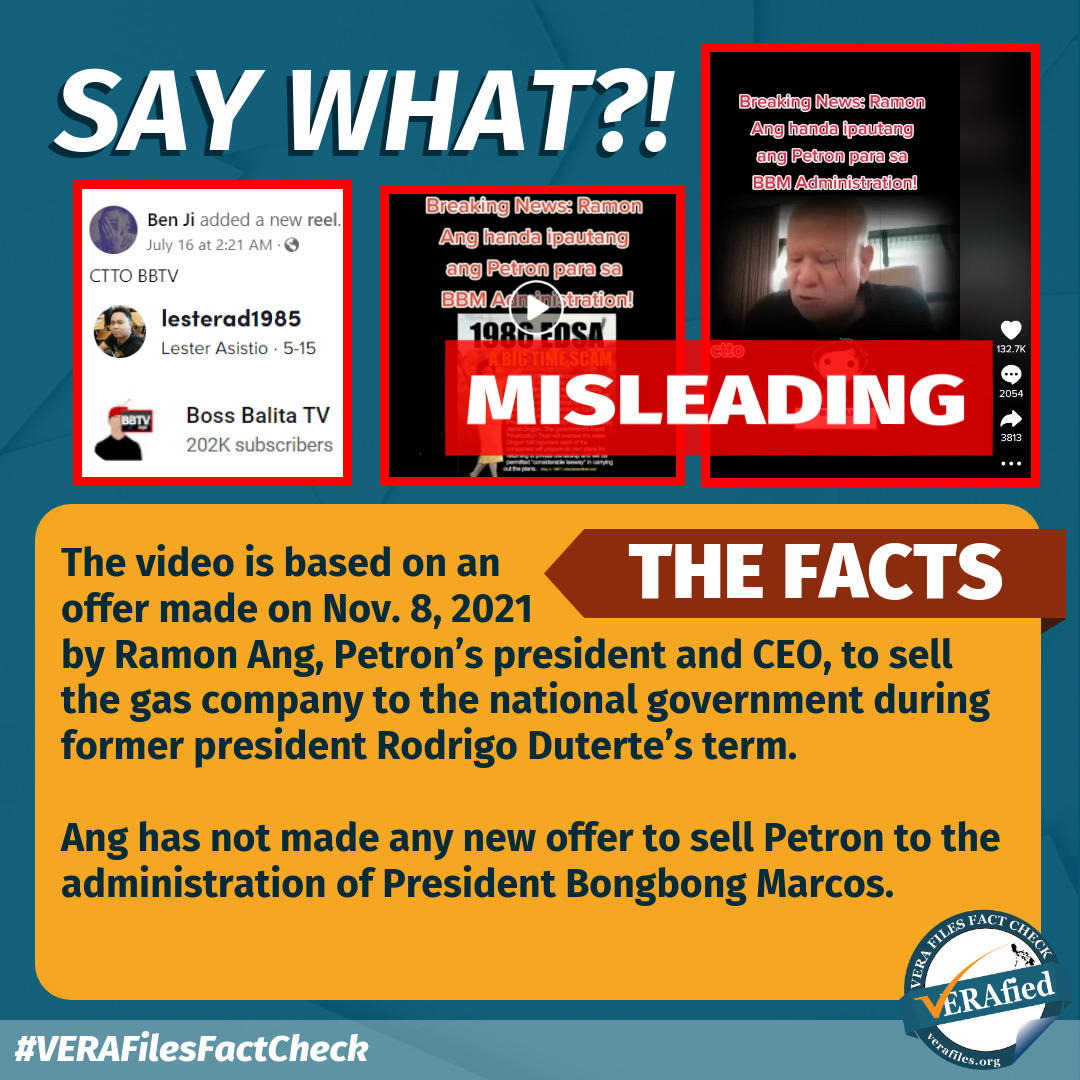 On Nov. 11, 2021, then-House Deputy Majority Leader Eduardo Gullas declined Ang's offer because the government doesn't have the money or the operational flexibility to run the risky business of managing an oil company, multiple news organizations reported.
The Facebook user's misleading video got a total of over 19,300 interactions as of posting. A version of the video posted on TikTok on May 15 received 138,570 interactions. Both videos were copies of a May 14 video posted by YouTube channel Boss Balita TV (created on July 15, 2021), which garnered over 652,200 interactions as of late.
The Facebook video appeared on July 16, two days after Ang was awarded the Legion of Honor, the highest distinction in France. The YouTube video appeared a week after Petron announced on May 6 that its revenues grew to P172.3 billion in the first quarter of 2022, or more than double its level in the same period last year.