A Facebook (FB) page is claiming that President Rodrigo Duterte, in a recent address, referred to the Fabunan Antiviral Injection as the "antibody" being developed against COVID-19. This is false.
Duterte did not cite the Fabunan drug in his hour-long April 13 "Talk to the People" address, where he talked about an antibody cure undergoing clinical tests that could be in the market by May. FB page Sara Z. Duterte Warriors lifted three minutes from the televised address and used the clip as content for its April 15 upload.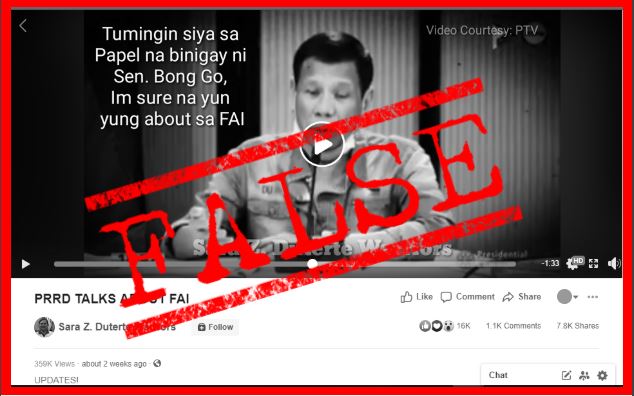 The post carried the inaccurate title, "PRRD TALKS ABOUT FAI" though the voiceover said otherwise. More, the FB page took out the portion where Duterte said the antibody was developed by a "giant pharmaceutical company." The Fabunan Antiviral Injection was invented by U.S.-based Filipino doctor Ruben Fabunan.
Sara Z. Duterte Warriors' false post surfaced two days after Duterte announced in his April 13 address that he is ready to lift the Luzon-wide enhanced community quarantine once the antibody undergoing clinical trial for COVID-19 is approved and distributed.
On April 22, reinstated Presidential Spokesperson Harry Roque said in a media interview that he has asked Food and Drug Administration Director Eric Domingo to look into whether or not the Fabunan drug is safe to use. The drug, which has received support from some netizens, is a patented antiviral drug against dengue. Supporters say it can cure Human Immunodeficiency Virus (HIV), snake bites, and now, even COVID-19.
Sara Z. Duterte Warriors' fallacious post has been shared over 8,000 times, with more than 371,000 views, 16,000 reactions and over 1,200 comments. Sara Z. Duterte Warriors has had two name changes since its creation in December 2018 — Ginahigugma and Ginahigugma: Sarah Duterte.
(Editor's Note: VERA Files has partnered with Facebook to fight the spread of disinformation. Find out more about this partnership and our methodology.)