A Facebook (FB) page posted a photo collage to compare the grim lockdown in Luzon with the less restrictive conditions in the Visayas and Mindanao amid the health crisis. But the photos of people swimming and frolicking on the beach in the central and southern regions are misleading.
The collage was posted by FB community page Leyte Leyte on April 4, a day after Malacañang extended the enhanced community quarantine (ECQ) imposed over Metro Manila and adjoining provinces for one week till April 11.
A reverse image search, however, showed that the four photos which the FB page used to represent Visayas and Mindanao were taken years before the COVID-19 pandemic hit the country in 2020.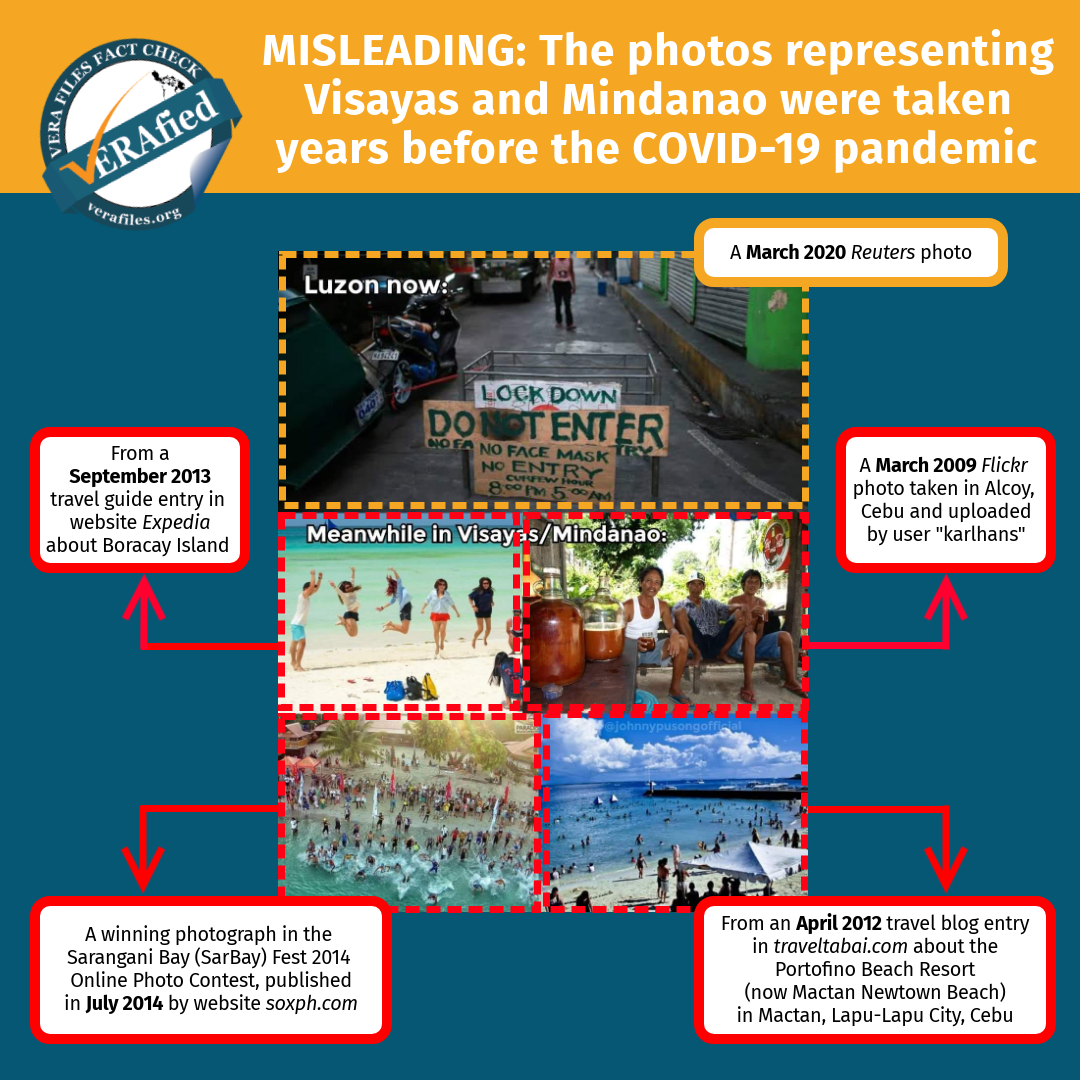 The first image, which featured a group of individuals taking a jump shot along a beach, was from a travel guide entry about Western Visayas' Boracay Island, published in September 2013 by travel booking website Expedia.
The photo of three men enjoying what appeared to be tubâ or coconut wine, was first uploaded on Flickr in March 2009 by a user named karlhans. Details of the photo indicated that it was taken in Alcoy, a municipality in Cebu Province.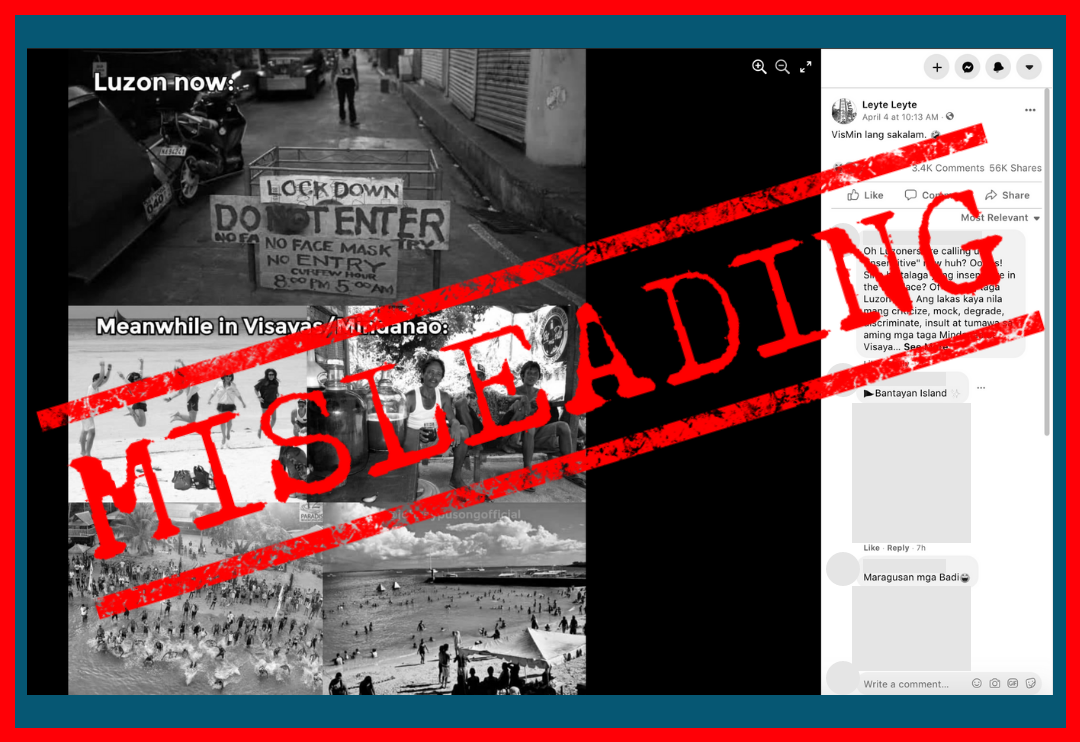 The earliest traceable copy of the third image—an aerial shot of a crowd gathered along a shoreline—could be found in a July 2014 post on website soxph.com. According to the post, the photograph featured the Gumasa Beach in Sarangani Province, and that it won third place in the Sarangani Bay (SarBay) Fest Online Photo Contest back in 2014.
The last photo, which also showed people swimming and loitering at a beach, could be traced to an April 2012 post in travel blog traveltabai.com, about the Portofino Beach Resort — now called the Mactan Newtown Beach — located in Mactan Island, Lapu-Lapu City, Cebu. The image used in Leyte Leyte's FB post was cropped to remove traveltabai.com's watermark.
Meanwhile, the picture of an almost deserted street to represent the lockdown in Luzon was taken in one community in Manila and was originally published by Reuters in March last year.
The National Capital Region (NCR) and the provinces of Laguna, Bulacan, Cavite, and Rizal—collectively referred to as the NCR Plus bubble—was put back under ECQ on March 29 by President Rodrigo Duterte. This is in effect until April 11.
Meanwhile, the Visayas and Mindanao—except for Tacloban City in Leyte, the province of Lanao del Sur, and the cities of Iligan and Davao— were placed under modified GCQ only, the quarantine category with the most lenient restrictions. This will last for the whole month of April.
Leyte Leyte's misleading post already has over 20,000 reactions, 3,400 comments, and 56,000 shares from netizens. The post could have also reached more than 4.6 million FB users, according to social media monitoring tool CrowdTangle.
Its top traffic generators are Leyte Leyte itself, as well as page DT and public group RPW: BISAYA TAMBAYAN.
Leyte Leyte was created in May 2011, and categorized as a community page. It is neither an official nor a verified Facebook page of the province of Leyte.
(Editor's Note: VERA Files has partnered with Facebook to fight the spread of disinformation. Find out more about this partnership and our methodology.)