At least four different websites published a similar fake story on the family of the high school student who was the subject of a viral video in December.

The report featured a "leaked" video purporting to show the father of the student shooting a man who accosted him. It was published by impostor sites:
bbcnewstoday.dailyliveleak.com
ofwfiles.balitang24-7.info
tulfotrendingupdate.com
gmanewnetworktv.foodtazte.com
The undated story headlined, "LIVE LEAK: Isang Bakasyunistang Naghamon Sa Ama Ni … Natagpuang Patay (Live Leak: Tourist who accosted … dad found dead)," carried an unrelated UNTV broadcast that automatically stops playing after about three seconds.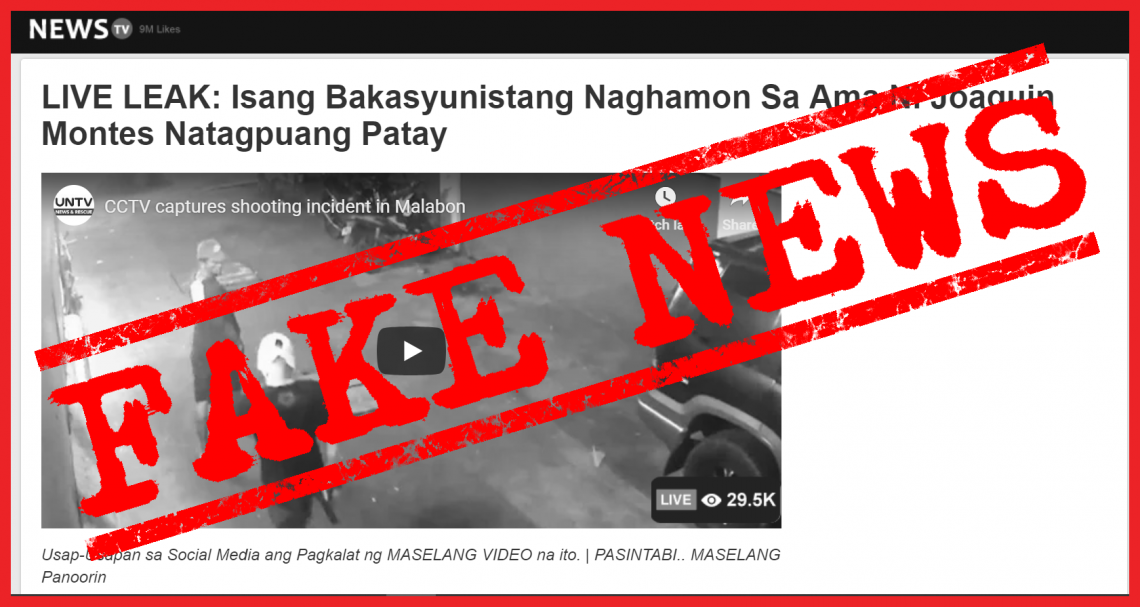 A search on Youtube reveals the UNTV video is actually a December 2016 news report showing CCTV footage of an unidentified man shooting another person in Barangay Concepcion, Malabon City.
This fake report echoes the characteristics of death and sex scandal hoaxes VERA Files Fact Check looked into last year, which also had stopping videos, fake clickbait headlines and ads that take up more space than actual content.
Web application developer and fake news expert Maarten Schenck said the production of such hoaxes is greatly motivated by money, obvious from the number of ads present in the stories.
The hoax on the high school student's father made the rounds on social media on Jan. 3, 11 days after the boy, a student of Ateneo Junior High School in Quezon City, was dismissed for bullying.
The fake story could have reached over 435, 000 people. Its top traffic generators from social media are Facebook pages "Nike buy and sell," Sen. Manny Pacquiao Global Trending News, and Arci Munoz.
(Editor's Note: VERA Files has partnered with Facebook to fight the spread of disinformation. Find out more about this partnership and our methodology.)