A report published Oct. 8 by website dailyreader.online claiming that a recently conducted survey which revealed almost half of Filipinos believe Vice President Leni Robredo has a "mental problem" is fabricated.
Bearing the headline "45% ng mga Filipino naniniwalang may 'mental problem' si VP Rodredo – SWS (45% of Filipinos believe VP Robredo has 'mental problem' – SWS), the report said the Social Weather Station (SWS) surveyed 1,500 Filipinos from Sept. 13 to 25 and found out that:
– 45% believe Robredo has mental problems, 26% do not, and 29% are undecided on the matter

– 55% were unbothered by the vice president's mental issues while 44% were; and

– 61% believe the vice president's health is a public matter, 33% say it is private and does not need to be made known, while 6% had no opinion.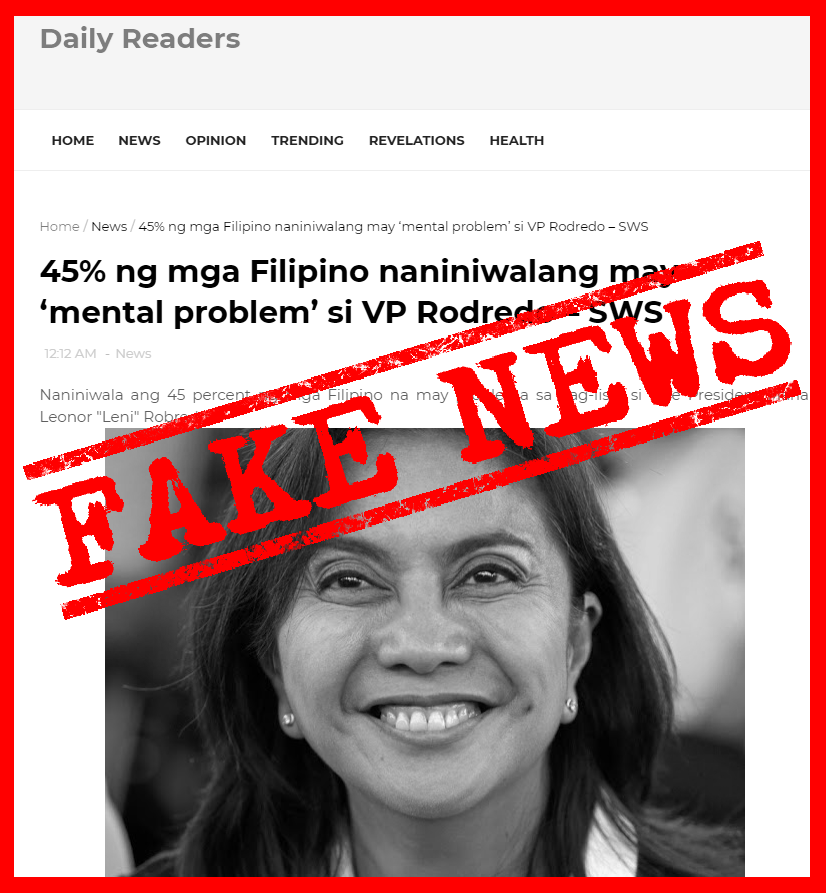 The report is fake, but uses the findings from an SWS poll released on Oct 7 about whether or not Filipinos believe President Rodrigo Duterte has health problems.
Findings of the SWS revealed that:
– 45% believe Duterte has health problems, 26% do not and 29% were undecided

– 55% worry Duterte will have health problems while 44% do not; and

– 61% said Duterte's health is a public matter and that the public should be informed about it; 33% said it was a private matter and does not need to be publicized, while 6% withheld judgement.
The fake report, which has received over 4,600 interactions on Facebook, was posted a day after the SWS published its survey results. Amid speculations about his health, Duterte admitted on Oct. 4 he had gone to Cardinal Santos Medical Center for a colonoscopy, and said that if he has third-stage cancer, he will forego treatment. On Oct 9, he told reporters medical tests turned out negative for cancer.
(Editor's Note: VERA Files has partnered with Facebook to fight the spread of disinformation. Find out more about this partnership and our methodology.)
2018-10-10 09:21:31 UTC>