A March 20 post that claims salty and sour foods cause the "body of the COVID-19 virus" to explode and dissolve was revived by netizens on Facebook this month. It's false.
On June 13, a netizen uploaded a screengrab of a three-month-old post by a certain Dr. Joey Montemayor who advised readers "to sip the juice of half a calamansi fruit, drink pineapple juice and gargle warm water with salt three times a day if they have a sore throat." This will disable the virus, he added. The post was shared over 1,600 times.
"Consuming fruit juices or gargling with warm water and salt does not protect or kill COVID-19," the World Health Organization (WHO) Philippines told VERA Files, adding it "does not recommend self-medication with any home remedies or medicines, including antibiotics, as a prevention or cure for COVID-19."
VERA Files Fact Check has debunked similar false claims that drinking water mixed with salt can supposedly kill SARS-CoV-2. (See VERA FILES FACT CHECK: Video claiming drinking water with salt kills novel coronavirus NOT TRUE)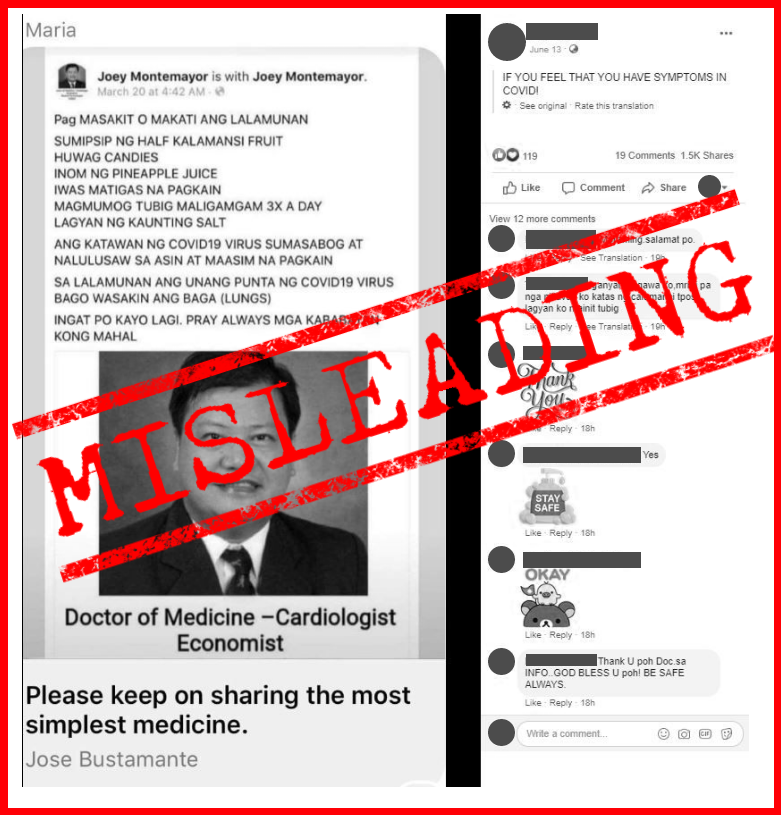 Montemayor also claimed that the virus stays in the throat first before it destroys the lungs.
To this, WHO Philippines said there is still no confirmation of COVID-19 virus infecting the throat before the lungs. "What is known is that upper respiratory symptoms such as sore throat and nasal congestion are less common, however, virologic studies do demonstrate shedding of virus is highest in the upper respiratory tract, including the throat, early in the course of disease," the health agency said.
Viral shedding refers to the discharging of the virus from the body.
Montemayor's original post remains live on his account and has over 29,000 shares.
The post circulated again on social media after the number of COVID-19 cases in the country breached 25,000 on June 13. As of June 19, that number has gone beyond 28,000, according to the Department of Health.
(Editor's Note: VERA Files has partnered with Facebook to fight the spread of disinformation. Find out more about this partnership and our methodology.)