Several thousands of netizens are falling for a spoof about actress and television host Toni Gonzaga becoming a newly-signed talent of the state-owned People's Television Network (PTV4).
It was originally posted on Sept. 15 by the Facebook (FB) page Philippine Char, a parody of the news outlet The Philippine Star and which describes itself as a "100% satire page." But several FB accounts have republished the post without identifying it as satire, leading netizens to think it was real.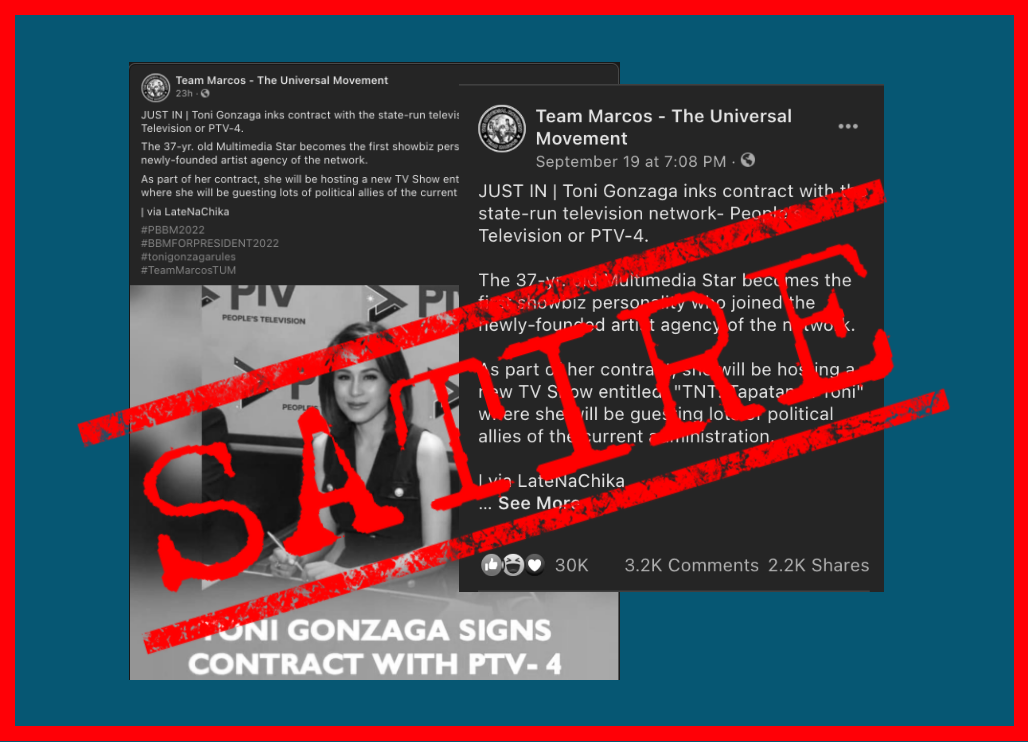 One of these accounts was the page Team Marcos – The Universal Movement, which self-identifies on FB as a political organization. On Sept. 19, it reuploaded the Philippine Char's social media card that stated, "Toni Gonzaga signs contract with PTV-4," and the caption:
"JUST IN | Toni Gonzaga inks contract with the state-run television network- People's Television or PTV-4.
The 37-yr. old Multimedia Star becomes the first showbiz personality who joined the newly-founded artist agency of the network.
As part of her contract, she will be hosting a new TV Show entitled, 'TNT: Tapatan ni Toni' where she will be guesting lots of political allies of the current administration."
Its post has so far earned over 18,000 reactions and 1,800 shares. Among the 2,300 comments on the post of the pro-Marcos page were statements of support for the actress, congratulating her and prodding her to "continue to seek the truth."
In the comments section of a separate post, the Philippine Char uploaded a copy of the photo of Gonzaga it used in its social media card, which originally featured a tarp bearing ABS-CBN's logo instead of PTV's. VERA Files Fact Check traced it back to the official Twitter account of ABS-CBN PR on Nov. 15, 2018, when Gonzaga renewed her contract with the network.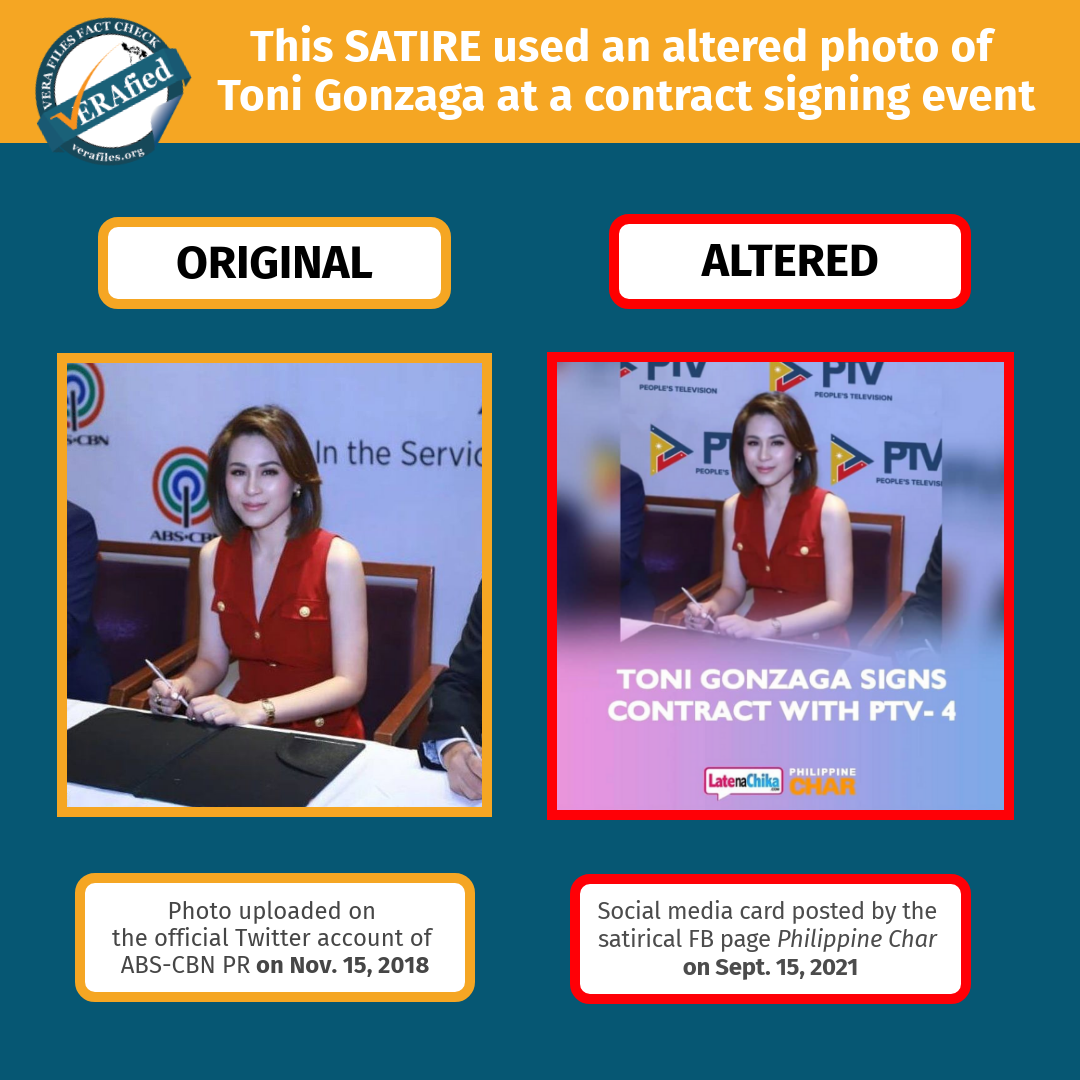 The Philippine Char's satire was published two days after Gonzaga posted an interview with Bongbong Marcos, the son of late dictator Ferdinand E. Marcos Sr., on her YouTube channel. The interview was heavily criticized, with some public personalities calling her out for allowing her channel to become a platform for Marcoses' attempts to "whitewash their human rights violations and proven historical record."
The FB page Team Marcos – The Universal Movement, created on Feb. 4, 2017, "was established to support and defend the achievements of Marcoses," according to its About page. Its post could have reached over 740,000 people, according to social media monitoring tool CrowdTangle.
(Editor's Note: VERA Files has partnered with Facebook to fight the spread of disinformation. Find out more about this partnership and our methodology.)
Have you seen any dubious claims, photos, memes, or online posts that you want us to verify? Send us a message here or here.