A video based on a mere allegation by a congressman that Senate Minority Leader Franklin Drilon was involved in corruption is false. It revived an old unproven claim against the opposition lawmaker, and spuriously used a recent video to make it look like the supposed exposé was new.
Posted on Sept. 16 by the YouTube channel BANAT NEWS TV, the untrue video was headlined, "JUST IN : HALA! Cong.MARCOLETA HARAPANG BINASAG si DRILON/ ₱2.3B na KINURAK0T sa GOBYERNO IBINUNYAG (Cong. Marcoleta shames Drilon face-to-face/ ₱2.3 billion stolen from gov't revealed)."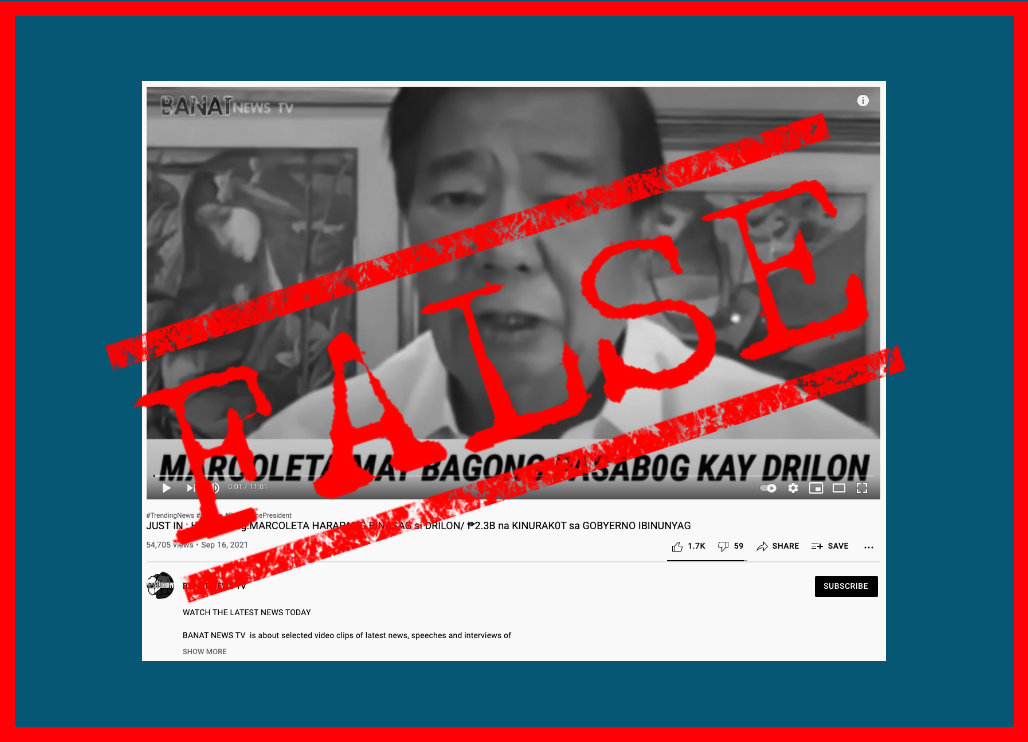 It reused audio from the 18th Congress' first regular session on Nov. 27, 2019, where House Deputy Speaker Rodante Marcoleta questioned the slashed budget for the Southeast Asian (SEA) Games, which took place in the Philippines that year.
The video that played, however, was not in-sync with the audio. It instead used a mute clip of Marcoleta speaking while wearing a face mask. The congressman wore no such covering during the interpellation of the SEA Games budget months before the coronavirus disease (COVID-19) pandemic began.
In the clip, Marcoleta is shown saying he found 82 infrastructure projects worth P2.3 billion in Iloilo, where Drilon is from. He was adding to an allegation earlier made by KABAYAN Party-List Rep. Ron Salo that the opposition senator transferred P2.3 billion from the proposed P7-billion SEA Games budget to his hometown.
That Drilon transferred the funds to his bailiwick is unsubstantiated. (See VERA FILES FACT CHECK: Salo's unproven claim on SEAG budget 'transferred to Iloilo')
A look at the 2019 infrastructure budget for both Iloilo province, and its capital city, shows neither reached a billion. Drilon also called Salo's statement a "complete lie," adding that no member of the Senate slashed the budget for the SEA Games.
The false video was posted shortly after President Rodrigo Duterte challenged Drilon on Sept. 11 to explain his alleged ties with pork barrel scam mastermind Janet Lim Napoles. This, after Drilon questioned the Department of Health's use of funds in handling the current health crisis.
This is not the first time BANAT NEWS TV, created on Dec. 26, 2015, published disinformation (See VERA FILES FACT CHECK: Go DID NOT remove Robredo, Duque from office). Its latest false video has been viewed over 56,300 times on YouTube.
(Editor's Note: VERA Files has partnered with Facebook to fight the spread of disinformation. Find out more about this partnership and our methodology.)
Have you seen any dubious claims, photos, memes, or online posts that you want VERA Files Fact Check to verify? Send us a message here or here.