An online post by website updatedtayo.info currently making the rounds on social media claiming that former President Benigno "Noynoy" Aquino III, Sen. Franklin Drilon, former senator Antonio Trillanes IV, and several other officials are facing 245 counts of malversation, is misleading.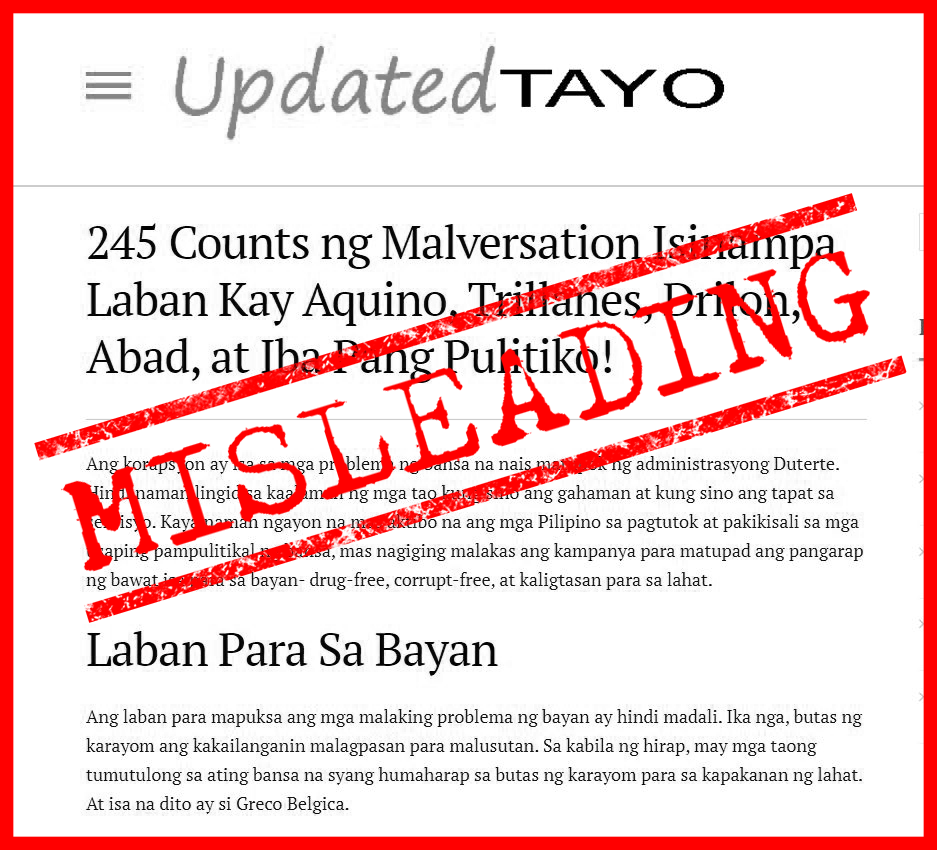 The story bears the headline "245 Counts ng (of) Malversation Isinampa Laban Kay (Filed Against) Aquino, Trillanes, Drilon, Abad, at Iba Pang Pulitiko (And Other Politicians)!" and says Presidential Anti-Corruption Commission member Greco Belgica filed the complaint with the Ombudsman.
Updatedtayo.info's story, which is currently being re-shared by netizens, is 10 months old. It was published on Oct. 15, 2018. While the headline says there were 245 counts of malversation, this is contrary to the actual number of 274 counts of malversation filed last year against the opposition leaders.
The Truth and Justice Commission, led by Belgica, indeed filed the complaint against Aquino and several members of the opposition on Oct. 15, 2018, following their alleged involvement in the Disbursement Acceleration Program fund scandal. The complaint involved 274 counts and implicated senators and congressmen.
Netizens began re-sharing updatedtayo.info's story around the same time the Philippine National Police filed on July 25 complaints of sedition and other charges against Vice President Leni Robredo and other members of the opposition in relation to the publication earlier this year of the "Ang Totoong Narco List" video series.
Updatedtayo.info's story could have reached over 3.9 million people, with traffic from social media this July largely coming from the pages PRESIDENT RODY DUTERTE -FEDERAL MOVEMENT INTERNATIONAL, SARA DUTERTE FOR PRESIDENT 2022 – JOIN NA PO KAYO, and SARA DUTERTE FOR PRESIDENT 2022 ELECTIONS.
Updatedtayo.info was created on March 6, 2018. It has previously published stories that VERA Files Fact Check has found to be fake and false.