A video on Facebook (FB) is falsely claiming that the significantly reduced 2023 budget of the University of the Philippines (UP) system has been approved.
On Aug. 26, an FB page published a video with the false headline that read: "Just In : Finally! Pres Marcos Vp Sara Tinanggalan Ng 2.5 Billion Pondo Ang Up Nasampulan Na (President Marcos, Vice President Sara made an example out of UP, removing P2.5 billion of its funds)!"
The video's narrator also erroneously claimed that the Marcos administration, "after several deliberations done by Congress," has confirmed UP's budget cut.
This is untrue. The two chambers of Congress are still deliberating on the proposed national expenditure program for next year.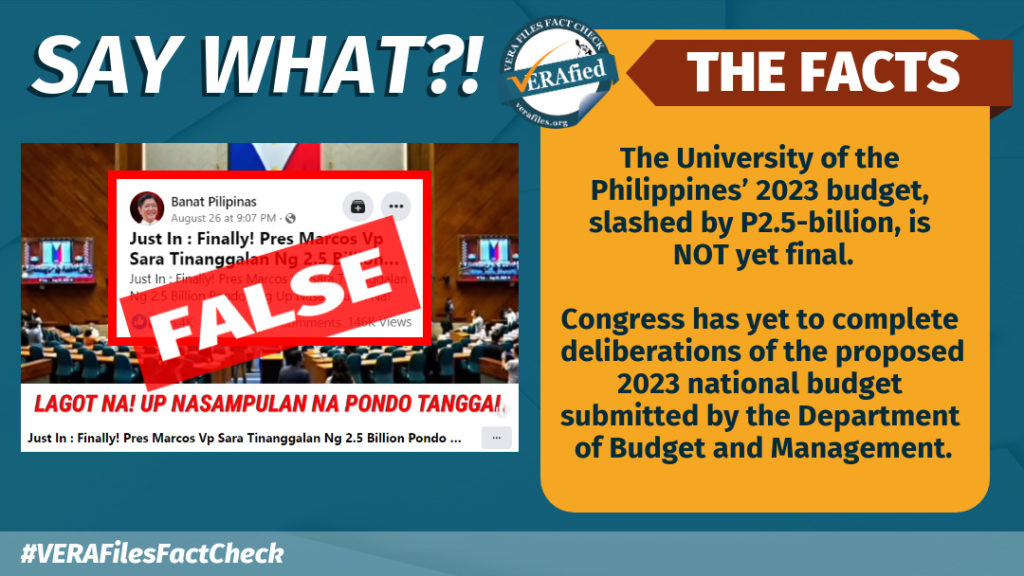 On Aug. 26, the House of Representatives began committee deliberations for the proposed 2023 national budget submitted by the executive branch. House Speaker Martin Romualdez previously said they were aiming to finish the committee and plenary deliberations by late September or before the 19th Congress' first recess.
On the other hand, the Senate Finance Committee has yet to begin its review of the proposed budget but Sen. Sonny Angara said in a message to reporters that the panel will begin budget briefings on Sept. 12.
Further, members of the Bicameral Conference Committee, composed of senators and congressmen, have yet to be selected. The committee, according to the Department of Budget and Management (DBM), is tasked with reconciling versions of the General Appropriations Bill approved by both chambers to finalize the annual expenditure program of the national government in a given fiscal year.  
Another untrue claim was made in the video's thumbnail which read: "UP DILIMAN NA SHOCKED. ITO ANG MATINDING UTOS NG PANGULO (This is the fierce order of the president), CONFIRMED, SARADO NA (closed down)!"
President Ferdinand Marcos has given no such order to shut down the university.
The false video appeared four days after the DBM submitted before Congress the president's proposed P5.268-trillion national budget for 2023, which included a P2.5-billion budget cut to the UP system.
It was published by the FB page Banat Pilipinas (created on Nov. 17, 2020) and has garnered over 7,700 reactions, 1,100 comments, 490 shares, and 169,000 views.
Have you seen any dubious claims, photos, memes, or online posts that you want us to verify? Fill out this reader request form or send it to 'VERA, the truth bot' on Viber.
(Editor's Note: VERA Files has partnered with Facebook to fight the spread of disinformation. Find out more about this partnership and our methodology.)