A YouTube video made a number of untrue claims about the purported wealth of the Marcos family and the proposed Maharlika Investment Fund (MIF).  
Below, VERA Files Fact Check debunks five false claims made in the video published Jan. 15 video by YouTube channel Filipino Future (created on Feb. 23, 2020).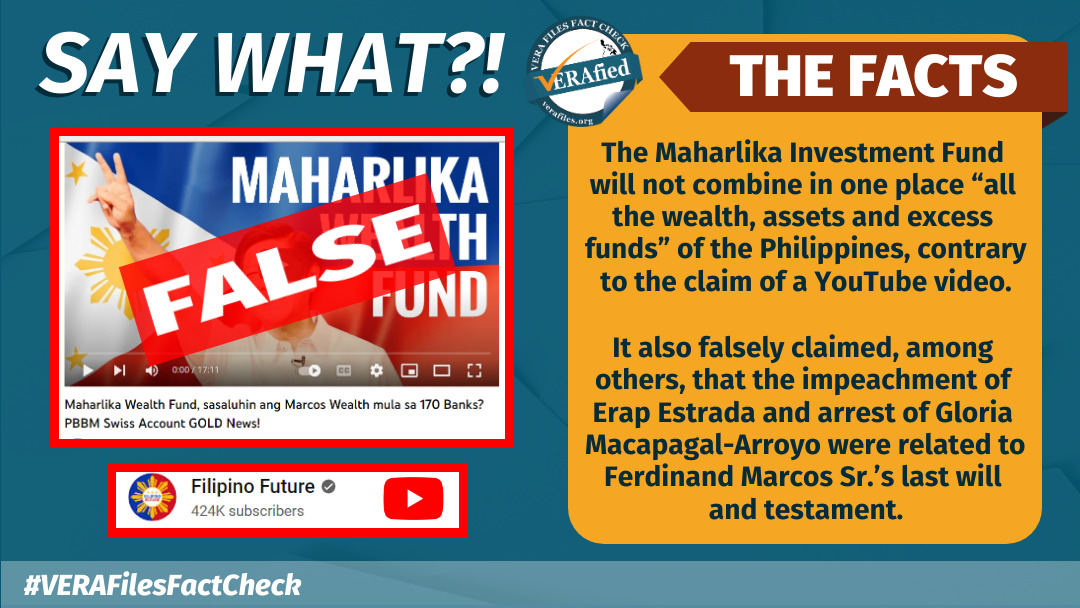 Claim #1
| | |
| --- | --- |
| Claim | Rating |
| The Maharlika fund pools together "all the wealth, assets including gold, dollars, investments, profits, and other national treasures of the Philippines, and excess funds of different government agencies."  | FALSE |
FACT: Nowhere in House Bill 6608 does it say that the MIF will combine in one place "all the wealth, assets and excess funds" of the state.
The bill states that the following shall be the MIF's initial funding sources:
the Landbank of the Philippines,

P50 billion

Development Bank of the Philippines,

P25 billion

Bangko Sentral ng Pilipinas,

100% of its dividends for the first and second fiscal years of the MIF

Philippine Amusement and Gaming Corporation and other government-owned gaming operators,

at least 10% of gross gaming revenue streams

other sources such as royalties from natural resources, proceeds from privatization from government assets, and borrowings by the MIF.
(Read VERA FILES FACT SHEET: The Maharlika Investment Fund explained)
Claim #2
| | |
| --- | --- |
| Claim | Rating |
| Ex-president Joseph "Erap" Estrada was impeached to prevent him from carrying out Ferdinand Marcos Sr.'s last will and testament. He wanted to distribute the Marcos wealth. | FALSE |
FACT: Estrada, who was president from 1998 to 2001, was impeached for alleged bribery, graft and corruption, betrayal of public trust, and culpable violation of the Constitution. It is unrelated to Marcos' last will and testament.
Only the former first lady Imelda Marcos claimed in 1999 that Estrada would help establish a Marcos humanitarian foundation. There is no proof of Estrada making such a promise.
VERA Files Fact Check has debunked this claim before.
Claim #3
| | |
| --- | --- |
| Claim | Rating |
| Former president Benigno "Noynoy" Aquino III ordered to put Gloria Macapagal-Arroyo in jail to prevent her from executing Marcos' last will and testament. | FALSE |
FACT: Marcos' last will and testament was never the basis for Macapagal-Arroyo's arrests.
She was arrested in November 2011 on charges that she cheated during the 2007 elections. She posted bail about eight months later.
Then, she spent about four more years in hospital arrest on a plunder charge for allegedly misusing P366 million in state lottery funds. She walked free in 2016.
Claim #4
| | |
| --- | --- |
| Claim | Rating |
| Under Noynoy Aquino's term, money from the Marcos Swiss bank accounts was used to finance the agriculture sector. | NO BASIS |
FACT: There is no evidence to support that the Marcos Swiss bank accounts financed the agriculture sector under Aquino's term. The YouTube channel offered no proof for its claim.
The budget for the Department of Agriculture, along with all other national government agencies, all come from the General Appropriations Act, which undergoes the scrutiny of Congress each year.
Claim #5
Claim
Rating

The loans for President Rodrigo Duterte's

ayuda

(aid) initiatives and other government projects during the COVID-19 pandemic are being paid for by the interest from Marcos' gold reserves.

NO BASIS
FACT: There is no basis to claim that interest from the purported "Marcos gold" will be used to settle loans made by the Duterte administration during the pandemic.
Neither the Department of Finance nor news outlets have reported this. Among the loans the government made were US$ 500 million from the World Bank and US$ 200 million from the Asian Development Bank to help poor and vulnerable households.
The erroneous video appeared a day after President Ferdinand Marcos went to the World Economic Forum in Switzerland. It has garnered a total of 40,000 views. 
Have you seen any dubious claims, photos, memes, or online posts that you want us to verify? Fill out this reader request form.
(Editor's Note: VERA Files has partnered with Facebook to fight the spread of disinformation. Find out more about this partnership and our methodology.)