A video that appeared on social media last Aug. 15 claimed that Manila City Mayor Francisco "Isko Moreno" Domagoso had been charged with plunder involving funds amounting 70 million pesos.
The headline of YouTube channel PH – EU Öfficial's video is misleading. It read: "HALA KA! ISK0 MORENO KlNASUHAN NG 70MILLION PLUNDER! ETO ANG AYAW IPALABAS SA BAYARANG MEDIA (Oh no! Isko Moreno charged with P70 million plunder [case]! This is what mainstream media doesn't want to show)!"
The 20-minute clip featured part of an over-two-hour video by vlogger Byron "Banat By" Cristobal, who read a Sept. 9, 2014 The Philippine Star article about five barangay chairmen filing plunder raps against Moreno and several other city officials.
A cursory search shows there was neither a decision from the Ombudsman about the plunder charge that emerged beyond 2014 nor were there news reports from other news organizations related to this.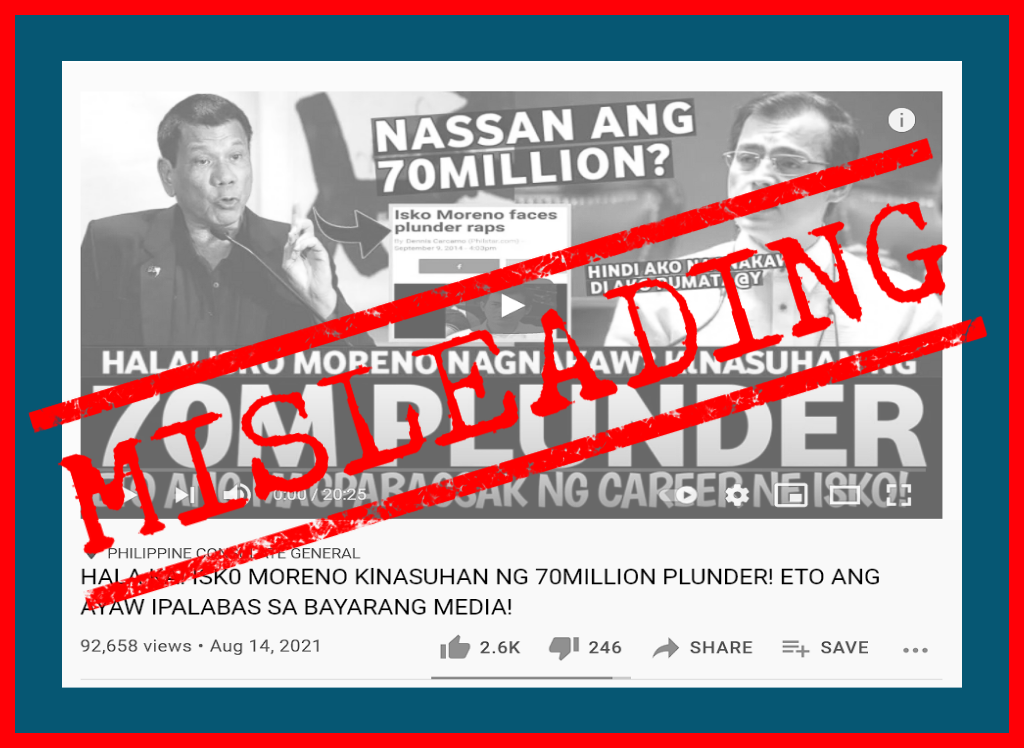 In 2014, then Manila Vice Mayor Moreno and 14 other city officials were charged with plunder before the Office of the Ombudsman for alleged malversation of more than P77 million of real property taxes collected from various barangays, but allocated to only one local unit—Barangay 128.
The 11-page complaint by five village chiefs in Manila said Barangay 128's jurisdiction was redefined "so that it would be easy for [Moreno and other officials] to share in the proceeds of the real property tax."
Moreno dismissed the plunder raps as "politically motivated" during a Sept. 12, 2014 interview with ABS-CBN radio station DZMM.
He explained that Barangay 128 in Tondo, Manila covers Smokey Mountain, and that the disbursement of funds from barangays without citizens and officials such as Pier 2, Pier 4, and Pier 6 was a "normal proceeding" since the time of former mayors Lito Atienza and Alfredo Lim.
The misleading video got over 95,000 views on YouTube. A version of the video reuploaded by Facebook (FB) page Trending Viral TH2 garnered 4,450 interactions and 144,000 views. It emerged after Banat By, on Aug. 14, reacted to an Aug. 11 statement by Cavite Governor Jonvic Remulla defending Moreno after he was put in a bad light because of his former profession as an actor.
PH – EU Öfficial, which claims to be against disinformation, was created in December 2019; while Trending Viral TH2, a self-identified "news personality," emerged in May 2020.
(Editor's Note: VERA Files has partnered with Facebook to fight the spread of disinformation. Find out more about this partnership and our methodology.)