A video says President Ferdinand Marcos Jr. flew to Belgium to claim an alleged bank deposit of his father, Ferdinand Marcos Sr., amounting to $987 billion. This is not true. 
Marcos Jr. went to Brussels to attend the Association of Southeast Asian Nations-European Union (ASEAN-EU) Commemorative Summit on Dec. 14. In his pre-departure speech, the chief vowed to push for the country's priorities, particularly post-pandemic recovery, and promote trade, maritime cooperation, and climate action.  
He also met King Philippe at the Royal Palace where he conveyed the Philippines' intention "to pursue a strategic partnership with Belgium in various fields."
Posted both on YouTube and Facebook (FB) on Dec. 11, the video bore the incorrect headline: 
"CONFIRM! PBBM PUPUNTA NG BELGIUM PARA MAKUHA ANG $987 BILYON NA YAMAN NI FEM PARA SA MGA PILIPINO (PBBM WILL GO TO BELGIUM TO GET FEM's $987 BILLION WEALTH FOR THE FILIPINOS)!"
The video started with a 2009 British Broadcasting Corporation documentary clip where former first lady Imelda Marcos showed a journalist the supposed treasury certificate of Marcos Sr.'s US$987 billion stored in a bank in Brussels. (Read related story VERA FILES FACT CHECK: Claim that Ferdinand Marcos Sr. is the wealthiest man in the world has NO BASIS) 
The video insinuated that Marcos Jr. 's Dec. 12-14 trip, under the guise of attending the summit, was really to get his father's wealth. 
At the 36-second and 1:20-minute marks, a narrator said:
"Pangulong Marcos, next target ang bansang Belgium na puntahan dahil ating napag-alaman na mayroong bank deposit doon si Apo Lakay na 987 billion dollars (President Marcos, next target to visit is the country of Belgium because we found out that Apo Lakay has a bank deposit there that amounts to 987 billion dollars)."

"Sa katunayan, ay pupunta ito ng Belgium para sa isang summit, pero ang totoong pakay di umano nito ay asikasuhin ang yaman ni Apo Lakay (In fact, [Marcos Jr.] will go to Belgium for a summit, but his real purpose is supposedly to take care of Apo Lakay's wealth)."
The rest of the video only played the Dec. 9 press briefing of Office of ASEAN Affairs Assistant Secretary Daniel Espiritu about the trip. The supposed multi-billion-dollar bank deposit was not discussed as part of the president's agenda which also includes meeting with the Filipino and business community and holding bilateral talks with other leaders.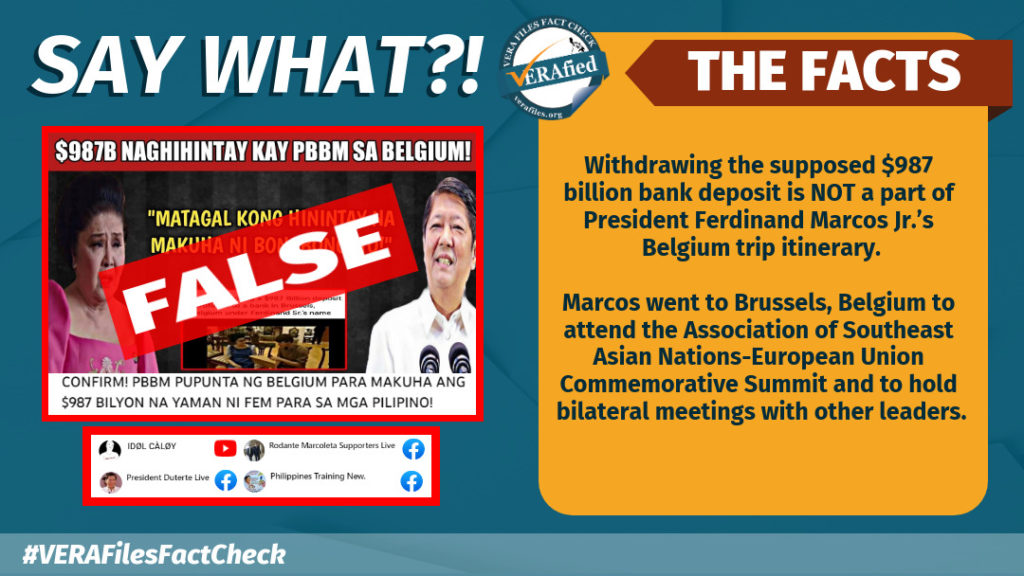 The video was uploaded on Dec. 11 the same day Marcos Jr .flew to Belgium. He arrived in Brussels and met with the Filipino community on Dec. 12.
He said that the main purpose of his trip is to "reaffirm our solidarity with our ASEAN colleagues and that with our regional and dialogue partners in Europe in our need to work together to face the numerous political, economic and social challenges of the post-covid world."
The previously fact-checked YouTube channel IDØL CÀLØY (Feb. 23, 2019) uploaded the video garnering 32,127 views. Several netizens also shared the link on FB. 
FB pages Rodante Marcoleta Supporters Live (created on Aug. 8, 2020), President Duterte Live (Oct. 11, 2020) and Philippines Training New. (Feb. 19, 2021) also uploaded the video collectively garnering 82 reactions, 14 comments, 10 shares and 951 views.
Have you seen any dubious claims, photos, memes, or online posts that you want us to verify? Fill out this reader request form or send it to 'VERA, the truth bot' on Viber.
(Editor's Note: VERA Files has partnered with Facebook to fight the spread of disinformation. Find out more about this partnership and our methodology.)