Multiple videos claimed that President Ferdinand "Bongbong" Marcos' housing project in Deparo, Caloocan has 3,000 units, and that the media has not reported about it. This is false.
According to official reports, the Deparo project will have 1,560 housing units, and not 3,000. An AM radio station and a tabloid have reported about this.  
A video posted on Dec. 1 to Facebook and YouTube carried this headline: 
"TAOB SI LENI SA PABAHAY NI PBBM! 3K UNITS PATAPOS NA,DI BINABALITA NG MEDIA? (Leni [Robredo] beaten by [President Bongbong Marcos' housing program! 3,000 units about to be finished, not reported by the media?)" 
These claims came from a male TikToker, who uploaded a separate clip on Nov. 30.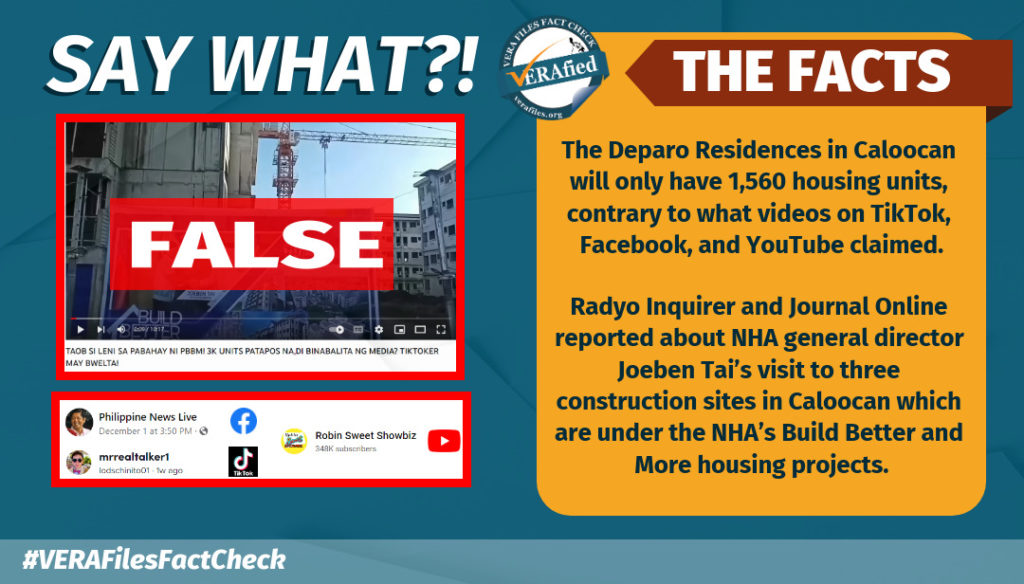 It is also incorrect to say that the housing project is an initiative of Marcos as this has been on NHA's project list since the time of the past administration.
Only 1,560 housing units are being built in Deparo, Caloocan, based on reports from the National Housing Authority (NHA) and the People's Television Network. 
These reports also mentioned two other ongoing housing projects in Caloocan: the Bagumbong residences with 480 housing units, and the Bagong Silang housing project with 300 units. 
On Nov. 25, NHA general manager Joeben Tai inspected the three construction sites – which are under the NHA's Build Better and More housing project. Tai promised to award 30,000 housing units to low-income families and households before 2022 ends.
Journal Online – the website behind tabloid People's Journal Tonight – and Radyo Inquirer reported on Tai's inspection on Nov. 25 and 28, respectively.
YouTube channel Robin Sweet Showbiz (created on May 4, 2021) posted the video on Dec. 1, which was re-uploaded by Facebook page Philippine News Live (created on July 25, 2017). A TikTok user made the claim on Nov. 30.
The three incorrect videos garnered a total of over 250,137 interactions.
Have you seen any dubious claims, photos, memes, or online posts that you want us to verify? Fill out this reader request form or send it to 'VERA, the truth bot' on Viber.
(Editor's Note: VERA Files has partnered with Facebook to fight the spread of disinformation. Find out more about this partnership and our methodology.)