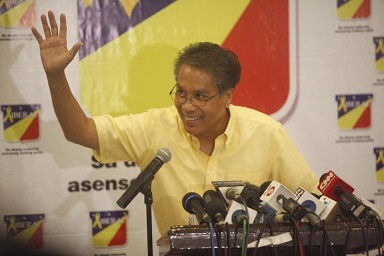 By ELLEN T. TORDESILLAS
WOULD it be a less stressful option for Mar Roxas, Liberal Party presidential candidate in the  May 9, 2016  presidential election not to file at all a Statement of Contributions and Expenditures (SOCE)?
He didn't win anyway so there's no position that he would be prevented from assuming because he does not have the Certificate of Formal compliance that is issued by the Commission on Elections to those who have complied with the submission of their  SOCEs.
What happened to ousted  Laguna Governor Emilio Ramon "ER" Ejercito would not happen to him.
It will be recalled that Ejercito of Pwersa ng Masang Pilipino won over Edgar San Luis of the Liberal Party in the 2013 gubernatorial race in Laguna but he was removed from office  in 2014 when Comelec upon the complaint of San Luis, determined that Ejercito  exceeded expenditure limits in the 2013 elections. Ejercito's TV ad expenses was one of the proofs Comelec had for his overspending.
The fine for non-filing of SOCE for presidential candidates is  P30,000 for the first offense and for the second offense, P60,000. P30,000 is  chicken feed for  Roxas.
As of today, 12 days after the June 8 deadline  (30 days after Election Day) set by Comelec for candidates in the May 9, 2016 elections, Roxas has not yet filed his SOCE.
LP filed its SOCE last June 14 even as Comelec granted its request for a 14- day extension for the filing of the SOCE. The PDP-Laban said it will question Comelec decision before the Supreme Court.
Affected by LP's late filing are  LP candidates who won in last May's election including five LP senators led by former Senate President Frank Drilon, 115 congressmen and 39 governors.
Romulo Makalintal,  lawyer of incoming vice president Leni Robredo is confident she will not be affected by the Liberal party's late filing. Robredo filed her SOCE before the June 8 deadline. She reported having received P423 million  contributions and P419 million in expenses .
Roxas' campaign spokesman, Barry Gutierrez said the primary reason for their inability to meet the June 8 deadline was "the voluminous number of receipts that have to be scanned and attached to the document, in compliance with the rules and in the interest of complete transparency."
Everybody knows that the spending limits set by the law is obsolete. The Omnibus Election Code imposes  a spending limit of  P10 per voter for presidential and vice presidential candidate, and P3 for other candidates, with political parties allowed to spend P5 per voter. In the 2016 elections, there were 54.4  million voters.
A former presidential candidate  said one needs  least P3 billion to wage a presidential campaign with TV ads  eating some 80 percent of the expenses.
We imagine that a lot of accounting creativity were employed by all the candidates to be able to submit an Omnibus Election Code-compliant SOCE that would match and supported by what their respective parties submitted. Then the reports on contributions received should also match with what the contributors file with the Bureau of Internal Revenue.
A candidate runs the risk of perjury, which to  my non-lawyer mind means making false statements under oath, if he is not careful in reconciling all the thousands and millions of pesos  that he received and spent with what the law requires. Online legal blogs say the penalty for perjury is " arresto mayor in its maximum period to prision correccional in its minimum period."
For Roxas, why bother to file? Just pay the fine