By JOHNNA VILLAVIRAY  GIOLAGON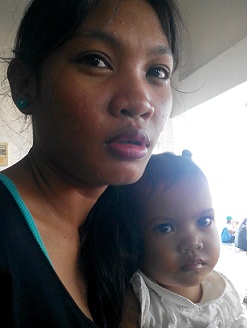 TACLOBAN, Leyte –President Aquino marked the first anniversary of the super typhoon Yolanda (international name, Haiyan) one day earlier in Guiuan, Eastern Samar, where the typhoon made its first landfall early morning of Nov. 8, 2013.
It was in Tacloban in Leyte that Yolanda wrought the most damage. Leyte residents insist lives lost are more than double the 6,000 figure the government uses.
Three  survivors of the tragedy in Tacloban share their story:
Stella Dalaga
Twenty-two year old Stella Maris Dalaga carried her two -year old daughter Queenie as she waited for the People Surge March Saturday from the Tacloban City Astrodome to McDonald's downtown. She wants to express her disgust over the government's non-fulfillment of its promise to help victims of Typhoon Yolanda.
Last April, Stella's family got 20 small packs of instant coffee and a family food pack containing 2 kilos of rice, 6 pieces of instant noodles, and 6 small cans of sardines from government workers.
In October, her husband, Winston, was given a P20,000-voucher to be used exclusively to purchase what she described as over-priced construction materials to build a house.
"Pero hindi na namin kailangan kse nagbigay na ang Tzu Chi (Foundation) at Oxfam ((But we don't need it anymore.)," she said.
But, having lived in a tent from December to June, the young couple bought additional materials to fortify their hovel in Barangay Cabuynan in Tanauan Town, Leyte. "Dapat nga merong Green Card na ibinigay nung January, pero sa barangay namin hindi namin hawak yun (We should've been given a Green Card in January, but none in the barangay has been given one.)," she added.
The Green Card was supposed to list items each beneficiary receives from government. Dalaga suspects that somebody is collecting donations under their name.
She resents the government's uncaring attitude towards their sufferings.
Stella lost her 35-year old mother, Glenda and three younger siblings to Yolanda's wrath.
Stella last saw her mother two days before Yolanda struck. She and Queenie stayed with her in Barangay Calugcog, Tanauan for a week to help her younger sister who had just given birth.
Dalaga left for home because she wanted to make sure her husband and their other daughter, just a year older than Queenie, would be safe.
"Maaraw pa at mainit nung araw bago yung bagyo, kaya kampante kme. Nadinig ko na Signal No. 3 at meron storm surge pero hindi ko in-expect na me baha kse hindi ko naintindihan kung ano ang storm surge (It was sunny the day before so we didn't think much of it even if we know it's strong. I wasn't expecting a flood because I didn't know what a storm surge was.)," she explained.
Very early the day after, she learned firsthand what a storm surge was.
Huddled with neighbors in a nearby school converted to an evacuation center, she saw Yolanda tear off the structure's roof. Then water swallowed them. She saw Winston and her other daughter swept away by the surging water. The young family was reunited shortly afterward.
Stella walked five hours with Queenie to check on her mother and sisters two days after. On her to their barangay, she met an uncle who broke the grim news to her.
"Concrete kse ang bahay nila kaya me nag-evacuate dun na ibang kamaganak. Sa 13 na tao sa bahay, lima lang nag natira (The house was made of concrete so people evacuated there thinking they'd be safe. Of the 13 people in the house, only five survived.)," she said.
Winston got a P16,000 loan to buy a small fishing boat. From what he catches, Stella has an average daily budget of P100 to buy a kilo of rice and milk for the girls.
"Balak ko din magtrabaho pag malaki-laki na itong dalawa. Kahit anong trabaho. Mahirap ang walang ipon o hawak na pera (I want to work when the girls are bigger, any kind of work. It's difficult not having any savings.)," she mused.
Gil Pantas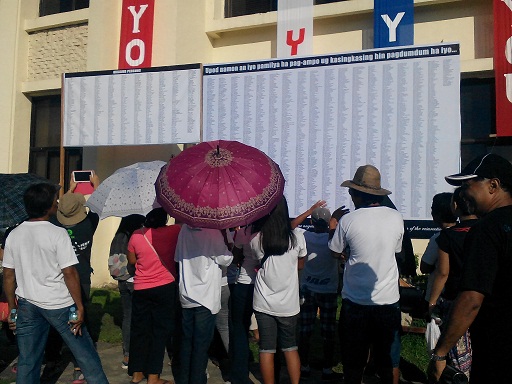 Saturday, at the exact time that waters swallowed Tacloban City a year ago,Gil Pantas, a 50-year old city government employee, stood near City Hall staring at a giant tarpaulin listing the names of those perished.
The sun was punishing but Gil stood there anyway with only a black jacket covering his head.
"Me 10 akong kamaganak na nakikita, yung mga Daria(I can see at least 10 names of relatives. The Darias.)," he said pointing to one side.
Gil's family was lucky enough to survive Yolanda, but a brother was so traumatized that he moved to another area in the city far from the coast. A niece, he heard, had lost her mind and had to be moved to Catbalogan City for better care.
"Nasira ang bahay, pero nakapag-loan naman ako sa GSIS para makapagpatayo ng bago, maliit lang (I lost my house, but I was able to get a loan from GSIS to build a new one even if small.)," he said.
A landowner, Gil is not availing of a unit in any of the soon-to-rise relocation areas for Yolanda victims.
Rebecca Sabalsa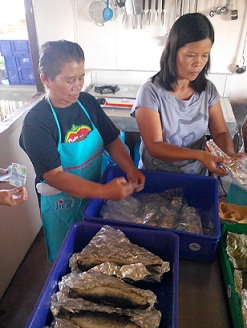 Rebecca Sabalsa, 58 years old, is part of the 20 women-strong Santa Cruz Women's Association in Tanauan, Leyte. They were given a starting capital of P4,000 the Japan International Cooperation Agency (JICA) that they used to purchase milkfish that they now process and sell individually.
"Bumabalik na kme sa normal kahit paano (Life is returning to normal.)," Rebecca said while demonstrating to JICA visitors how they pack the fish into vacuum-sealed bags.
Rebecca's husband, like many of the men in the community, is a fisherman who earns an average of P200 a day from the two kilos of fish caught for every expedition. Her budget is for the family – her husband, two employed sons, and two young grandchildren who lost their mother because of Yolanda.
She is expecting a merry Christmas this year as the association members would be giving them their 'salaries' from the combined profit from the sales of the Softbone Bangus, an original recipe the Santa Cruz women came up with.
The group's shared profit since production began in October stands at about P18,000 plus P5,000 in collectibles and they are expecting it to grow even bigger come Christmastime.
"Hindi pa sigurado kung magkano ang suswelduhin namin pero pandagdag na din yun sa Pasko(I don't know yet how much I'll get, but it doesn't matter.)," said Rebecca, excitement evident in her face.
She says those who want to order their Softbone Bangus, please contact Menchie (0912-4855345), Letlet (0949-8688476), or Marlyn (0907-2219444).