In a rebuff to Washington's call to isolate North Korea, foreign ministers of the Association of Southeast Asian Nations on Saturday stood pat on their position to engage the rogue state, while voicing concerns that its ballistic missile tests and nuclear program seriously threaten peace, security and stability in the region.
"We strongly call upon the DPRK (Democratic People's Republic of Korea), as a participant of the ASEAN regional Forum, to positively contribute to realize the ARF Vision to maintain the Asia Pacific as a region of lasting peace and stability, friendship and prosperity where States and organizations, both within and outside the region work in a spirit of mutual trust, appreciation and respect to overcome security threats and challenges and prevent escalation of potential conflicts with a view to creating an environment conducive to sustainable development, social progress and improved quality of life for all peoples in the region," the ASEAN foreign ministers statement on the Developments in the Korean peninsula said.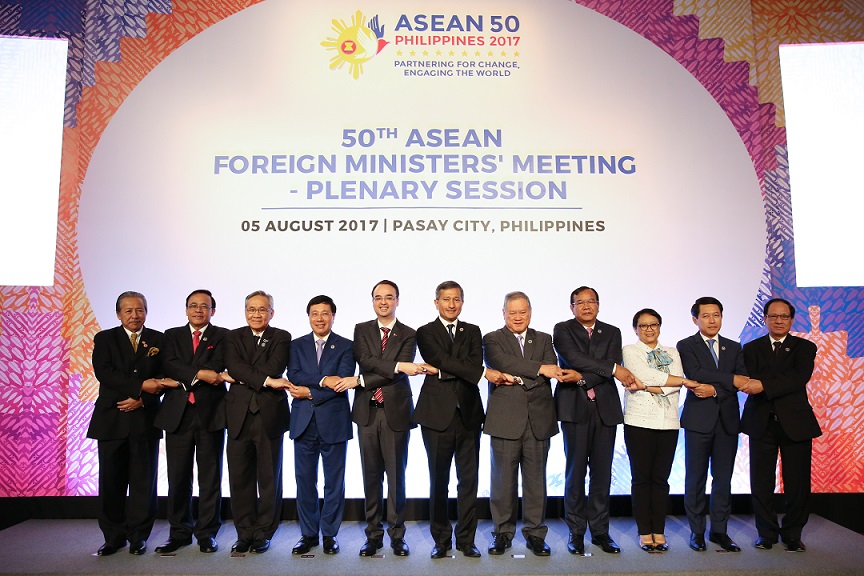 The ASEAN stand-alone statement was issued ahead of the ASEAN Regional Forum (ARF) to be held on Monday, where Pyongyang's recent missile launches are high on the agenda, and comes before the United States can formalize its call to ASEAN "to drastically reduce their interactions with Pyongyang," a position made in Washington before US State Secretary Rex Tillerson left for Manila to attend the security dialogue.
The ASEAN ministers reiterated their grave concerns over North Korea's ballistic missile launches and nuclear tests that seriously threaten peace, security and stability in the region and the world and strongly urged the DPRK to immediately comply fully with its obligations under all relevant United Nations Security Council Resolutions.
"We reiterate our support for the complete, verifiable, and irreversible denuclearisation of the Korean Peninsula in a peaceful manner, call for the exercise of self-restraint, and underscore the importance of creating conditions conducive for dialogue to de-escalate tensions. We support initiatives to improve inter-Korean relations towards establishing permanent peace in the Korean Peninsula. ASEAN stands ready to play a constructive role in contributing to peace and stability in the Korean Peninsula," Philippine Department of Foreign Affairs (DFA) Spokesperson Robespierre Bolivar said, reading the statement on Saturday.
Philippine Foreign Minister Alan Peter Cayetano, ahead of their ministerial meeting plenary, said that they have decided a single ASEAN message will be delivered to North Korea to assert ASEAN's centrality and consensus principle.
"As there were views that, how can we hear them out or confront them if they're not there? But there's also a view that we should give them an ultimatum — the North Koreans," Cayetano said after the dinner with his ASEAN counterparts on Friday.
On Wednesday, the US State Department announced that Washington will ask ASEAN to reconsider DPRK's participation in ARF which is "a broader grouping of countries in the region, aimed at conflict prevention types of discussions and meetings and capacity-building."
"Right now we're still in the stage of elevating pressure on the North Korean regime, elevating their feeling of isolation… So the North Koreans have been included in the ASEAN Regional Forum and have attended on an annual basis. I think what we would expect to see this year at the meeting would be a general chorus of condemnation of North Korea's provocative behavior and pretty serious diplomatic isolation directed at the North Korean foreign minister," Susan A. Thornton, US Acting Assistant Secretary, Bureau of East Asian and Pacific Affairs said in a special teleconference briefing on Wednesday.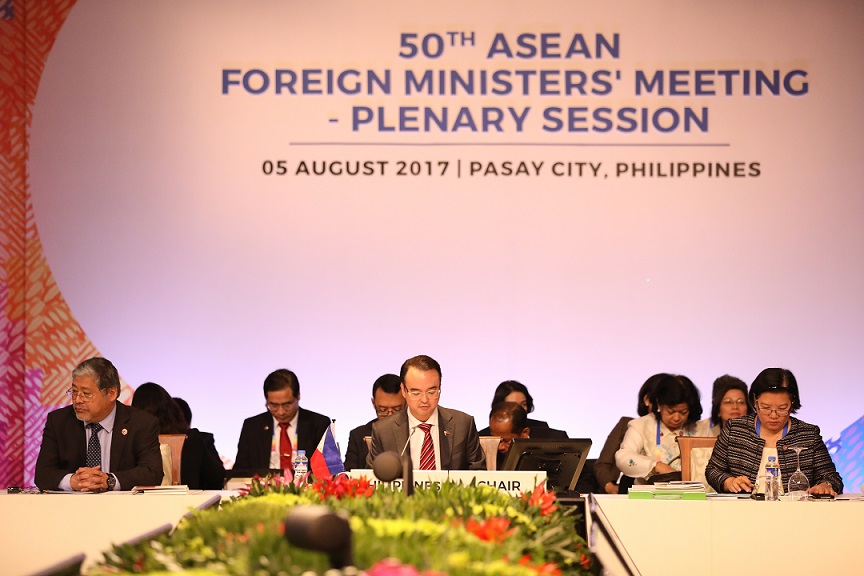 Philippine Foreign Secretary Alan Peter Cayetano presides at the plenary session of the 50th ASEAN Foreign Minister's Meeting
Bolivar, during Saturday's press conference, said that the ARF as a forum only had criteria for admission of countries to participate but has no hard and fast rule to ask a country to exit. And as an ASEAN-related mechanism, decision-making is still by consensus.
"ASEAN wants the North Koreans to know that ASEAN remains concerned about what it is doing but also that we want to engage North Korea in a face-to-face candid dialogue on what is happening in the Korean peninsula because we hope that the dialogue will de-escalate the tensions banking on the candid discussion of the issue in the upcoming ARF," he said.
The 10 ASEAN member states – Brunei, Cambodia, Indonesia, LAO PDR, Malaysia, Myanmar, Philippines, Singapore, Thailand and Vietnam – engage 17 other states in security dialogue in Asia. They are: Australia, Bangladesh, Canada, China, DPRK, EU, India, Japan, Mongolia, New Zealand, Pakistan, Papua New Guinea, Republic of Korea, Russia, Sri Lanka, Timor-Leste and USA. They meet annually, and their meeting in Manila on Monday will be their 24th where they will exchange views on regional and international issues with a view to finding areas of cooperation to address concerns.
Bolivar said while the US has not formalized the proposal they announced in Washington on Wednesday, Tillerson is still free to bring that up in the ARF on Monday and a reaction from North Korea is to be expected.
"They (ASEAN ministers) are for the dialogue and keeping it alive… I don't think there is, for now, a viable alternative. The six party talks have stalled and aside from the UN, it's only in the ARF that they participate. That's the only line we can tell them face to face what the concerns are, and for them respond in time. The dialogue will hopefully help clarify some of the issues. The ARF has an agenda item on exchange of views, it depends on whether countries raise it. Whatever issues a country raises, for as long as they are regional security issues, ministers will discuss," Bolivar said in an interview.
Over the years, ASEAN has periodically called for the resumption of the Six-Party Talks, after North Korea decided to halt its participation in the process in 2009. It is a multilateral negotiation held intermittently since 2003 and attended by China, Japan, North Korea, Russia, South Korea, and the United States aimed at dismantling North Korea's nuclear program.