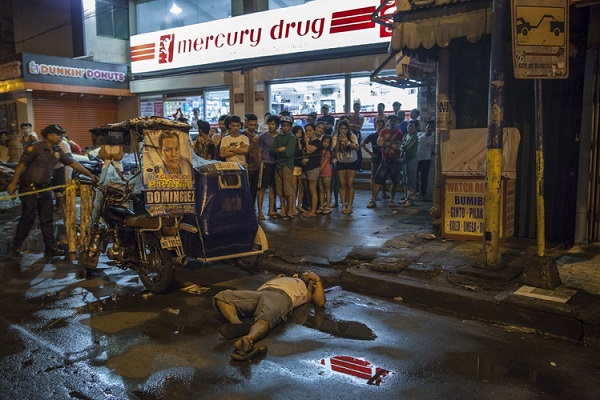 THE glare of a drugstore sign floods the street, shining on the lifeless body of a man sprawled on the wet concrete, a crime scene cordoned off by the usual police tape and curious bystanders who have gathered to ogle the latest victim in the government's war against drugs.
"It's a war on drugs, and there's the drugstore," quips veteran photojournalist Luis Liwanag, as he stares at his laptop, examining the photograph he has taken. And though he chuckles at the irony of what his camera has captured, he is all too aware there's nothing funny about the images that have been emerging from the Philippines lately.
In the five months since President Rodrigo Duterte came to power, thousands of Filipinos have been summarily executed in what are called extrajudicial killings. Most of them were poor, usually shod in slippers, dressed in sando and shorts, and suspected of having sniffed or sold illegal substances.
These deaths come mostly in the period between 9 p.m. to 5 a.m., the night shift that since Duterte came to power has been a rich source of stories for the country's corps of photojournalists.
Night after night, news photographers listen in on the police radio or stay tuned to their Twitter accounts for the latest incident. In Duterte's Manila, not a night goes by that nothing happens.
And off they go, once they get wind of something, chasing after scenes that seem to repeat themselves over and over again. Liwanag notes, though, that the killings don't always happen in dark alleys far from prying eyes. They can happen right in front of a busy well-lit 24/7 drugstore with so many pedestrians and commuters around.
And the numbers are rising. On the evening of Dec. 5 alone, for instance, news broadcasts reported 13 dead from various drug-related killings all over Metro Manila, at least three of which were caused by supposed suspects resisting arrest.

The killings, and the impunity with which they are carried out, have shocked the international community, prompting the arrival in Manila of members of the foreign press who have been joining the locals in the frontlines of the night shift. Even the noted American photographer James Nachtwey was recently seen in the company of local photographers, who have become Manila's version of war correspondents.
Having seen and photographed hundreds of dead bodies in the past months, these photographers have become experts of sorts, some even turning into sources interviewed by the foreign press.
The BBC World Series has featured Raffy Lerma, Philippine Daily Inquirer staff photographer, in a radio documentary titled, "Trolls, 'the Devil,' and Death." Lerma is known for having taken a photograph likened to the Pieta, a woman cradling her partner, who had just been shot and killed for being a drug user.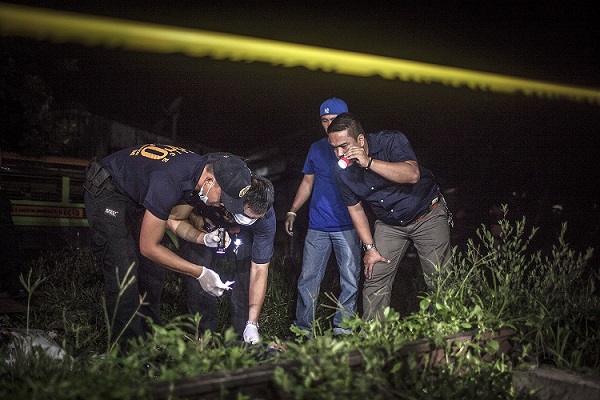 And Liwanag himself is appearing in a television report by British journalist Jonathan Miller airing on UK's ITV Channel 4.
Liwanag says he can't get the images out of his mind. "Sometimes you see people who don't look dead, but seem like they're just sleeping. Other times, we see dead people caught in a frozen scream, as though they were shocked or surprised as they breathed their last."
He can't forget the time he and other photographers were bent over the body of a very innocent-looking 19-year-old victim whose eyes were still wide open. "We were telling each other, 'Isn't that a tear in his eye? Maybe the tears had formed, and were about to drop.'"
"Almost every night we see victims of extrajudicial killings," Diosina told Al Jazeera. "It's almost everywhere, every night. For us it's very hard to cover these scenes, because every night is full of tears and blood."
Lerma has taken photographs of victims whose faces were found covered in packaging tape. "People died and they're faceless," he told the BBC. "Almost five months and it's not stopping."
Covering violence on a nightly basis could be numbing, and has taken its toll on these visual storytellers. Liwanag says he has experienced coming home after a night of covering the aftermath of these killings, and seeing shadows in his peripheral vision.
"From the corner of my eye, I see air figures, like the inflatable tubes that sway with the wind. But when I turn, they're gone," he says. He compared notes with another photographer who reported experiencing the same thing, which they think could be hallucinations caused by photographing too many deaths.
And then there's the physical exhaustion caused by a succession of sleepless nights, feeling weak in the knees or having palpitations.
While some news organizations offer counseling for their staff engaged in trauma-inducing coverage, most do not. Hence, many journalists and photographers won't enjoy the benefit of professional advice or support.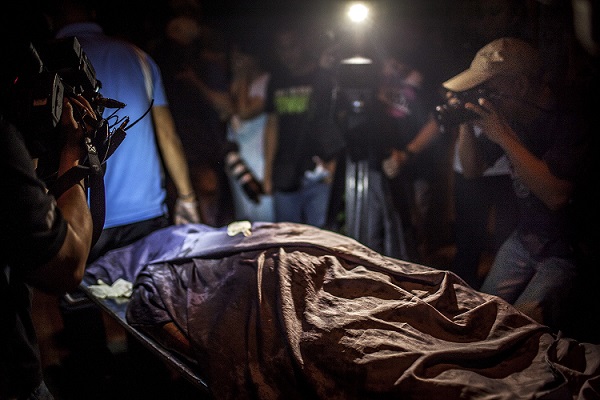 Many photographers are likely to be in worse shape than Liwanag, a freelancer who has logged less hours covering the killings, than the likes of Lerma who have to be on the beat, night after night.
These photographers share similar insights on why and how these killings happen and who are responsible. "It's like the handiwork of just one group. Could be the police," they say.
In fact, Liwanag remembers the story going around the trenches of the night shift, of policemen telling photographers to hang around for the next story happening soon.
And then there's the curious fact that policemen always seem to know where to fish the shabu out of a dead man's pockets. "They know which pocket it's in," Liwanag says.
Despite the sleepless nights, and the criticisms and attacks he has gotten from Duterte supporters who have accused him of harboring a hidden agenda, Lerma says he is glad he is helping document Philippine history. "A dark part but it's still history."
When BBC host Megan Mohan asked him why his reaction was an emotional and not a clinical, detached one, Lerma replied, "Sometimes I'm feeling something different, sometimes I'm feeling nothing. I don't want to feel nothing."
Luis Liwanag will speak about covering breaking news at a forum organized by the Konrad Adenauer Asian Center for Journalism at the Ateneo de Manila University. Titled "Night Beat," the forum is part of Pitik 13: A forum on photojournalism, which will also feature a presentation called "Catchlight," by students from Bangladesh, Indonesia, and the Philippines who are completing their Diploma in Visual Journalism. The forum will be held on Friday, Dec. 9, 1:30 p.m. at the Faber Hall of the Ateneo de Manila University. Those who would like to attend must confirm via email at acfj.soss@ateneo.edu.