A law meant to save children from injury and possible death during a road crash will be fully enforced on Feb. 2. 2021.
Republic Act 11229 or the "Child Safety in Motor Vehicles Act" mandates the use of child restraint systems (CRS) or car seats while transporting young passengers in private motor vehicles. These only cover children 12 years old and younger who are shorter than 4'11."
It also states that only passengers who are 13 years old and older can use the front passenger seat. The law likewise punishes drivers who leave children in a car unaccompanied.
Public utility vehicles like taxis, vans, school buses and regular passenger buses are not yet covered. However, the Department of Transportation (DOTr) will be conducting a feasibility study to determine if public transport will be required to adopt CRS use.
R.A. 11229 was signed into law by President Rodrigo Duterte in February 2019 and its implementing rules and regulations (IRR) were approved in December 2019.
No fines for now
Land Transportation Office (LTO) Deputy Director for Law Enforcement Roberto Valera said at an online press briefing on Friday that violators will initially be warned and given information materials about the law.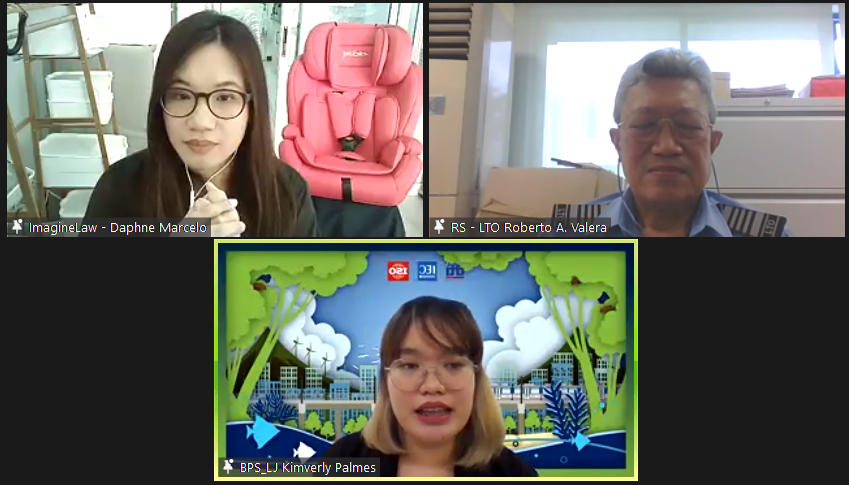 (From upper left) ImagineLaw road safety policy associate Atty. Daphne Marcelo, LTO Deputy Director for Law Enforcement Roberto Valera and Engr. Louise Palmes from the DTI Bureau of Public Standards
He added that the issuance of fines and show-cause orders, as well as the imposition of driver's license demerit points, may be done in three to six months, or as early as May 2021.
Valera also said the LTO is finalizing its enforcement protocol for R.A. 11229, which includes special training for enforcers because children are involved.
Section 19 of the IRR states that enforcers must "ensure that child passengers are not subjected to any form of distress during apprehension."
"In line with that, we also have to address other components," Valera said. "For example, we have to finalize the administrative order on the tint law because some cars have dark tint and the enforcement of this law is visual. We have to see if the child is in the car seat."
To help motorists, the LTO will also set up fitting stations in their regional and district offices nationwide. The law also gives the LTO the power to accredit fitting stations in places like toll way operators and gasoline stations.
Stopping child deaths in cars
R.A. 11229 is one of the government's responses to what the World Health Organization (WHO) calls the top killer of people aged 5 to 29 years old worldwide – road crashes.
The 2018 WHO Global Status Report on Road Safety found that four in five road-traffic deaths around the world in 2016 occurred in middle-income countries like the Philippines.
The WHO also said child restraints are "highly effective" in reducing injury and death to child occupants, with the greatest benefit for children under four years old.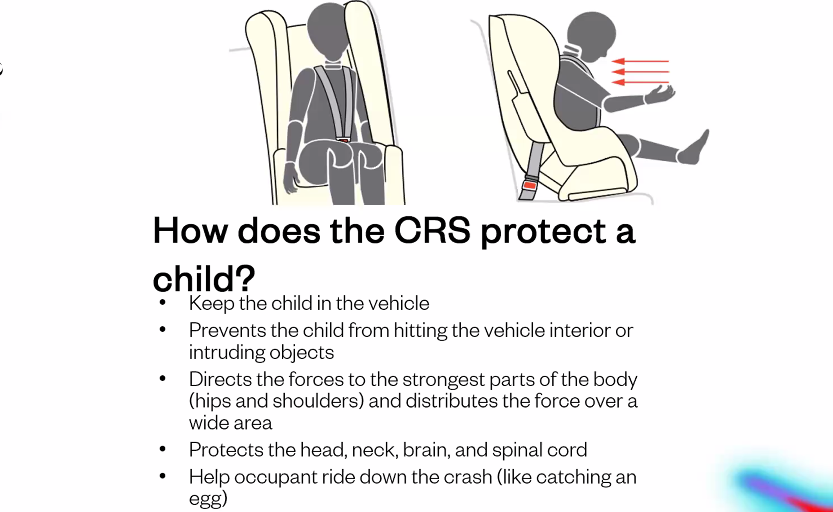 Public interest law group ImagineLaw presents ways that child restraints keep kids safe (screengrab from ImagineLaw presentation).
Lawyer Daphne Marcelo, road safety project manager from public interest law group ImagineLaw, said 1,226 children aged 14 and below were killed in road crashes locally in 2017, according to Philippine Statistics Authority data.
"That's at least three children per day," she said at the Jan. 29 press conference. "This number has almost doubled since we first began advocating for the passage of this law in 2017."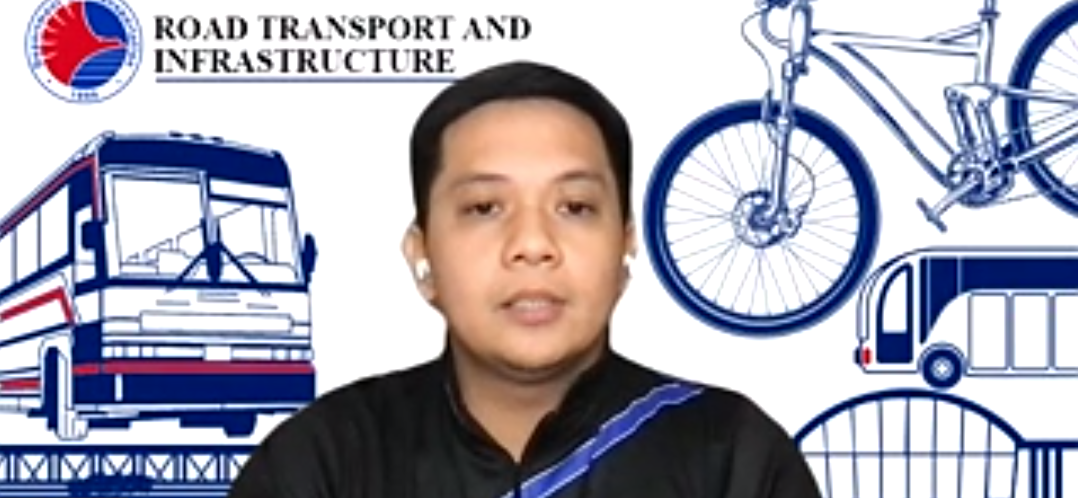 Transportation Assistant Secretary Mark Pastor says R.A. 11229 is part of the government's effort to build a road safety environment for all Filipinos.

DOTr Assistant Secretary for Road Transport and Infrastructure Mark Steven Pastor said the law is just one of many measures being implemented to keep Filipinos safe on the road.
"While the country experiences rapid motorization and continuing investments in improving our roads, this government also holistically works on enabling a road safety environment for all," he said at the briefing. "The future of the next generation is this government's priority."
Parent's embrace never enough
Marcelo said CRS are vital because car seat belts are not designed for children, whose smaller bodies often result in the belts being improperly secured.
"There's that very real danger that, in case of a crash, the child will be ejected from the vehicle or hit the interior of the vehicle," she said.
She also said CRS are designed to direct crash forces to the strongest parts of a child's body, as well as protect his or her head, neck, brain and spinal cord.
Marcelo added that even the tightest embrace of a parent will not stop a child from being injured or killed in a road crash.
"The weight of the child multiplies depending on the speed or the force of the road crash," she said. "If you have a crash that occurs at 80 km/h while holding a 10-pound child, it would feel like you are carrying a 500-pound baby. So unless you have superhero strength, you will probably not be able to prevent your child from being ejected."
Proper fitting and certification required
Marcelo said motorists should be mindful of the type of child restraints to buy. These include:
Rear-facing – For children zero to 15 months old, are shorter than 2'9" and weigh zero-to-13 kilograms
Front-facing – For children 15 months to 4 years old, are 2'3" to 4'4" in height and weigh 9-to-36 kilograms
Booster seat – For children 4 to 12 years old, are 4' to 4'11" in height and weigh 15-to-36 kilograms
Under R.A. 11229, a CRS is properly secured if:
It is correctly installed in the vehicle through proper anchorage points.
It is appropriate for the child's age, height and weight.
The harness straps and lap belt are firmly buckled and not twisted.
The lap belt fits across the child's thighs and hips and not across the abdomen
In addition, all child restraints must have stickers bearing the Philippine Standard (PS) Mark or an Import Commodity Clearance (ICC) certificate issued by the Department of Trade and Industry (DTI).
Section 10 of the IRR also states that it would be unlawful to use, sell or distribute child safety seats that have expired. The same section, however, also says that car seats that do not bear any expiration date can be used, sold and distributed provided they meet DTI product standards.
Car seats that were purchased or acquired before the law was approved will still be allowed. However, owners will have to secure clearance from the LTO, which will ascertain that the devices are not expired or show any physical damage.
Harsh penalties for drivers and sellers
Those who violate the law are expected to face steep fines. For drivers caught with child passengers without CRS, have front-seat occupants below 13 years old or leave their child unattended in the car, the penalties are:
P1,000 for the first offense
P2,000 for the second offense
P5,000 and one-year driver's license suspension for the third and succeeding offenses
The only exceptions are if the child is involved in a medical emergency or has a disability that makes CRS use hazardous, which must be certified by a doctor.
Meanwhile, drivers who use car seats that are expired, substandard, don't have an LTO clearance or don't have PS Mark or ICC Clearance stickers will face:
P1,000 for the first offense
P3,000 for the second offense
P5,000 and one-year driver's license suspension for the third and succeeding offenses
Also, those who manufacture, distribute, import, retail and sell unlicensed or expired car seats will be fined between P50,000 and P100,000 for every substandard product. The same penalty will be imposed for those tamper, alter or forge the PS Mark or ICC stickers.
This story was produced with the help of a grant from The Global Road Safety Partnership (GRSP), a hosted project of the International Federation of Red Cross and Red Crescent Societies (IFRC).