Batman has his Batcave and the Avengers have the Stark Tower. Filipino artists are no different.
They are at their best in their own fortresses of solitude — their makeshift art studios in their living rooms — where they continue to create while under lockdown. These artists do sense when something is not right outside their sanctuaries.
Their Spider-Sense is tingling, 24/7.
And they respond by producing humorous strips, political cartoons, or by expressing the struggles of ordinary citizens during the pandemic. At times, the cartoons are outlets for their own anxieties.
"Making strips has been my stress reliever these days," said family man Ricardo Guiao Jr., creator of comics strips Lakan at Makisig. "With the demands of work-from-home and being quarantined, it has become my outlet."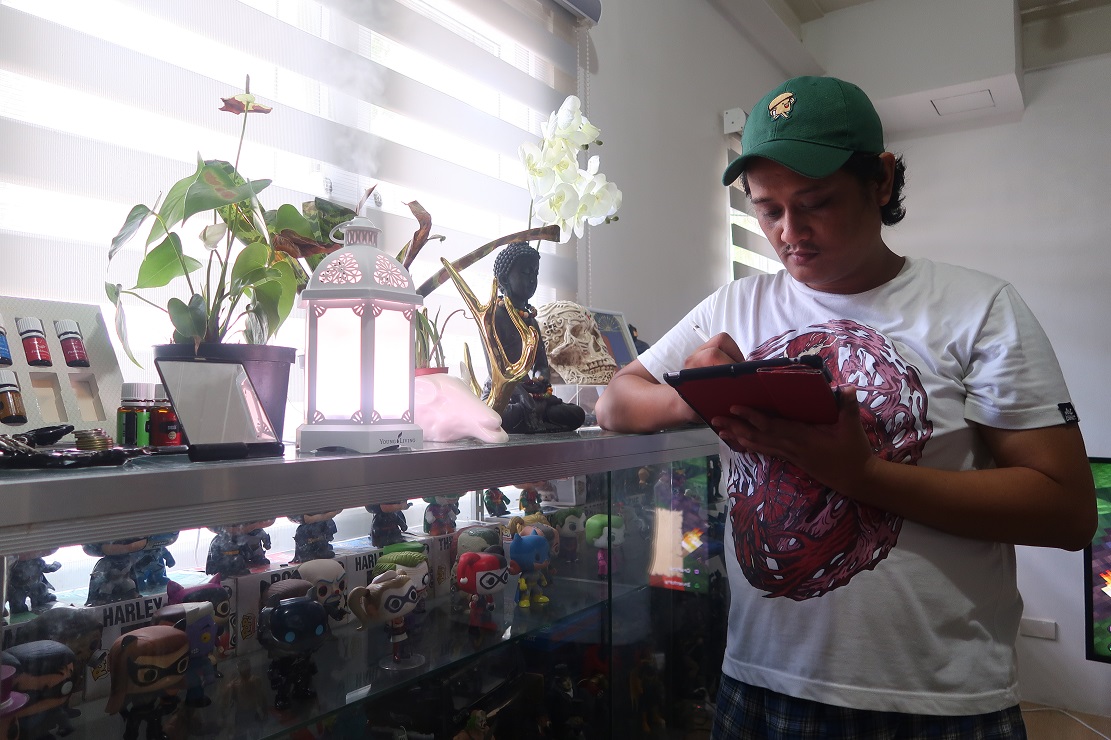 Lakan and Makisig creator Ricardo Guiao Jr. doodles his worries away on his drawing tablet. Courtesy: Ricardo Guiao Jr.
Published daily in the Manila Bulletin, Lakan at Makisig is loosely based on his sons' everyday antics. But since the start of the enhanced community quarantine in mid-March, his stories have shifted to how parents and their children are attempting to make sense of the confusion brought by the Covid-19 health crisis.
Guiao said he wants to make his boys and his readers understand the situation they are in. "I wanted my komiks not just to give some laughs or make light of the situation, but also teach them lessons and give them tips on how to make the most of their free time," he shared.
The junior art director also lives by the Spider-Man credo, "With great power comes great responsibility", both as a father and as a storyteller.
"While making komiks has always been my passion, I also wanted to make funny comics that people can relate to. And as a parent, I also have a social responsibility to make this medium as a way of teaching, especially my kids, some lessons or values."
It is also a conscious decision for Guiao to do away with political content.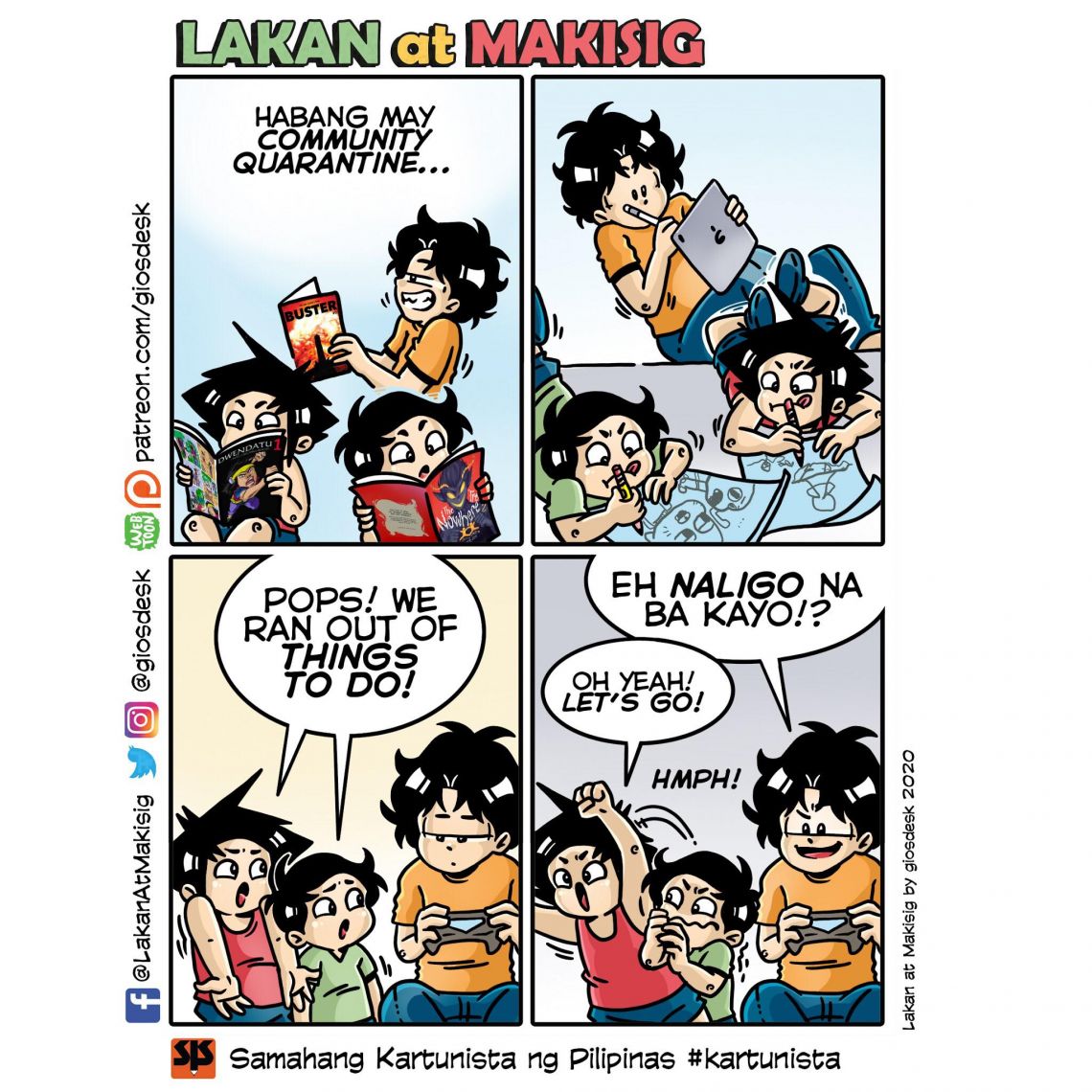 A comics strip to share laughter and values. Courtesy of Lakan at Makisig FB Page
"In Lakan at Makisig, I wanted to focus more on the two kids, and I don't want it be too political but rather be more practical," he said. While he has his share of frustrations too, he prefers to post political subjects on another page – far away from the four-color, four-panel world he has built for his sons.
Animation director Kevin Eric Raymundo also thinks jokes are easy to pick up these days because people are now living in a world that is "stranger than fiction".
"Napaka-ridiculous din kasi ng mga nangyayari sa paligid (It's ridiculous what is happening around us)," he said. The computer science graduate never imagined that his Facebook page, Tarantadong Kalbo, would attract more than 40,000 followers during the course of the quarantine period.
"To be completely honest I wasn't expecting that, I was actually preparing for the worst case scenario, losing followers," said Raymundo. "Our political landscape has also become toxic and artists are being cancelled left and right," he said, referring to artists losing support.
Tarantadong Kalbo (TK) is an endearment friends call him whenever he pulls off an awesome piece, or when his cartoons throw shade on poor government response and double standards set by authorities. Refusing to be described as "politically woke," he would rather be known as someone who values his principles.
Amid the anxiety-inducing pandemic, Raymundo also advocates mental health awareness on his page. One post shows his cartoon self seeing red – literally and figuratively, who then eventually cools down after he translates his anger into art on his drawing tablet.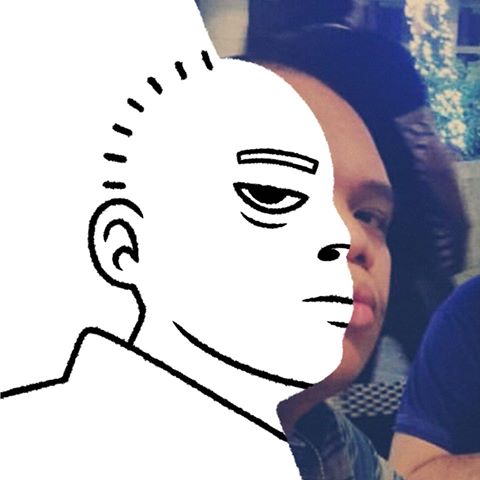 Animation director Kevin Eric Raymundo and his alter ego, Tarantadong Kalbo. Courtesy: Kevin Eric Raymundo
"I created the page as a safe space for my thoughts," he shared. "I was having the worst anxiety attacks last year, and I badly needed an escape for my depression, other than playing games."
He also shared his backstory on the page — a bullied kid, whose friends did not help when he was being hurt, with his face stomped on the ground. "At that moment, I swore to myself that I will never be in that position. Silent," he wrote in the strip.
Now in his early 30s, Raymundo says he always draws from experience and uses his page as his "journal of sorts". "I have so much excess baggage. Just like Angat Dam," he quipped, referring to a major water reservoir.
His page has gained popularity but he said it was not his intention. "I always remind myself that I'm not doing this for clout, I'm doing this for me. This is my outlet. I wasn't aware that a lot of people share my sentiments about things," he said.
La Union-based artist Louie Mertola is also shaking things up online with his comics, Balat ng Saging (banana peel). When translated into Ilocano — "Ukis ti saba", it becomes the common expression the locals utter when feeling frustrated about things.
He took the term as title for his comics, although he was quite curious at first as to why a banana peel would be associated with cursing. "What's behind that?" asked Mertola, whose page now has more than 30,000 followers on Facebook.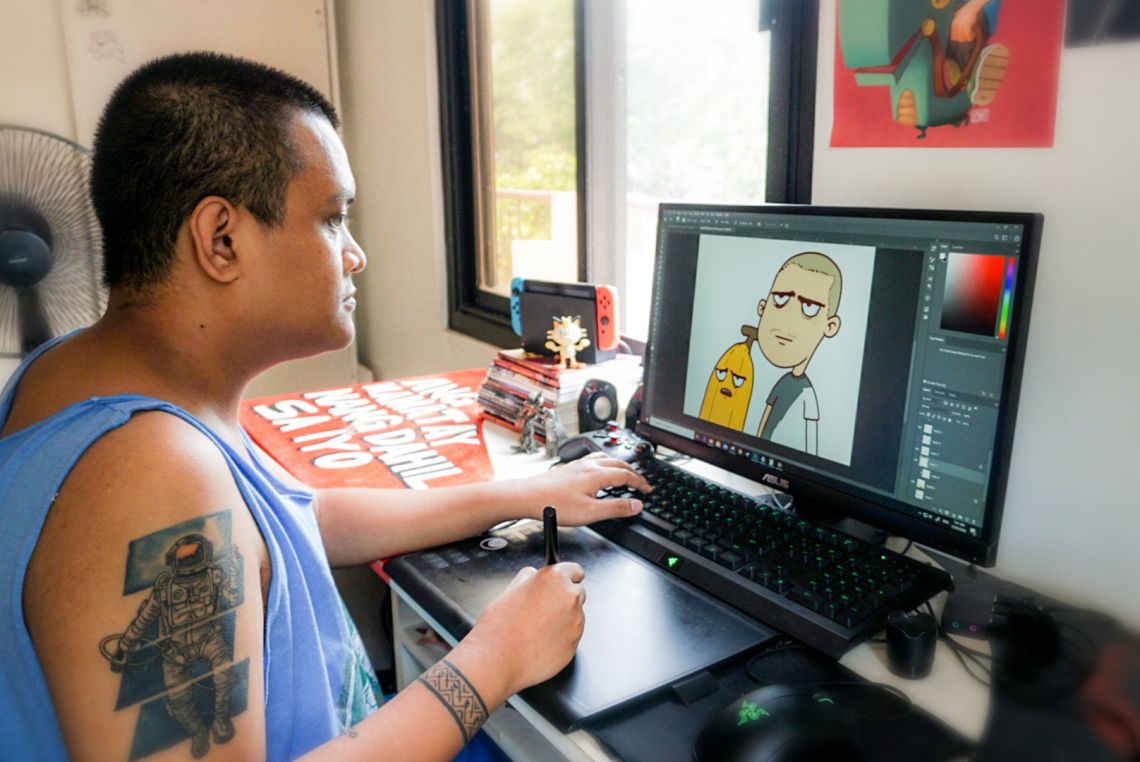 La Union-based artist Louie Mertola taps into his creativity to make sense of the confusion brought by the Covid-19 pandemic. Courtesy of Balat ng Saging.
A freelance graphic artist, Mertola has been doing political cartoons for as long as he can remember. He has lost count of the socially relevant artworks he has created since he became the editorial cartoonist of a school paper. He also does not mind being described as politically "woke". In fact, the 25-year old artist watches and reads the news to mine stories for his strips.
"Balita ang pinaka-effective tool ko ngayon, pero kailangang maging maingat at kailangang marunong tayo mag-verify ng mga trusted news sources. (News is my most effective tool, but one has to be very careful. We should know how to verify information with trusted news sources)."
If not news, Mertola bases his cartoons on conversations among friends on Facebook, especially those that relate to things happening to them, and also on his personal experience.
What makes his cartoons go viral? Mertola attributes this to the shared struggles of ordinary citizens amid the pandemic. "These are raw emotions of people during the quarantine," he said in Pilipino.
These include real issues people easily relate to like the soaring temperature, or the wait for government aid, or getting tired of consuming canned goods every meal.
Deciphering Duterte's messages. Courtesy of Balat ng Saging FB page
"Lalo na iyong nangungunang dahilan ko sa paggawa: kapag punong-puno ka na sa hindi maintindihang mga pahayag ng Pangulo (And the strongest trigger for me: when I am fed up with the president's incoherent messages)."
Mertola said cartoonists like him should not be afraid of the government's possible reactions to their work, like censorship or legal action.
"May kalayaan at karapatan tayong sabihin ang saloobin natin ukol sa mga nangyayari sa ating paligid. Hindi natin maalis ang katotohanan na ang comics ay political din talaga (We have the freedom and right to express our opinions on things happening around us. We cannot deny the fact that comics are a political expression)."
Lawyer and comics enthusiast Jose Gabrielle Petrache agrees. "Yes, online political cartoons and comics are protected under Philippine laws, as well as in International Law."
In the Philippines, it comes within the ambit of Freedom of Expression in Article 3, Sec. 4 of the 1987 Philippine Constitution, which provides that "No law shall be passed abridging the freedom of speech, of expression, or of the press, or the right of the people peaceably to assemble and petition the government for redress of grievances.
Petrache said that cartoons, which tackle political issues, are considered as "political speech" which is a form of speech that allows for legitimate commentary or criticism of government actions.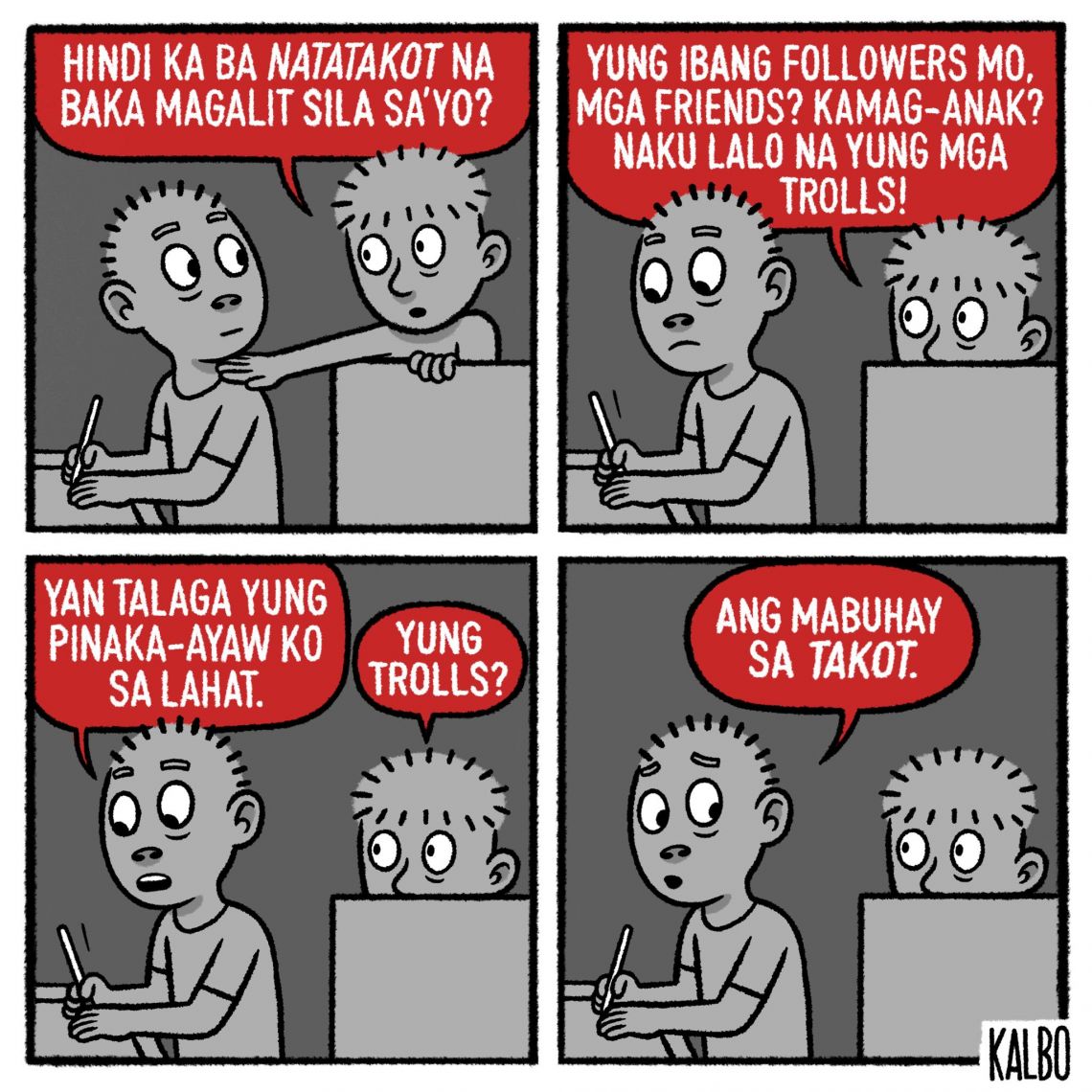 TK's biggest worry is to live in fear. Courtesy of Tarantadong Kalbo FB page
"As with all kinds of protected speech, this enjoys the highest protection under our Bill of Rights, and whatever restrictions which may be imposed by the government upon an individual's ability to exercise this right is subject to strict scrutiny by the Judicial Courts.
Any form of prior restraint or subsequent punishment to the exercise of free speech will be subject to strict judicial scrutiny," Petrache added.
The lawyer was quick to add, however. that the right to free speech must not be construed as an absolute right, as there are exceptions. "A recognized limitation to free speech is when the government has a clear and present danger that it seeks to prevent. Hence, speech that incites to violence or hostility may be restricted by a valid legislation. Same goes for libelous speech, or obscenity."
In International Law, freedom of expression is also protected both under the Universal Declaration of Human Rights (UDHR) and the International Covenant on Civil and Political Rights (ICCPR.)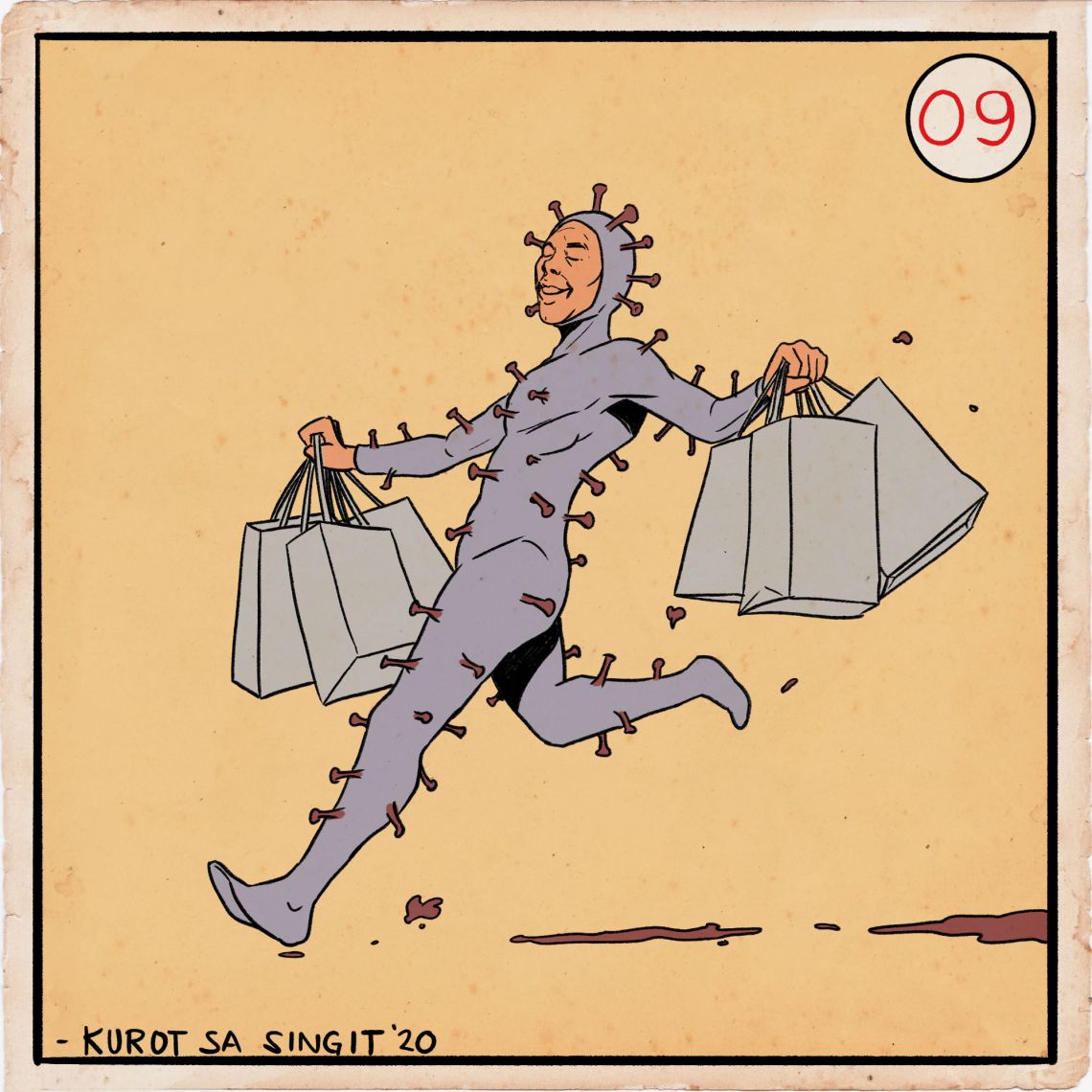 Shopping during the pandemic. Courtesy of Kurot sa Singit's FB page
Former Philippine Collegian editorial cartoonist and Kurot sa Singit creator Jether Amar dishes out practical tips to fellow artists. "If you don't want trouble, don't identify people. Just provide hints. It would be good to have your audience guess who you are referring to," he said.
"The best is to have hard facts and pieces of evidence to back up our komiks."
He added that it would not hurt for comics creators to evaluate their content before posting. "Put more thought into your work to make sure it makes sense, and not just funny," Amar said in a mix of English and Filipino.
TK's Kevin Eric Raymundo says he, too, is careful when tackling issues in his art. He admits he gets his wife's nod first when working on his first draft. "If she's ok with it, then it is safe."
"I have discarded quite a number of comics because they were too sensitive. Satire is very tricky, especially in our country where people are so easily offended," he said.
Other artists, meanwhile, are forward-looking and would like to focus more on a hopeful future.
Laguna-based graphic artist Edgar Torres, Jr. found himself browsing his newsfeed filled with Facebook statuses of friends and their travel plans. "Ilan sa mga nababasa ko sa newsfeed ay 'Travel ulit tayo', at 'Pag nagkita tayo yayakapin kita' etc. (Among those I read said 'Let's travel again,' and 'When we meet, I will give you a hug', etc.)"
Torres also read about the sacrifices of the frontliners and everyone's prayers that all this will come to an end.
As if on cue, the music video of Matishayu's 'One Day' auto-played on Youtube.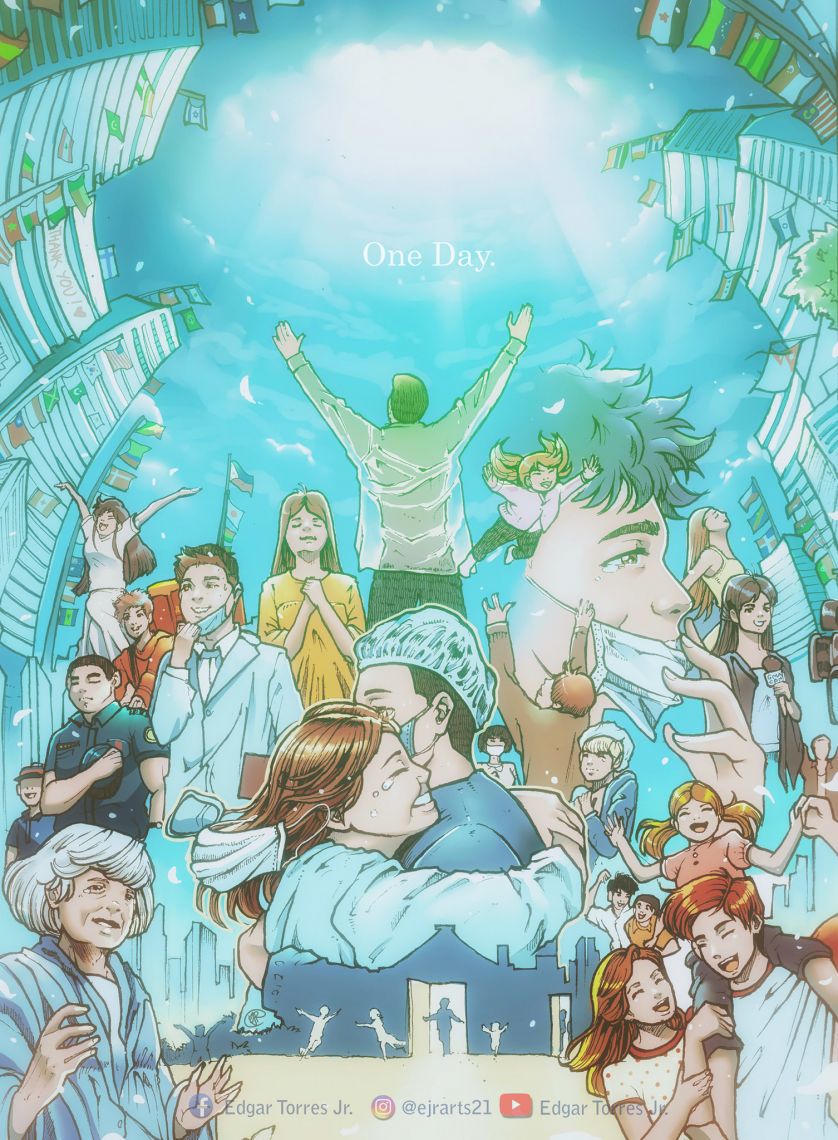 Torres envisions the day when all are free from fear. Courtesy of Edgar Torres, Jr's Instagram account
He said in Filipino: "I was listening and slowly the idea was sinking in. And the image that I wanted was forming on my mind. Then I was feeling that the song's lyrics were becoming real — that one day, all of us will be out and there will be no fear."