By YVETTE B. MORALES
What does a trafficking victim look like?
A female who hails from a far-flung area, came a quick answer from the audience.
Tara Dermott, project leader of the International Organization on Migration X (IOM X) was quick to correct the misimpression, saying everyone can be a trafficking victim.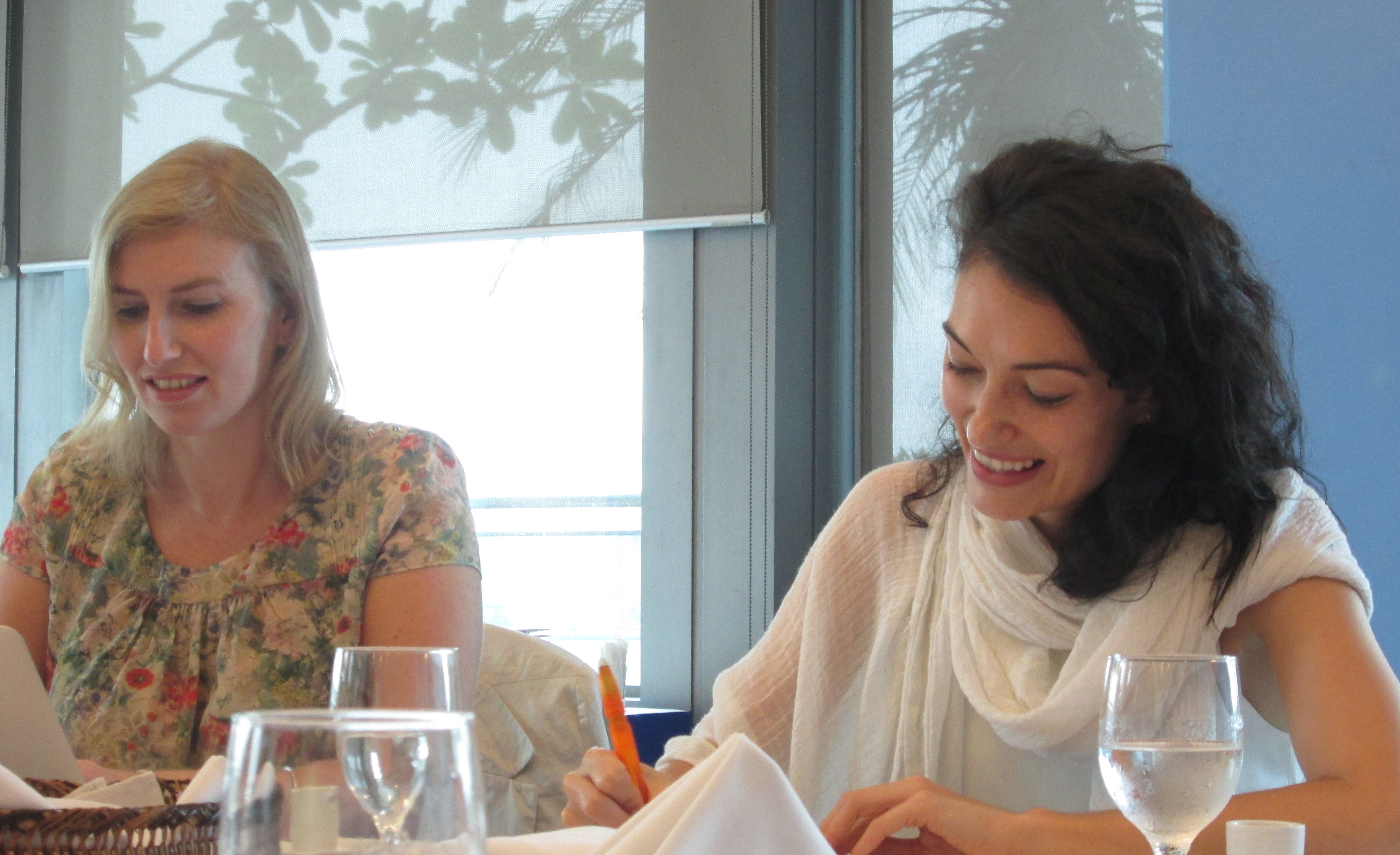 "There is no cross-cutting characteristic for what a trafficking victim looks like," Dermott said Friday at a media event organized by IOM X and attended by journalists and other media practitionersand members of non-government organizations.
She said both men and women are equally at risk but their level of vulnerability differs depending on the sector to which they belong. In the fishing industry, she explained, it's the boys and men who are prone to trafficking, while it's girls and women in domestic work.
While people of all ages have been trafficked, Dermott said, people between 15 and 30 years old are the most prone. "And when it comes to race and religion, we found that anything that has marginalized populations … they tend to be more vulnerable."
According to the IOM, 60 percent or 518 of 858 human trafficking victims in the Philippines in 2012 to 2014 alone are women, while 10 percent are minors.
"It's ordinary people who are at risk of being trafficked, and it's also ordinary people who can help protect others," Dermott said.
This is what led the IOM X, which focuses on information dissemination and attitudinal change, to engage the public in combating human trafficking, she added.
"If you are at risk of trafficking, Dermott explained, I want you to learn more of what it looks like, where it happens, and find out what you can do to protect yourself."
For IOM X public sector officer Lindsey Higgs, there is need for people to change their attitudes toward trafficking. Some people know trafficking is real, but do not do anything about it because they think it won't happen to them, she said.
"Knowledge is not the same as behavior. There are a lot of you who know, but it doesn't mean we act in a way aligned with that knowledge," Higgs said.
The three-part campaign "Learn-Act-Share" aims to change the attitude of people toward human trafficking. Aside from informing the people, changing the scope of focus on trafficking is also important.
"So much has been done in the source countries (countries of origin) but it's equally important to think what's going on in the destination," Higgs said.
According to the 2014 Trafficking in Persons (TIP) report, the Philippines is a "a source country and, to a much lesser extent, a destination and transit country for men, women, and children subjected to sex trafficking and forced labor."
Last April 29, Mary Jane Veloso was spared from being executed in Indonesia after five years of imprisonment. She was found with 2.6 kilograms of heroin in her luggage in 2010. The reprieve came after Veloso's recruiters in the Philippines came forward and eventually admitted to being part of an international drug syndicate.
With sexual and labor as the most common forms of exploitation, Dermott said Veloso's case opened the discourse to another underreported form of exploitation.
"That case was really good for raising awareness on a form of trafficking that we don't often talk about, and that's trafficking for criminal practices. [While] many people are trafficked in the labor industry, for sexual exploitation, they are also trafficked as drug mules; they're trafficked to do begging," she added.
Despite this, Dermott believes the government is doing its best to fight trafficking. "I've always been impressed by the efforts of the Philippine government. I think there's a real, sincere drive to protect Filipinos overseas and also increase to protect Filipinos here."
However, the Philippines remains weak in prosecuting traffickers. The country has been in Tier 2 since 2001, and was placed under the watchlist in 2004, 2005, 2009 and 2010, according to the TIP report. (See Philippines poor in prosecuting trafficking cases — US gov't)
The U.S. Department of State website says countries placed under Tier 1 are those who fully comply with the minimum standards of Trafficking Victims Protection Act (TVPA) of 2000 and under Tier 2 are those who do not fully comply but are making significant efforts to do so.
A country is placed under Tier 2 watchlist if the number of victims is significantly increasing and no significant efforts are seen to combat trafficking. Lastly, under Tier 3 are countries that do not fully comply with the minimum standards of TVPA and are not exerting efforts to do so.
According to the country's Inter-Agency Council against Trafficking, there have been 187 cases that ended in convictions involving 209 people in the past 11 years.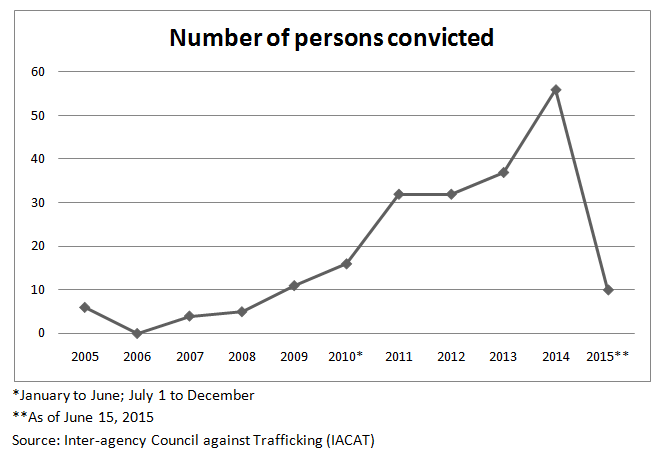 For child protection program Bantay Bata 163 officer-in-charge Sheila Estabillo, the country, especially disaster-stricken areas, is a "fertile ground" for trafficking due to poverty, which she identified as its root cause.
However for Dermott, it is not the only cause of trafficking.
There are individuals, not necessarily from poor backgrounds, who want new opportunities or better lives, she stated.
"They also leave home, move to other countries, move to new places, and they're also at risk of being exploited, by virtue that they don't have their networks around them, they don't know the language," she added.