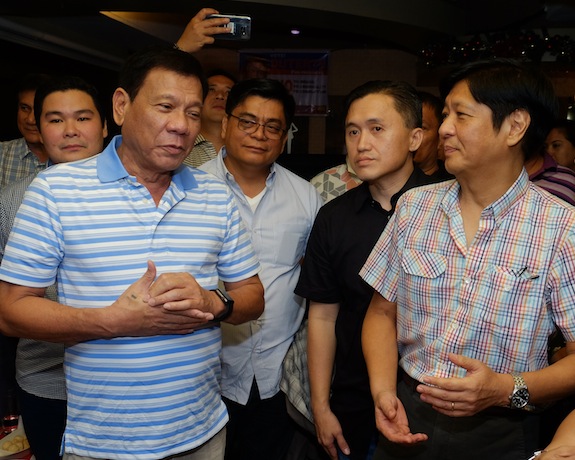 Then President-elect Rody Duterte met with Ferdinand "Bongbong" Marcos, Jr., who lost in the vice-presidential race, in Davao City June 11, 2016.. Photo by Kiwi Bulaclac of Davao City Mayor's Office.
It's easy to believe that President Duterte is tired and weary.
He is 73 years old and not the healthiest person on earth. The two years as chief executive of the country showed that he does not have what it takes to be a national leader.
But he will not resign. For the simple reason that he has to make sure that he doesn't end up in jail for all the crimes that he would be charged with once he is out of power.
That's why he wants to make sure that his successor is someone who will protect him. And that's former Senator Ferdinand "Bongbong" Marcos or Sen. Francis Escudero for him.
It has nothing to do with competence. Duterte is the last person to talk about competence.
His spokesman Harry Roque put a stop to the talk about Duterte resigning in his briefing yesterday. Philstar's Tina Mendez asked him:"Linawin lang natin: Sa ngayon, hindi talaga pa magre-resign ang Pangulo? (Let's be clear about this. The President will not really resign?)"
Roque replied: "Iyon nga po, tama po. (That's correct)Thank you very much, Tina. Sa ngayon (As of now), he remains."
In the first place, what the President said Tuesday was what he has been saying many times in the past two years.He did not say he was resigning. What he said he told the soldiers and policemen was,"I am thinking of stepping down because I'm tired."
Just thinking.
He said he doesn't want Vice President Leni Robredo to succeed him.
He added: "So I said — I would suggest to the military, if you want a junta, look for the — or if you want yourselves to be the junta, I said line up here, I'll put you in your proper place. 'I General, do hereby solemnly swear that as a regular junta member of this republic.'"
From a president who swore to uphold the law, this statement does not speak well of his sanity.
Political analyst Segundo Romero Rodrigo Duterte in his piece, "The most dangerous president the Philippines has ever seen" said "The treacherous part is when he openly tempts the military to form a military junta to take over from him, instigating the military to violate the Constitutional provision that the Vice-President is the constitutional successor if the President resigns or is unable to perform the duties and functions of the office of President.
"This would be a cause of great alarm, were it not for the fact that Duterte has so grossly misread the Armed Forces of the Philippines. The Armed Forces of the Philippines as an institution has long realized that Rodrigo Duterte is the most dangerous President the Republic has seen, one that could and would destroy constitutional democracy in the Philippines for a narcissistic moment of glory."