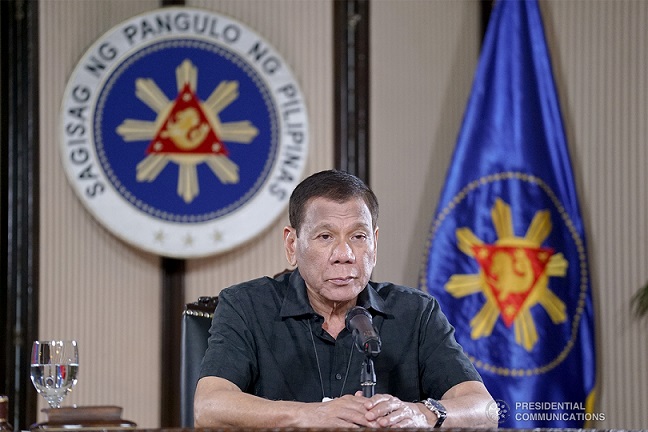 President Rodrigo Duterte delivers his first report on government's efforts in addressing Covid-19 at the Malago Clubhouse in Malacañang on March 30, 2020. Malacañang photo by King Rodriguez.
I know it is provided in his recently- signed Bayanihan to Heal as One Act (Republic Act no. 11469) that he has to report to Congress Monday of every week on what have been accomplished in connection with dealing with Covid-19 but there must be a way to make this activity less excruciating.
President Duterte's report Monday midnight didn't achieve anything good. It only added to the suffering of the already- distressed public.
Malacañang showed its disrespect to the people by announcing that the President will make his first report on government's response to Covid-19 at 4 p.m. The 25-minute video-taped message was finally aired almost midnight.
There was nothing in his report, as well as in his slurred delivery, that inspired confidence in his leadership in this time of crisis. Despite the obvious editing, he still rambled with his senseless bravado (Pumupunta ako doon sa mga lugar na may giyera, pumupunta ako doon sa may lugar na may pumuputok 'yung bomba, pumu — pumupunta ako doon sa likod ng mga sundalo at nagrarakrakan) and silly threats (Dapat ka talagang ikulong. Hindi kita irelease at huwag kang… Hindi ako maniwala ng kaso-kaso. Hayaan mo magpapa-preso ako balang araw kung mali ang sinabi ko at ginawa ko.)
His tribute to doctors and health workers who died trying to save those infected with Covid-19 only angered those who knew the circumstances that they were working in: overworked, under-equipped.
"May mga doktor na, mga nurses, attendants, namatay. Sila 'yung nasawi ang buhay para lang makatulong sa kapwa. Napakaswerte nila. Namatay sila para sa bayan. Iyon ang dapat ang rason na bakit tayo mamatay. "
Their lives were noble and heroic. Their death was unnecessary. Only a person with a warped mind would call their death because of Covid-19 "swerte."
It's something that the government should be ashamed and guilty of.
Those who rendered heroic acts should not be sacrificed. Other countries like Singapore have shown that the way to do it.
He also insulted those who lived a meaningful life but died in less dramatic circumstances. "Huwag tayong mamatay sa ibang rason, Nasagasaan ka lang at wala ka namang ginawa."
The Bayanihan to Heal as One Act states that, "The President, during Monday of every week, shall submit a weekly report to Congress of all acts performed pursuant to this Act during the immediately preceding week."
It doesn't say it has to be televised. The President can easily be represented by someone from his staff who is less painful to listen to.
Duterte can best lessen the suffering of the people by not making those silly televised reports.