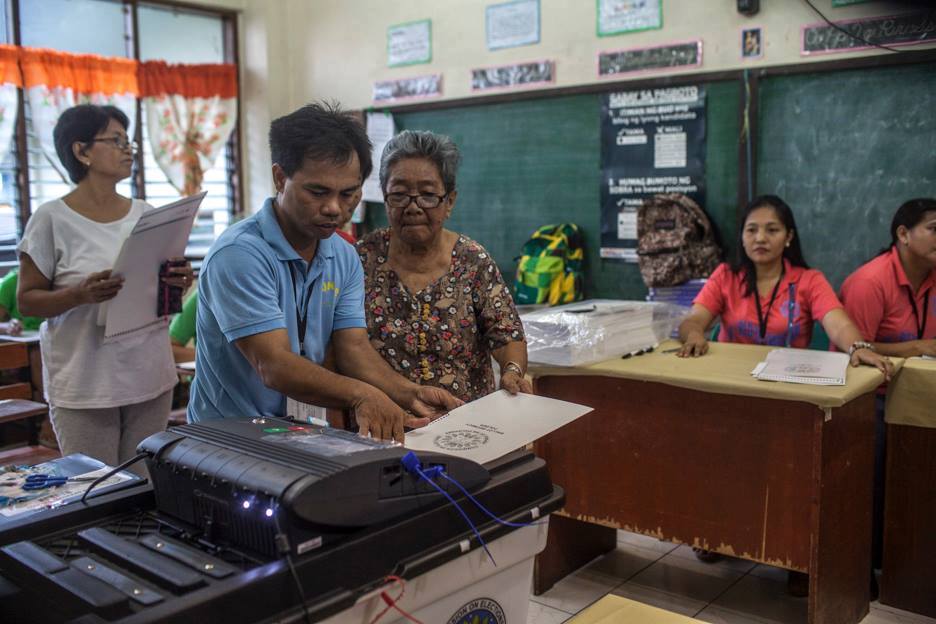 By VERA Files
AS Monday drew to a close, the Commission on Elections proclaimed the conduct of the polls to be generally smooth.
The experiences of voters on the ground, however, stand in sharp contrast to the assessment, especially as regards vote-counting machines (VCMs), which in many areas throughout the day had had many malfunctions.
Speaking to journalists at the Philippine International Convention Center, Comelec Chair Andres Bautista said, "I think that overall, we believe that the elections went smooth."
"There were of course problems that were encountered," Bautista conceded, but noted that compared to the previous automated elections in 2010 and 2013, malfunction rates had been way lower.
Out of 92,509 VCMs, only 150 had been replaced as of 2 p.m., the Comelec chair announced.
That translates to a 0.16 percent replacement rate, lower than what was posted in the 2013 midterm elections (0.22 percent) and the 2010 presidential elections (0.27 percent).
The number of VCM-related complaints was also lower: 2,363 out of 92,509 for 2016 (2.55 percent) compared to 4,760 out of 77,829 (6.11 percent) in 2013; and 1,966 out of 76,347 machines (2.57 percent) in 2010.
Relatively small as this year's numbers may be, for some they represent the difference between getting to exercise their right to vote, and disenfranchisement.
In Taguig City, at the Upper Bicutan Elementary School, a VCM broke down three times, causing a long line of voters at the halls.
Emma Meligrito, chair of cluster precinct 375, said the machine failed to read ballots at around 9 a.m.
Technicians restarted the machine after several attempts of cleaning it.
Meligrito said in the third breakdown this afternoon, they decided to use an electric fan to cool the machine down as it had started to heat up.
The voting was postponed for another 15 minutes.
"Ito ang pinaka-blockbuster sa pila rito (The queue here is the longest)," said poll watcher Fernando Calvadores.
About 10 people left and did not vote after queuing for about three hours, he added.
In Iloilo City, at the Mandurriao Elementary School, four VCMs did not work,  causing delays in the casting of ballots.
A simple restart restored the functionality of the three machines, but the fourth still failed to function.
Voters were informed of the situation around noon, and were told they could just leave their ballots with the BEIs for safekeeping and feeding to a functional VCM later.
In the municipalities of Bongao, South Ubian and Panglima Sugala in Tawi-Tawi, the southernmost province of the country, machines also broke down.
In the last, VCMs were unable to read ballots.
Local Comelec Acting Election Officer Percival Anipot said, the commission could no longer replace the counting machines since the two on reserve had already been used.
These incidents marred an otherwise "peaceful" elections, noted the National Citizens' Movement for Free Elections (NAMFREL).
The poll watchdog group documented VCM malfunctions in Makati, Las Pinas, Caloocan, Mandaluyong, Manila, Quezon City, Ilocos Sur, Batangas, Tarlac, Isabela, Ilocos Norte, and Surigao del Sur, as of 2 p.m.
"Some precincts in Manila and Quezon City had VCMs shut down or be pulled out as early as 6:30 a.m. Long queues caused by such malfunctions at Isabelo delos Reyes Elementary School, Tondo, Manila prompted some voters to just go home," NAMFREL said.
In a number of polling places nationwide, elections stalled because of VCM problems, according to the Legal Network for Truthful Elections (LENTE).
"In a number of polling places, the VCMs stalled in the middle of the process," LENTE said.
"In Lupang Pangako Elementary School in Payatas, for example, the VCM was reported to have malfunctioned since 8 in the morning," the group added.
The Parish Pastoral Council for Responsible Voting (PPCRV), calling the VCM failures "a grave concern," said it hopes Comelec would address the delays by extending voting times.
Comelec chair Bautista said polling precincts that started late, meaning from 9 a.m. or later, get to extend voting hours.
In Balon Elementary School in Mariveles, Bataan, lines were still very long an hour before the polls closed.
Election officers said the VCM inside the precinct malfunctioned and delayed the voting. Voters were angry and complained that they had been waiting since 6 a.m. to vote and yet were still not accommodated.
Voting was also extended in Barangay Molino 1 in Bacoor, Cavite after a four-hour delay that started at 11 a.m. due to the failure of the VCM to read the ballots. Voting ended at 7:15 p.m.
In Benguet, meanwhile, Acting Provincial Election Supervisor Ricardo Lampac called for a temporary adjournment of canvassing due to the "non-probability of transmission" of the consolidated election results from the 13 municipalities the province, excluding Baguio City.
He told the group of poll watchers and representatives from different political parties who are waiting at the Benguet Provincial Capitol to call it a day and advised the group, along with the media, to return by 8 a.m. the following day for the consolidated poll results.
Commissioner Rowena Guanzon, earlier around noon, had urged voters not to worry about the glitches and just proceed to their polling places.
"Boto lang po tayo ng boto dyan, sige lang ng sige. Punta lang po tayo sa mga presinto. Huwag po kayo mag-alala sa mga VCM na 'yan (Just keep voting. Go to your precincts. Do not worry about the VCMs)," she said.
Some 54.4 million Filipinos had registered to vote in today's elections.
A third of the number reside in only 10 vote-rich provinces: Cebu, Cavite, Pangasinan, Laguna, Negros Occidental, Bulacan, Batangas, Rizal, Iloilo, and Nueva Ecija. – Jake Soriano, Maria Feona Imperial and Maverick Russel Flores, with Yang Aming, Erwin Colcol, Maria Raiza Javier, Emmanuel Lerona and Mars Teodore