VERA Files is 10 years old.
To mark our 10th anniversary, we are reposting 10 stories that mirror the group's interest and commitments.
This story was first published on July 4, 2017.
(Conclusion. Read the first story here and the second story here.)
Tanay, Rizal— This quiet municipality east of Metro Manila is a quick respite from the urban jungle, with its tourist spots and campsites, just like the one at least 350 students of Bestlink College of the Philippines were headed for in the early morning of Feb. 20.
To get to those sites, campers would have to pass through Magnetic Hill, a crash-prone area known for its distinct gradual upward slope that creates an illusion of rolling up against gravity.
While transport officials and the local disaster management council say driver error and vehicle defect are the main culprits of the crash that caused the death of 15 people, an important factor may also have been the road condition, which could be dangerous for an inexperienced or careless driver.
A survey of the area shows very sharp curves that result in blind spots, the lack of protective barriers, signal lights and road signs that do not meet universal visibility and luminescence standards.
A portion of the mountainous Sampaloc Road, leading up to the "Magnetic Hill." This video comes from the opposite route, from Sacramento Valley Resort, the destination of Bestlink's students for their camping activity.
"When you're ascending, it seems like your vehicle is being prevented from going upward," said Gaudines Ricana, who works at the Municipal Disaster Risk Reduction and Management Office. "When you're descending, it's like you're being pushed further downward."
In 2016, vehicular crashes accounted for more than half (54 percent or 203) of the 375 emergencies that the MDRRMO responded to, 39 percent of which happened in Sampaloc Road, where the February crash happened.
Most crashes in the area involve trucks and vans carrying tourists. The drivers are either drunk or unfamiliar with the terrain, Ricana added.
MDRRMO Chairman Carlos Inofre Jr said "Magnetic Hill" is not an official name but a label people came up with to describe the area's terrain.
"Usually it's the trucks that are pulled backward due to heavy load," Inofre said.
Engr. Carlos Inofre, Jr., who heads the Tanay Municipal Disaster Risk Reduction and Management Office (MDRRMO) discusses the emergency dispatch scheme of the municipality. (Photo by Verlie Q. Retulin)
Inofre, who passes through the area every day, says there are even more dangerous roads than the ones in Tanay, such as those in the Cordillera in northern Luzon that are over 2,900 meters high, or the infamous "Bitukang Manok" in Quezon province, which is notorious for multiple collisions involving mostly provincial buses and heavy trucks.
Magnetic Hill is located along mountainous Sampaloc Road in Tanay, approximately 10 kilometers long with a gradual incline. The hill is elevated about 420 to 440 meters above sea level. The decline on the other side of the peak is also gradual.
An ongoing road-widening project of the Department of Public Works and Highways (DPWH) hopes to make the road safer. Protective barriers made of hard plastic stand along the area but only for the purpose of the project.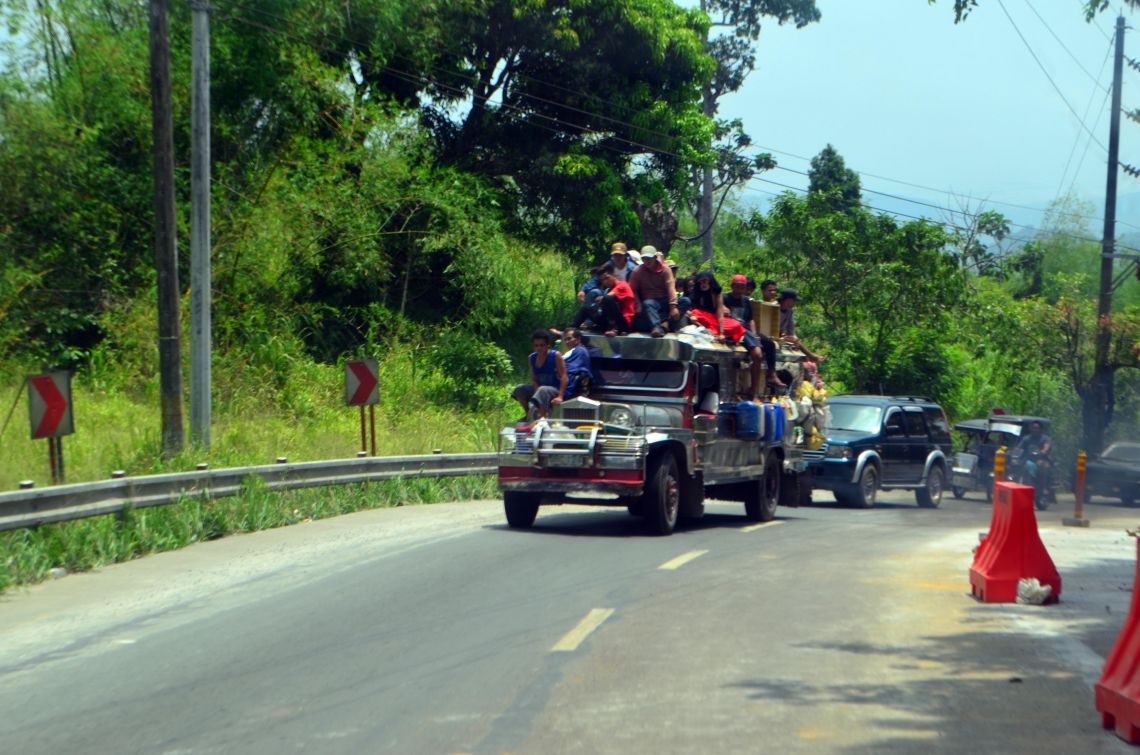 An overloaded jeepney navigates the steep "Magnetic Hill" along Sampaloc Road in Tanay, Rizal, while DPWH's road widening project is on-going. (Photo by Verlie Q. Retulin)
While road signs prompt drivers to slow down in anticipation of blind curves, these are too small to be noticed. There is also no sign indicating a speed limit.
Cautionary words are spelled out in bold letters instead of the universally-accepted road symbols, the ones prescribed by the 1968 Vienna Convention on Road Signs and Signals to which the Philippines is a signatory.
The Convention, which outlines a system of traffic, road signs, signals and symbols and road markings, was ratified by the Philippines through Presidential Decree No. 207 in 1973.
A signage urging motorists to slow down before the curve is not properly placed. (Photo by Verlie Q. Retulin)
Article 8 reads, "In order to facilitate international understanding of signs, the system of signs and signals prescribed in this Convention is based on the use of shapes, and colours characteristic of each class of sign and, wherever possible, on the use of graphic symbols rather than inscriptions."
At night, especially when the roads aren't well lit, the signs installed along Magnetic Hill may not be visible enough since they are made of glossy tarpaulin, and are not reflectorized.
Article 4 of the Convention mandates that "all road signs, traffic light signals and road markings shall form a coherent system, and shall be designed and placed in such a way as to be easily recognizable."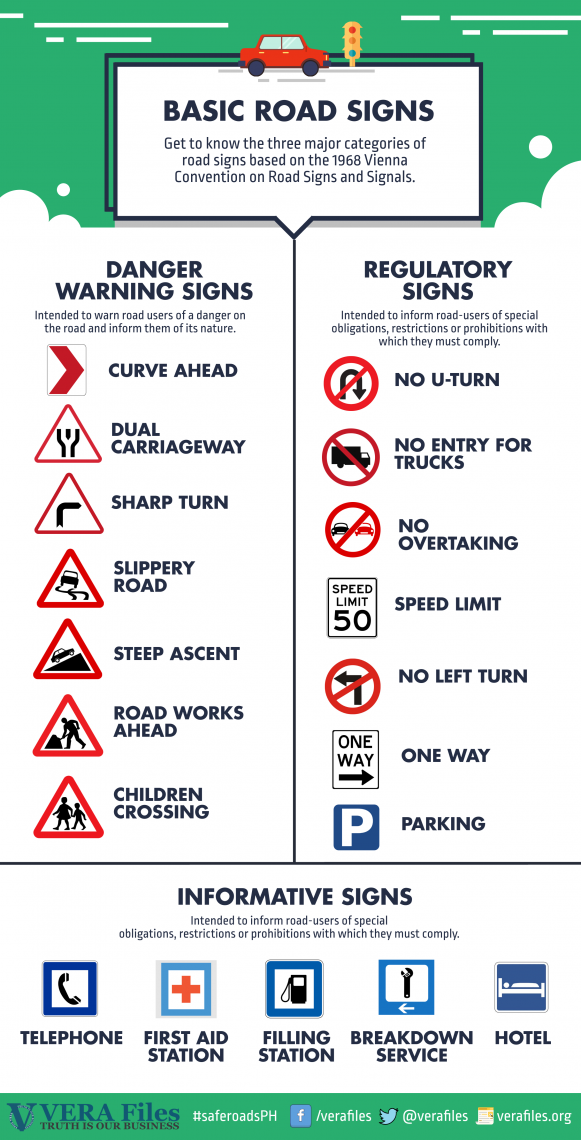 "Danger warning signs shall be installed at a sufficient distance from obstructions to give drivers adequate warning," it said.
"Even the placing of the signs, actually, has a science to it," University of the Philippines National Center for Transportation Studies Director Sheilah Napalang told VERA Files.
It should be placed before the start of the curve based on the principle of stopping sight distance, which takes into account both the driver's reaction time and the actual physical stopping time of the vehicle, she said.
This way, it gives the driver enough time to slow down or stop even if he or she is travelling at 60 kilometers per hour.
Even the distance of the rumble strips should be properly determined. Rumble strips are made of a series of indented or raised elements that alert inattentive drivers through their vibration or sound, and may be used for speed reduction, according to the World Health Organization (WHO) World Report on Road Traffic Injury and Prevention.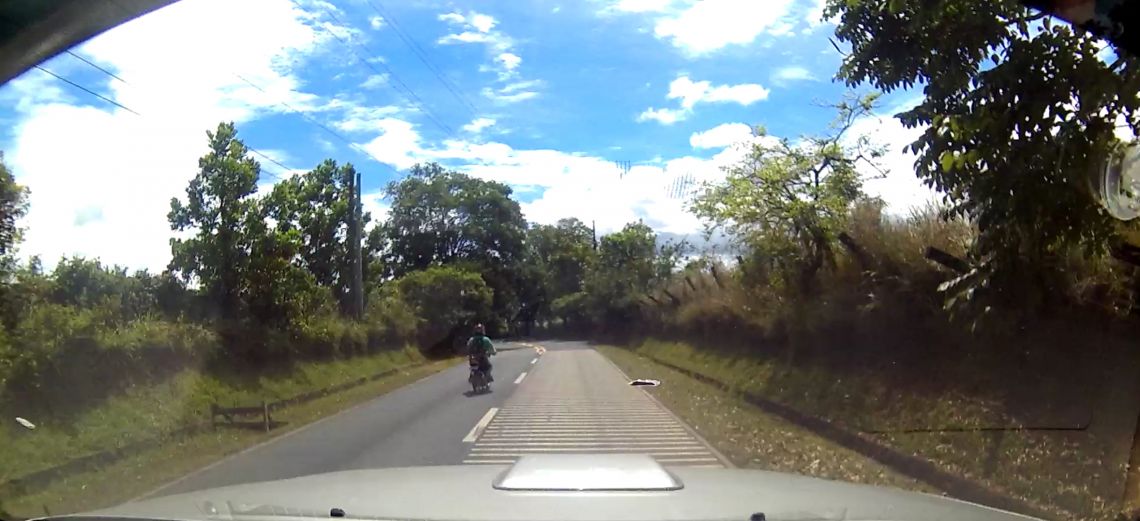 Rumble strips located along Sampaloc Road urge drivers to slow down.
The hospital nearest the crash site is the Army Station Hospital in Camp General Mateo Capinpin, about a five-minute-drive away. It is where 17 of the 62 victims were brought for treatment.
Capt. Zara Grace Felix, the hospital's chief medical officer, said their usual patients are victims of road crashes, mostly bikers and motorcycle riders who are not familiar with Magnetic Hill's sharp curves.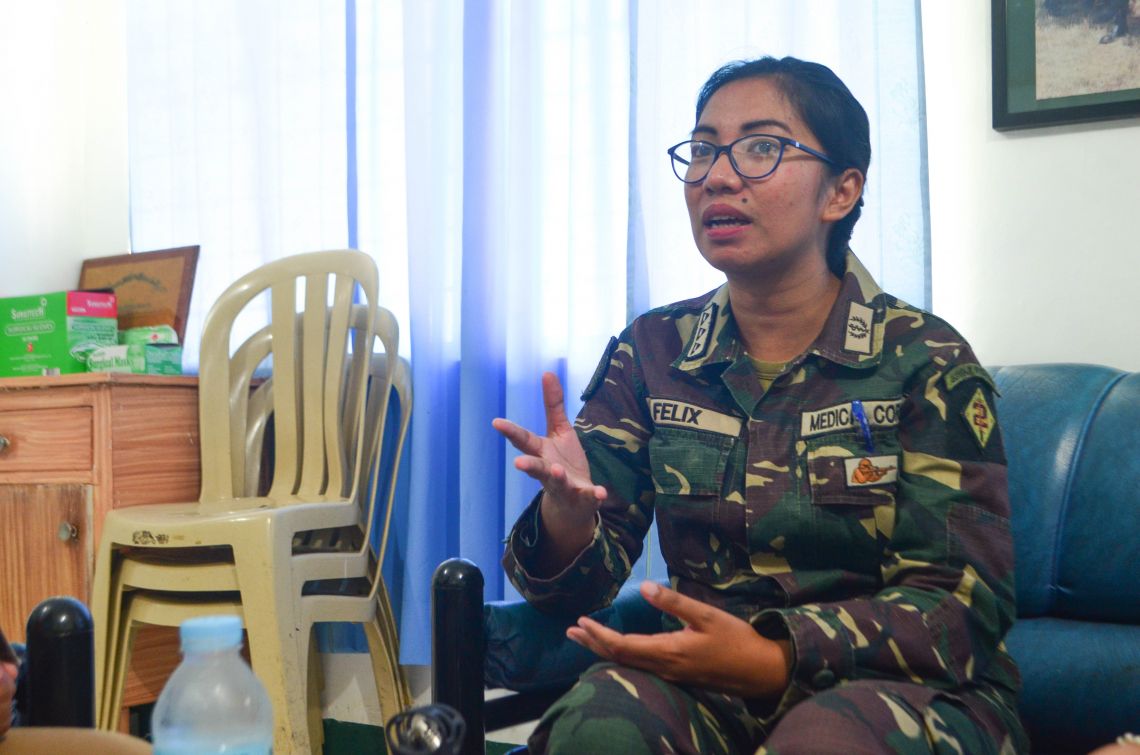 Chief Medical Officer Capt. Zara Grace Felix of the Army Station Hospital at Camp General Mateo Capinpin, Tanay, shares her experience in providing first aid to at least 17 students of the Tanay bus crash–the biggest population she has handled so far. (Photo by Verlie Q. Retulin)
Cellphone signal in the area is usually poor, Felix said, which makes it difficult for first responders to detect road crashes. There are times crash victims wait on the road and only get help when good Samaritans find them and take them to the hospital, she said.
A map showing the hospitals near the crash site. The symbols with a white plus sign signify the hospitals where the victims were brought immediately after the incident. The violet symbols with a first aid bag signify the hospitals where the victims were taken after initial treatment.
At least two to three vehicles fell off the surrounding ravine in the past, MDRRMO's Ricana said, and it was difficult to retrieve the vehicles.
Treacherous roads like those in Magnetic Hill are best left to experienced drivers and riders, but investigating agencies do not have enough evidence to determine whether Panda bus driver Julian Lacorda Jr. knew how to handle the terrain.
During the Senate inquiry on the bus crash, Public Services Committee Chairperson Senator Grace Poe said she was disappointed that the Philippine National Police in Calabarzon failed to provide any background on Lacorda, how long he had been a professional driver, and whether he had driven a public utility vehicle.
What is clear is that he had been employed by Panda Coach Tours and Transport for only three months. Yet it wasn't his first time to pass through the crash site, having driven passengers to Tanay's tourist destinations, according to Ricana.
Lacorda acquired his professional driver's license in 1999. Then, he left his hometown Surigao to work as a driver in Manila, shifting from cabs, vans, to provincial and tourist buses, according to a news report. Panda's legal counsel Bernie Panagsagan during the Senate inquiry said, prior to joining Panda in November 2016, Lacorda also worked for Evacom, JTB Bus and Philtranco.
All three survivors interviewed by VERA Files confirmed the bus was running very fast as it descended the Magnetic Hill.
The joint technical inspection group re-traced the route followed by Panda Bus going to Sacramento Valley Resort, a camp site in Tanay, Rizal. This clip shows the final 60-seconds of the six minute recording. (Courtesy of Engr. Albert Suansing)

Beyond the driver's background, investigators must also check his behavior when driving, a veteran mechanic told VERA Files. The mechanic, who has been fixing trucks, four-wheel drives and luxury cars for over two decades, assessed the wreckage of the bus based on photos of the crash.
He said the driver might have been running at a very high speed when he was caught unprepared by the sharp curve to this right, suddenly transferring all of the weight of the bus to the opposite direction where it smashed an electric post.
Speeding has been identified by the WHO as a key behavioral risk factor in road traffic injuries, influencing both the risk of a crash and the severity of the injuries that may result from it. In a 2017 report "Managing Speed," the WHO found that excessive or inappropriate speed contributes to one in three road traffic deaths worldwide.
Excessive speed is when a vehicle goes beyond the posted speed limit for a particular road, while inappropriate speed is when a vehicle travels at a speed that is unsuitable for the prevailing road, weather and/or traffic conditions but within the speed limits.
For instance, an adult pedestrian has less than a 20-percent risk of dying if struck by a car travelling below 50 kilometers per hour (kph), but almost a 60 percent risk of dying if hit at 80 kph, the WHO said.
From 2010 to 2014, "human error" has consistently topped the causes of road crashes based on PNP data. The problem can be traced partly to a flawed licensing system that fails to strictly screen drivers based on their skills, academics and transport officials said.
"In any vehicular incident, the first element to consider is the driver," former Land Transportation Office (LTO) Chief Alberto Suansing told VERA Files.
Given the sharp curves in the area, Lacorda should have known full well how to assess potentially dangerous roads, he said. He should have stopped and checked the bus, even if it would cause a little delay, just so he didn't endanger his passengers' lives, Suansing said.
Suansing was part
of a team that conducted a technical inspection of the Tanay bus crash site,
along with the Tanay police, National Bureau of Investigation and Hino
Manufacturing Philippines.
They concluded
that "human error" caused the crash, although they were not able to examine all
the parts of the vehicle.
Suansing admits
however, PUV operators sometimes disregard minor vehicle defects as long as the
vehicle is still functional, just so he could earn a living. "So he will gamble, even if the vehicle is defective,"
Suansing said.
Whether this was
Lacorda's first involvement in a crash is not known. Dr. Sheilah Napalang of
the University of the Philippines National Center for Transportation Studies
(UP NCTS) stressed the need for a comprehensive driver database that would contain
professional drivers' track records.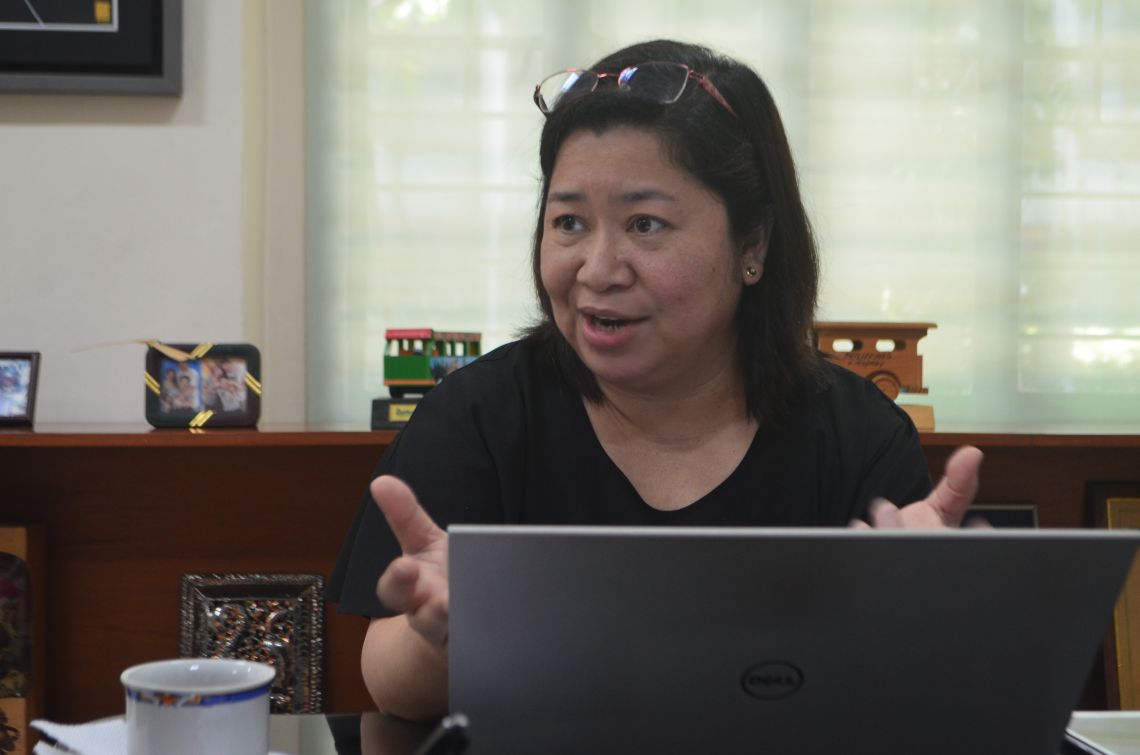 Dr. Sheilah Napalang, director of the UP-NTCS explains the science behind each element in a road environment.
"If you have been
involved in a bus crash before, that should be recorded so that the other bus companies
won't hire you anymore," Napalang said, lamenting that previous violations are
not reflected in drivers' police and National Bureau Investigation (NBI)
clearances if criminal or civil charges haven't been filed yet.
Ariel Inton of the
Lawyers for Commuters Safety and Protection pointed out the "scarcity of
qualified drivers" who are mostly "forced" into the profession because of
limited employment opportunities.
Inton, who was a
former Board Member of the Land Transportation and Franchising Regulatory
Board, is well aware of the consequences of a "lenient" licensing system.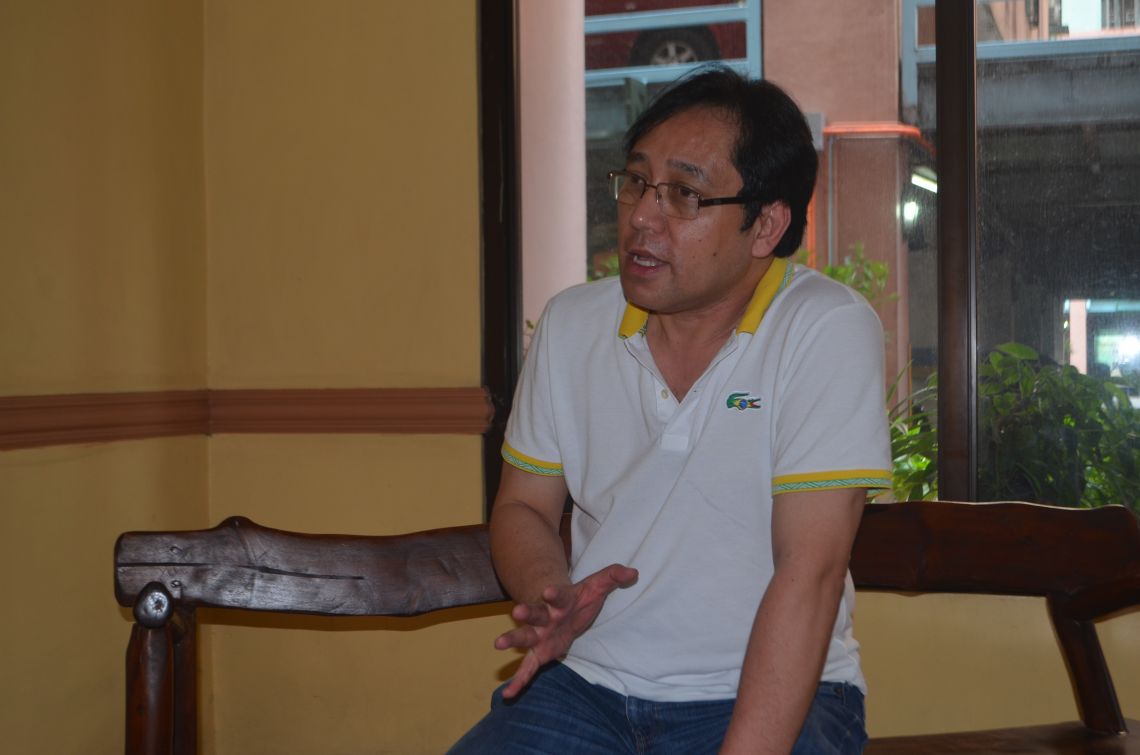 Atty. Ariel Inton discusses how human error which lead to crashes can be minimized by the government – by enforcing a stricter licensing system.
In the Philippines, drivers have to pass a written and practical examination to get a license—in theory.
It is an open secret, Napalang said, that the correct answers to the driver's exam are a giveaway: Either they are plastered on the walls of the examination room or pre-shaded by light pencil marks on the answer sheet.
Napalang, who teaches drivers and students proper road rules, pointed out that the exam barely gauges one's knowledge in driving. There were wrong questions to begin with.
"They have a question that asked, how far away should you be from the car in front of you? It's really the three-second rule," Napalang said.
The three-second rule is used to enable drivers to keep a safe following distance from the car ahead of him or her, which is at least three seconds. It gives the driver enough time to stop in case the car in front of him stops.
"That's an erroneous question because your distance from the car in front of you is dependent on your speed," Napalang added.
When it was her turn to take the practical exam, Napalang questioned why she wasn't made to reverse the car. In the end, she passed the exam with a bonus: a license that also authorizes her to drive a motorcycle, even if it required a separate test.
"I told them I don't drive a motorcycle," she said, but the evaluators nevertheless gave her a license to drive one.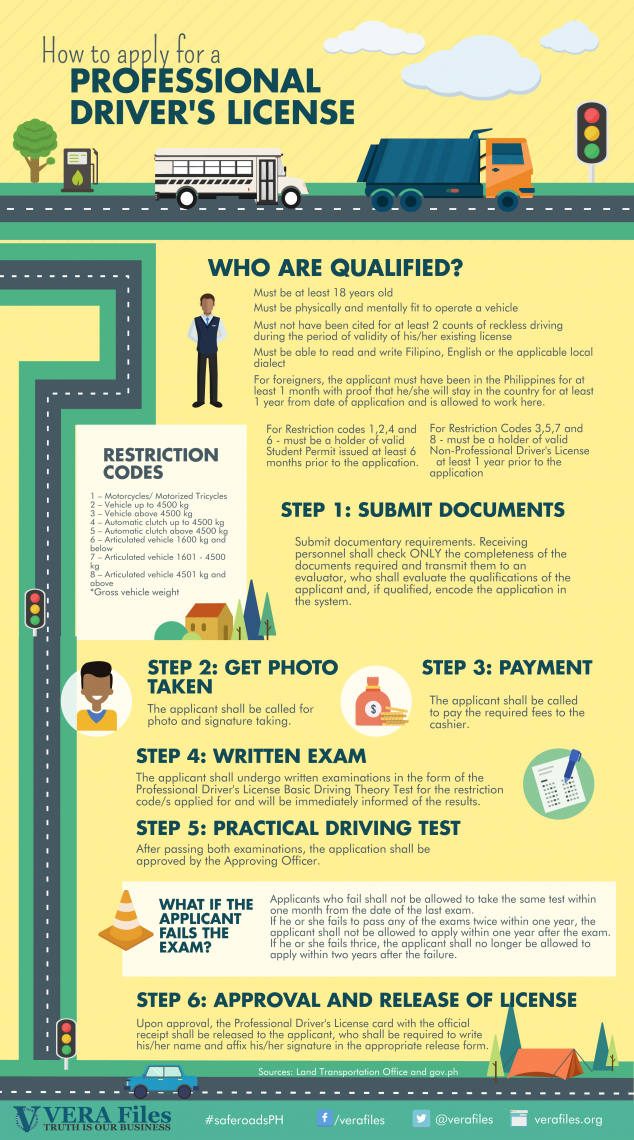 Suansing, formerly the chief of the agency that issues licenses, believes the examinations should be made tougher. But Napalang said before getting a license, the driver should know all the rules and regulations of the road. "It isn't happening. But if you do this correctly, we've won half the battle already," she said.
A survey among Cebu PUV drivers done by her team found that drivers finished either elementary or high school.
A 2007 study of the University of the Philippines Department of Psychology titled, "Application of Psychology to the Understanding and Modification of Road User Behavior," found that young male jeepney drivers with low levels of education are most prone to road crashes.
According to the study, there is a persistent bandwagon mentality among drivers who lack college education: they are most likely to commit violations when traffic enforcers are not present, and when, interestingly, they see their colleagues break road rules.
"The supposed tendency in our culture to view certain traffic laws as informal guidelines to be followed or not, depending on one's convenience rather than conscience, may also be seen as indicative of low perceived moral obligation," the study said.
But Napalang believes that though education is crucial in proper driving, one doesn't need to get formal schooling to be equipped with sufficient knowledge in traffic safety.
The Technical Education Skills and Development Authority (TESDA) offers a crash course for professional drivers. Aside from basic driving skills, it includes transporting passengers or heavy goods safely, performing necessary repairs, obeying traffic rules and calculating how best to position vehicles, among others.
Napalang suggests that the TESDA course be made a requirement for professional bus and truck drivers on top of the LTO-issued license.
Filipinos are inherently resourceful, Napalang said. "As long as there's a way out, we take it… yet when we are in other countries, Filipinos abide by rules. Why?" she asked.
Perhaps, regardless of what vehicle one drives, it is a sense of ownership that's essentially lacking.
"People really think that accidents [sic] happen to other people. Bad things only happen to other people and it will never happen to me," Napalang said.
This story is produced under the Bloomberg Initiative Global Road Safety Media Fellowship implemented by the World Health Organization, Department of Transportation and VERA Files.