VERA Files is 10 years old.
To mark our 10th anniversary, we are reposting 10 stories that mirror the group's interest and commitments.
This story was first published on June 13, 2017.
(First of three parts)
Tanay, Rizal— The landscape was turning into a blur of trees racing by, bags in the overhead compartment were starting to fall, and the stench of burnt rubber was hanging heavily in the air when 18-year-old Jerwin Abulag stood up on the aisle of the bus and clung to the back of the nearest seat.
Seated two rows ahead, 21-year-old Mary Rose "Sam" Vidal, hugged her backpack, as thoughts of her mother bringing her to school earlier that day flashed before her. She held on to the rosary she was wearing, and said a prayer to be spared from what was about to happen next.
"Hawak lang kayo (Hold on)!" Abulag heard someone shouted, as the bus hurtled down a stretch of road in Sitio Bayucan, in Tanay, Rizal. "Magdasal na kayo, mamamatay na tayo (Start praying, we're going to die)!" 19-year-old Hazel Burao heard her seatmate say.
The last thing they heard was bus driver Julian Lacorda Jr. crying out, "Sorry!"
Seconds later, Panda Coach Tours and Transport Bus 1101 No. 8, swerved to the opposite lane and smashed into an electric post before hitting a tree.
Fifteen passengers died in that crash, 10 of them right there on the spot, on that morning of Feb, 20, 2017. Three others were declared dead on arrival at Rizal Provincial Hospital in Morong town while two later died while being treated.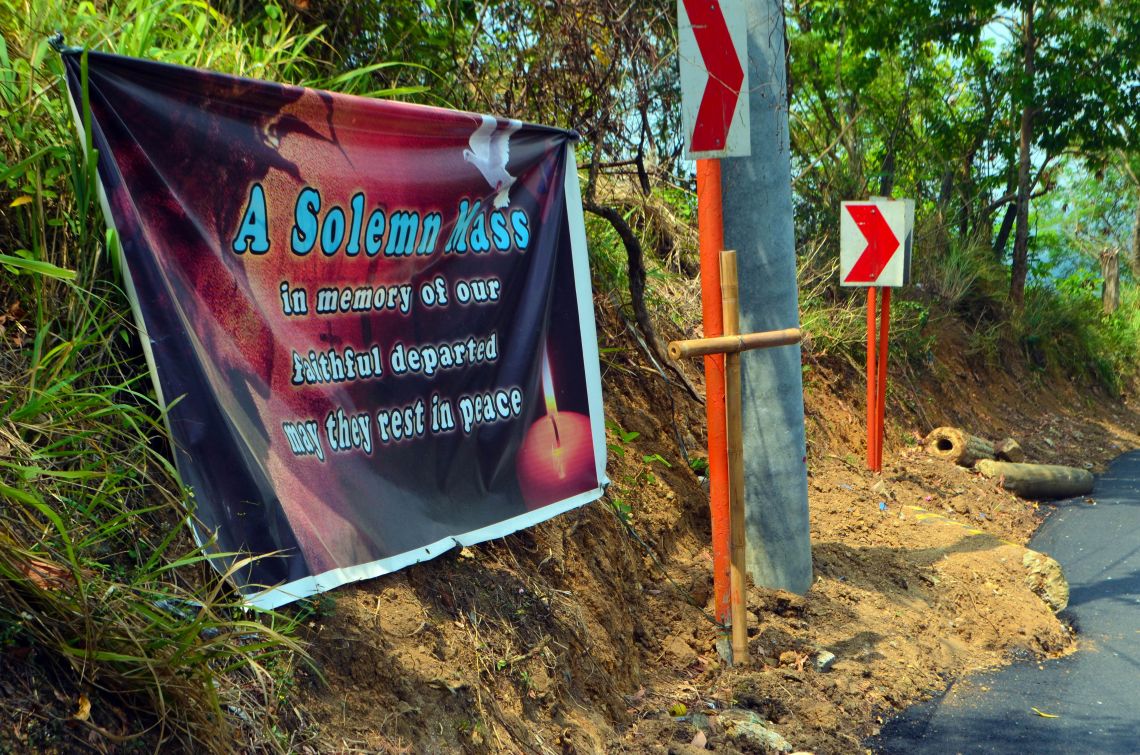 The crash site is now marked with a wooden cross and a tarpaulin for the departed.
Abulag, Vidal, Burao and her seatmate managed to survive but they and other survivors, as well as the families of those who died, are still looking for answers three months after the crash, although the official investigation has already been closed.
The cause was determined to be "human error," absolving the school, the bus companies and transportation authorities of any liability, and placing the blame squarely on Lacorda who was one of the fatalities.
But as VERA Files found out in this report, a number of factors fused to transform that Panda Bus into a deadly ride that could not easily be blamed on just one man's poor judgment.
Investigations into the crash raised questions about the actual age of the Panda bus, revealing problems in the country's vehicle registration process. Officials have admitted government lacks a fully functioning motor vehicle inspection system that would have ensured the vehicle's roadworthiness. Questions were also raised about the vehicle's brake system. And then there was the fact that the allegedly negligent driver was driving his bus through a tricky maze of hillside roads, in the absence of a teacher or person in authority who could have spoken up for the safety of the passengers.
This is not the first time such a crash has happened. In fact, the World Health Organization says the world's streets are becoming so deadly it has initiated a global campaign for Road Safety.
According to WHO, more than 1.2 million road traffic deaths occur every year globally. Road crashes are now the leading cause of death among young people, and the main cause of death for people aged 15 to 29.
WHO adds that in the Philippines, 28 Filipinos—or more than one person every hour—die every day due to road crashes.
Meanwhile, in 2014, the University of the Philippines National Center for Transportation Studies released a study that showed bus passengers are six times more likely to be in a road crash than car passengers, and five times more than the jeepneys, taxis and UV Express passengers.
But it seemed Filipinos have yet to learn the lessons from all these tragedies.
The three survivors and their classmates, all from Bestlink College of the Philippines in Novaliches, Quezon City, were on their way to a three-day leadership and survival training in Tanay, Rizal.
The training was a requirement for two of their classes—National Service Training Program and computer programming—and those who would be unable to join would have to conduct a barangay feeding program which, according to Vidal, would be more expensive than the P2,500 they paid for the Tanay trip.
For this, some 350 students were to be transported in nine buses the school rented from Haranah Tours Corporation.
Haranah general manager Jaime Tan would tell a Senate Committee hearing three weeks later his company did not have enough buses so it had to subcontract Panda Coach Tours and Transport.
On the day of their trip, 10 buses—seven from Haranah and three from Panda —arrived on campus. Plastered in front of each one were a number and a list of passengers. Abulag, Burao and Vidal were assigned to Bus No. 8, originally a Haranah bus.
But because Bestlink needed only nine buses, one of Haranah's buses, the one that had the name of the three survivors on it, had to be recalled.
"So initially, the No. 8 bus was a Haranah bus," Diosdado Lleno, vice president for administration of Bestlink College of the Philippines, told the Senate.
"May sinakyan na po kaming unang bus, 'yung may nakalagay na number 8. Tapos nung nakasakay na po kaming lahat, pinababa po kami. Hindi daw po yun kasama sa nirentahan nila (We initially boarded the first bus which has the number 8. However, when we were already inside, they asked us to get off because it was not included in the buses that they rented)," Burao said.
Because of this, Abulag, Burao, Vidal and their other classmates had to transfer from the Haranah bus to the Panda bus, which was relabeled No. 8.
As the first person to board the bus, Abulag told the others to occupy the seats on the rear of the bus. He and Vidal, however, found the seats of the Panda bus too jerky and creaky. "It was an old bus," Abulag said.
"It looked like a hearse," Vidal added, taking note of what looked like a chandelier on the bus' ceiling.
Abulag chose a seat on the second to the last row. Vidal and Burao, meanwhile, chose the driver's side of the bus opposite Abulag. Burao got a seat by the window in the middle part of the bus.
It was a long trip and the students looked for ways to entertain themselves: some were singing, some were eating, listening to music or watching movies.
Some of the survivors said they already smelled something burning halfway through their journey to Antipolo.
"Parang goma or plastic. Basta mabaho po siya eh (It's like rubber or plastic. It really smelled bad)," Burao said.
The students reported the smell to the driver who promptly ignored them.
"Parang kampante yung driver na aabot kami [sa Sacramento Valley Resort]. Doon niya na iche-check (It seemed that the driver was confident that we will reach Sacramento Valley Resort. He will check it there)," Vidal said.
The bus eventually passed by the Barangay hall of Sampaloc, Tanay, Rizal, where employees had just concluded their Monday flag-raising ceremony. They noticed the foul smell coming from the vehicle, as did tricycle drivers in the area who tried to signal the bus driver about it.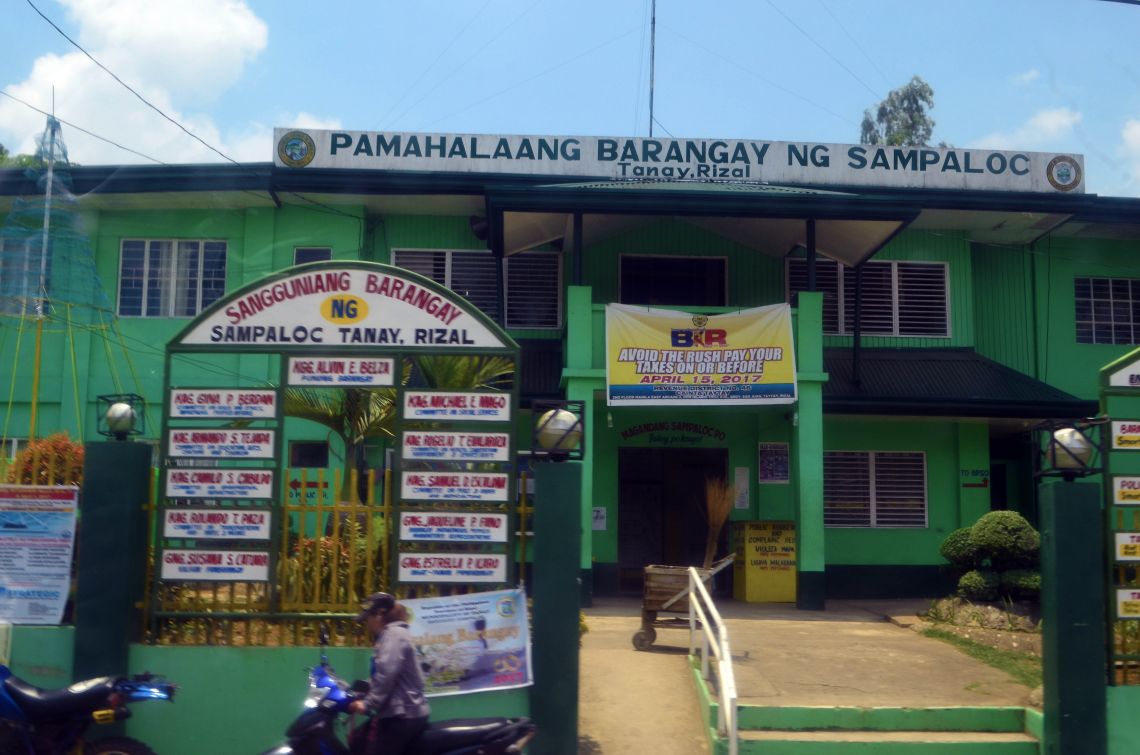 The barangay hall of Sampaloc, Tanay, Rizal.
During the Senate inquiry, students pointed to the absence of a person of authority as a factor that led to the crash.
Abulag argued that had a teacher been on board and not just class officers playing the role of authorities, the driver might have listened and stopped the bus.
In an updated incident report released by the Tanay Municipal Disaster Risk Reduction Management Office three days after the crash, a 25-year-old named Mark Dave Baday was identified as a teacher. He was later on listed as a fatality identified as "staff at Bestlink College of the Philippines" in the Tanay police's final investigation report dated March 13.
Burao and Vidal however say they only knew Baday as a student at Bestlink.
"May sinasabi po silang kasama namin yung staff pero estudyante pa rin po yun (They were saying a staff has accompanied us but he was still a student)," Burao said.
Baday's father, Danilo, said in a radio interview that Mark was a third year student at Bestlink, and was only asked to assist the freshman students for the training. He was neither a teacher nor a staffer.
As Abulag recalls, there were enough teachers to chaperone each bus that day, yet many of them rode together in another bus.
Irriz Ragua, also one of the crash survivors, said the same thing during the Senate inquiry when he was asked if some of the teachers had already gone ahead to their destination.
Abulag said he had no inkling about the danger that lay ahead. In fact, they were joking around and shouting "Whooh! Whooh!" each time the bus made sharp turns.
It was when they reached the part known as "Magnetic Hill" in Tanay that the bus descended rapidly, tilting to its sides and causing the things in the overhead compartment of the bus to fall.
That was when Vidal heard the bus driver say "Sorry, wala na tayong preno (Sorry, we already lost our brake)."
When the bus lost control, it hit the barrier positioned near the road-widening project of the Department of Public Works and Highways, and Vidal saw as it rammed a Meralco post and a tree along Sampaloc Road.
Vidal said she remained conscious through it all and witnessed how the impact caused each window to shatter one by one. Moments later, when the bus had stopped moving, she tried to crawl out but couldn't move her legs. Finally, a passerby came and helped her out, laying her down next to the other victims outside the bus.
Despite signal difficulties in the area, Vidal managed to inform the school of what happened by posting it in Bestlink's Freedom Wall on Facebook. Nobody believed her at first, until she uploaded the actual photos of the crash.
Meanwhile, both Abulag and Burao lost consciousness. When Abulag came to, he found himself on the road, outside the bus whose ceiling had been torn apart, surrounded by his classmates, some covered in blood, some already dead.
Burao, on the other hand, was still inside the bus, her feet stuck between the seats, her face covered in blood. She said three men helped her get out of the bus. She called a relative as she struggled for breath.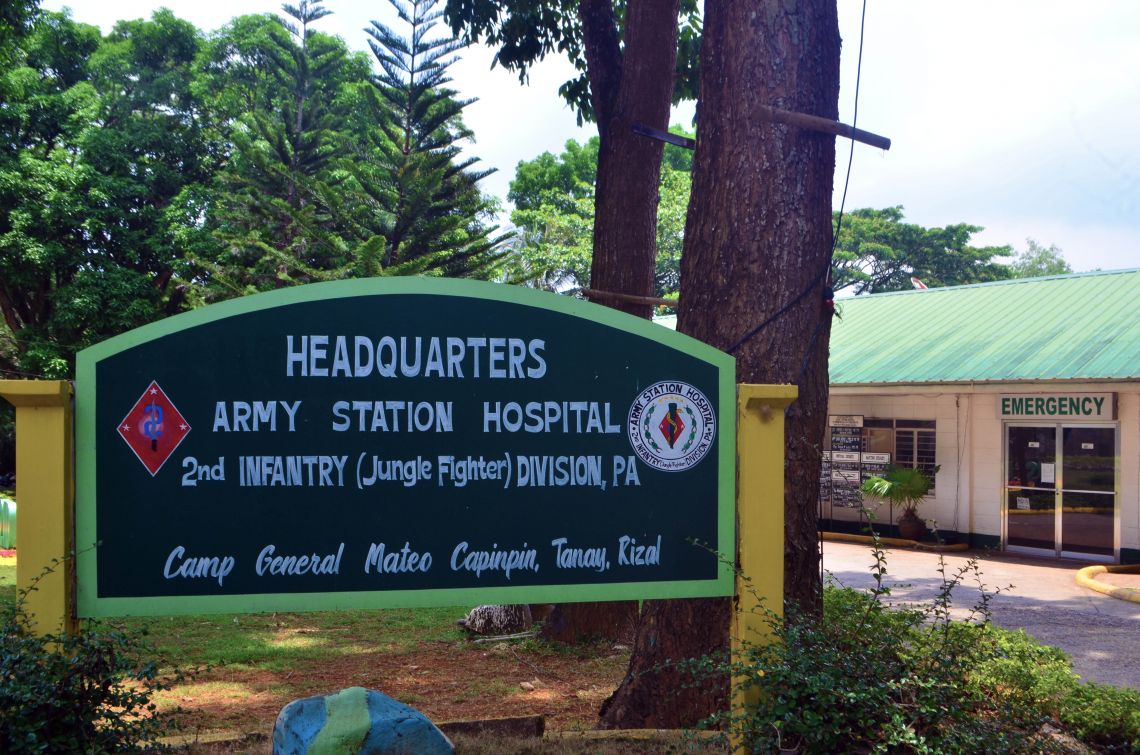 17 students were brought to the Army Station Hospital inside Camp Capinpin for initial treatment. However, one did not survive.
The first responders brought Abulag and Burao to the Army Station Hospital in Camp Capinpin, five minutes away from the crash site for first aid treatment before they were transferred to Amang Rodriguez Memorial Medical Center in Marikina.
The crash left Abulag's left arm fractured and his right face swollen, and took weeks to heal. He came home that afternoon to his waiting father.
Burao had to stay in the hospital for a week and had to undergo an operation. The doctors had to stitch the cut in her head and across her nose. The incident also deformed her left hand, requiring her to undergo four sessions of therapy upon discharge.
Meanwhile, Vidal was brought to Rizal Provincial Hospital. She thought her injuries—cuts in her right ankle—were minor, until they began to swell up a month later and she had to go to the doctor for checkup. She says she continues to feel stabs of pain on the left side of her body, especially when it's cold.
According to the spot report filed by the Tanay police, the bus had brake defects, a conclusion it reached because of the absence of skid marks on the road leading to the crash site.
In their final report released two weeks later, however, the Tanay police changed their findings to "human error" and declared the case closed since the driver was already dead.
The report was the result of a joint technical inspection between the Tanay police, the National Bureau of Investigation, the bus manufacturer Hino Motors Philippines and a road safety interest group headed by former Land Transportation Office chief Alberto Suansing.
Abulag has gone back to school only once after the crash. Burao also finds it difficult, saying going back to school makes her feel sad.
The survivors were already given a passing grade in all of their classes, according to Abulag.
"Parang pampalubag na lang nila, pampagaan ng loob sa nangyari (It was like, their way of assuaging the victims. A token to compensate for the crash)," Abulag said.
Only Vidal attended classes regularly after the incident, but not without her mother to accompany her to school.
"Takot na po akong mag-isa, takot na po akong bumiyahe (I'm scared to be alone, I'm scared to travel)," Vidal said.
On May 22, three months after the crash, Bestlink held an NSTP graduation and gave out certificates to the survivors, granting them full scholarship until they finish college. Burao said they also received medals for "being brave" during the crash.
Vidal and Burao said they received P20,000 each from Bestlink during a meeting at the Public Attorney's Office. Burao said they were made to sign a waiver saying they would no longer file a case against Bestlink once they receive the cash.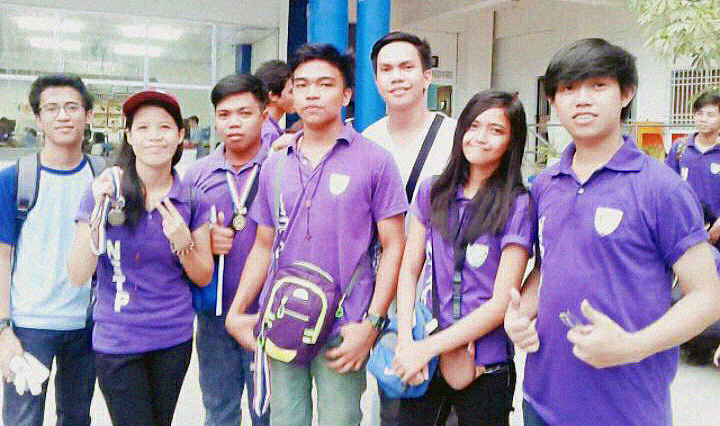 Burao (second from left), Abulag (center) and all survivors received medals during their NSTP graduation on May 22. This was given to honor their "heroism" in the crash, according to the survivors.
Bestlink also provided burial assistance to those who died, according to Vidal, and continues to pay for her medical expenses.
Burao also received P20,000 from Panda Coach Tours and Transport as well as assistance for her medical expenses.
The P20,000 is the maximum amount crash victims could receive for medical treatment under the Land Transportation Franchising and Regulatory Board's (LTFRB) 2015-2018 Enhanced Passenger Personal Accident Insurance Program.
Families of those who died should also receive P200,000 under this memorandum circular.
Although Abulag accepted the P20,000 from Panda, he refused Bestlink's offer and, together with four other survivors, filed a P10-million civil case for breach of contract of carriage against Bestlink College of the Philippines, Haranah Tours Corporations and Panda Coach Tours and Transport.
Asked why they did not file a case for damages, Burao and Vidal said surviving the crash is already something to be thankful for. "Hindi na po ako naghabol. Iniisip ko na lang po na ang importante po, buhay po ako (I have decided not to sue anyone. I think what is more important is that I am still alive)," Burao said.
Panda Coach and Transport Tours turned down VERA Files' request for an interview and said the matter had already been "settled."
It was Vidal's first time to join a "field trip" and had once aspired to become a traveler. But the experience, she said, made her realize that staying at home is a better option.
"Hindi man lang ako nakarating ng Tanay. Nakarating lang po pero hindi ako nakababa. Nakababa sa bintana (I did not even reach Tanay. Well, I did, but I was not able to get out of the bus. I did, but through the windows)," she said.
(Read the second part here.)
This story is produced under the Bloomberg Initiative Global Road Safety Media Fellowship implemented by the World Health Organization, the Department of Transportation and VERA Files.