If you've never been to Iloilo yet, what's your idea of Iloilo food? Typical answers would include the ubiquitous batchoy, pancit Molo, or the catchall seafood.
Anything else? How about trying tinuom, linagpang, binabak, or binacol?
An exhibit titled, Timplada: The Art of Ilonggo Cuisine, provides another introduction to food in the Western Visayas. It is open to visitors with prior appointments at Hulot Gallery, Iloilo Museum of Contemporary Art, Casa de Emperador, Iloilo Business Park in Mandurriao. It runs until January 2022. Online, it can be viewed at https://www.artsteps.com/…/614af71ed9e091938a4e…/560/315
Works by 10 Ilonggo artists show their own interpretations of Iloilo comfort food that ranges from vegetables, noodles and soups, grilled chicken, and a seafood dish with bamboo shoots and coconut milk.. Mostly figurative paintings, it also includes a wood sculpture, and video art on a rice cake called baye-baye.
The Ilonggo dishes depicted by these artists belong mostly to the realm of everyday cooking, reflecting the preference for simple and pure flavors from the land and the sea. And no rich sauce smothering the dish, please.
Vegetables and guinamos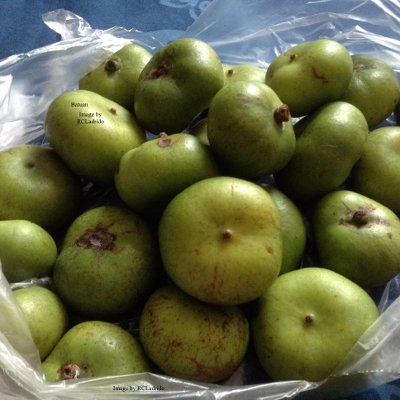 An Ilonggo's Kitchen by Noel Epalan Jr. pays homage to a popular Ilonggo stew, KBL, (kadyos, baboy, langka) that include pork, jackfruit, the dark purple beans called kadyos (pigeon peas), and batuan (Garcinia binucao), a hard green fruit often used as a souring agent in the region.
Ilonggo cooking, in general, prefers cooking without any initial sauteeing, e.g., frying onions, garlic, tomatoes, or ginger first before putting the rest of ingredients.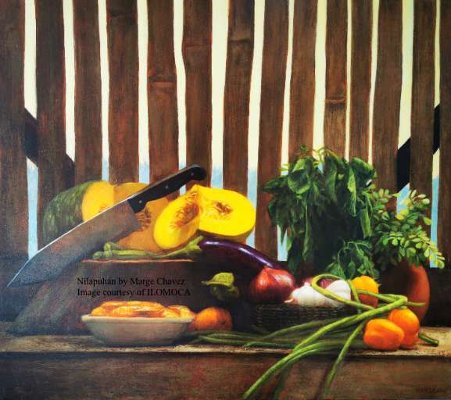 In Nilapuhan, an oil on canvas work by Marge Chavez, an array of local vegetables in making laswa are carefully laid out against a background of bamboo slats. The painting's title comes from the root word lapó, meaning to blanch.
Laswa is a medley of simmered vegetables that are cheap and highly nutritious: eggplants, alugbati (Malabar spinach), ampalaya, malunggay, tomatoes, squash, tugabang or saluyot flavored with the dry Visayan shrimp paste called guinamos. Dried fish or fresh shrimps may be added.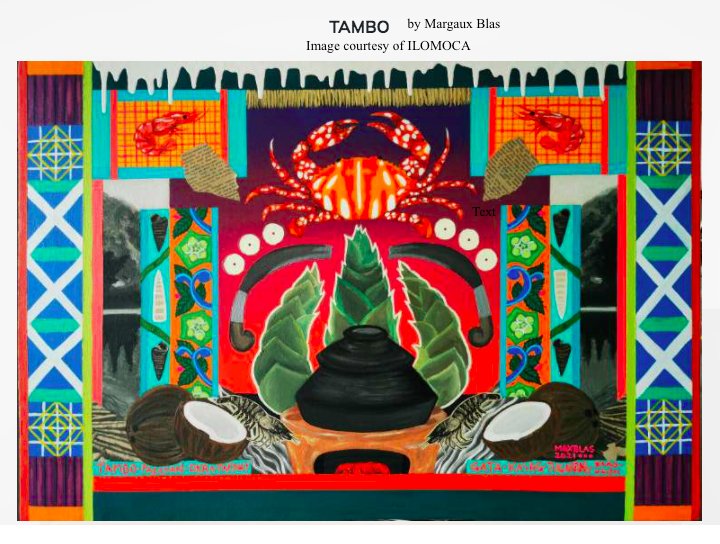 Another healthy fusion of the fruits of the land and the sea, Tambo by Margaux Blas is a vibrant work in red, orange, and green, an offering of fresh young bamboo shoots cooked in coconut milk, and flavored with crabs and shrimps.
Iloilo's public markets offer young bamboo shoots already cut, usually harvested the same day, and ready for cooking.
Soups and noodles

Among the many soup dishes in the region, Lapaz batchoy and pancit Molo remain popular. Jecko Magallon's Pancit Molo shows a hip young man proudly enjoying his soup, with its ground pork and shrimps wrapped in wonton noodles. It originated in Molo, the old site of Iloilo's parian or Chinese quarters.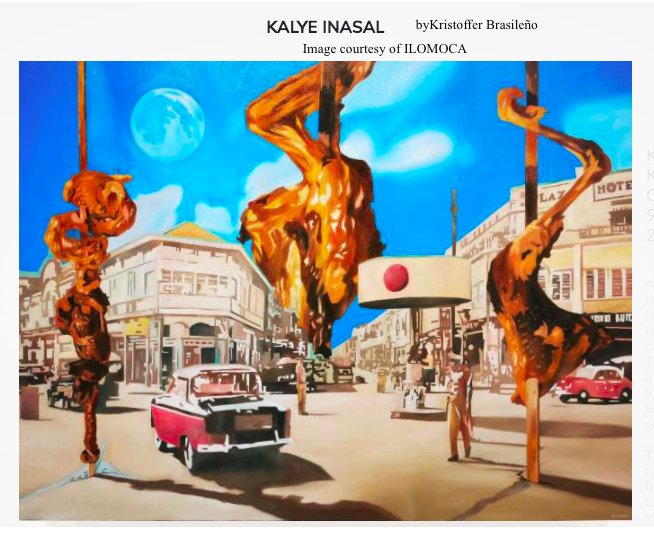 Kalye Inasal by Kristoffer Brasileño playfully shows three giant sticks of chicken inasal looming at the intersection of Iloilo's Calle Real, the old historic downtown with its early American and Art Deco buildings.
Marinated in calamansi and sinamak, a spicy coconut vinegar mix, chicken inasal has its roots in Bacolod. Its reddish orange color comes from annatto or achuete oil brushed on it while being grilled.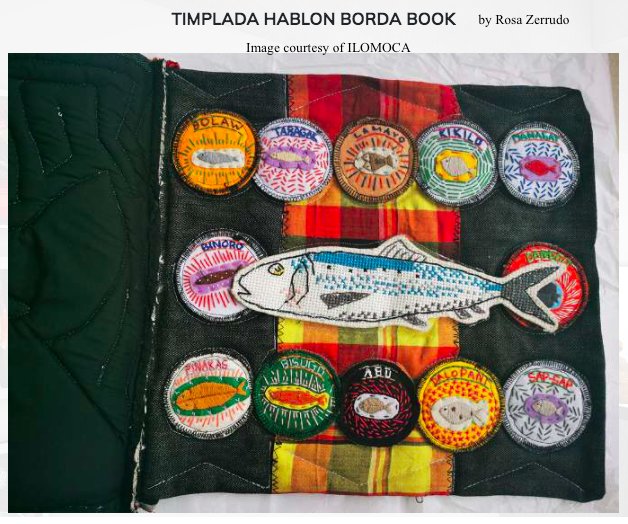 Timplada ni Inday (Timplada Hablon Burda Book) is a book-like soft sculpture using local textile and natural dyes by Rosa Zerrudo and hand embroidered by women artists and hablon weavers or persons deprived of liberty in the city.
It shows names of fish and fish preservation techniques in Hiligaynon. Some common fish include tabagak or tuyo, sapsap (ponyfish), and bisugo (threadfin bream) and traditional methods of preserving fish range from sun drying (pinakas), brining (binoro), to marinating and sun drying (lamayo).
Ibus by Jeanroll Ejar is the only wood sculpture in the exhibit; the wooden ibus with a light varnish stands vertically on a wooden cutting board.
Ibus refers to steamed rice cake cooked in coconut milk and salt wrapped in young palm leaves. Eaten with muscovado sugar and ripe mangoes, Iloilo Central Market has some vendors selling excellent ibus.
Heritage cooking

Since 2014, Iloilo City has been holding the Western Visayas Tabu-an Ilonggo Heritage Cooking Competition where contestants cook only traditional Ilonggo dishes using charcoal or wood fire.
The culinary tradition of Panay Island (Iloilo, Capiz, Aklan, Antique), Guimaras, and Negros Occidental remains rooted in its own place, its history, and its environment — all producing traditional ingredients that mark its strong food identity in the archipelago.
City of gastronomy

The exhibit is part of Iloilo City's bid for the title of Creative City of Gastronomy from the UNESCO Creative Cities Network. So far, 36 cities have been declared as Creative City of Gastronomy. It includes Ensenada, Mexico (2015), Phuket, Thailand (2015), Porto Viejo, Ecuador (2019), Hyderabad, India (2019), and Bendigo, Australia (2019).