Two versions of a fake quote about teenage pregnancy attributed to Vice President Leni Robredo resurfaced recently on Facebook (FB).
A variation of the made-up statement had been debunked by VERA Files Fact Check back in June 2020.
Both social media graphics featured a quote allegedly from Robredo that read: "Karamihan sa biktima ng teenage pregnancy ay puro kabataan kung hindi ninyo napansin/nalalaman (Most of the victims of teenage pregnancy are the youth, if you didn't notice/know).
The quote, meant to make Robredo look silly, gained hundreds of comments mocking the redundancy in the use of "teenage" and "youth".
FB search shows the spurious quote has been circulating since 2019, two years after the Office of the Vice President launched a teenage pregnancy awareness initiative called Babaenihan Campaign in partnership with the United Nations Population Fund.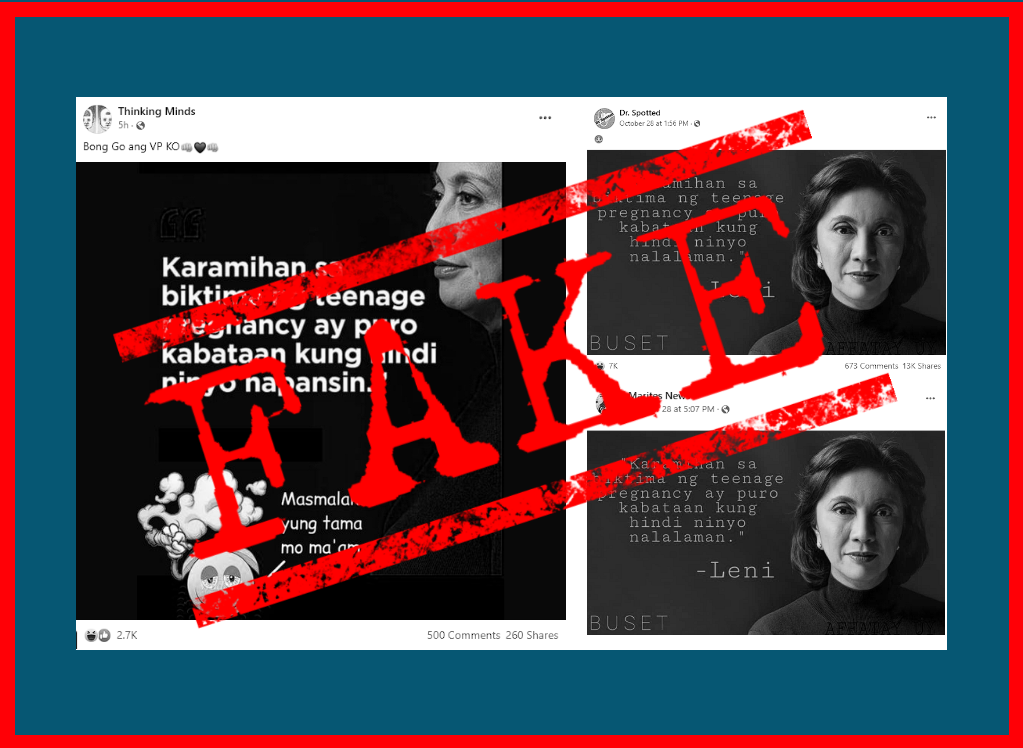 The fake quote card was uploaded by Facebook (FB) pages Dr. Spotted and Marites News on Oct. 28, or two days after Robredo made a controversial comment on vote buying. Both copies had a combined total of around 54,800 interactions.
Meanwhile, another fabricated graphic posted by FB page Thinking Minds appeared on Nov. 4, a day after the vice president unveiled her plans to address COVID-19 in the country. This garnered over 3,460 interactions.
Dr. Spotted, originally named Davao Region Spotted, was created in August 2018. Thinking Minds, formerly named Raymond's Random Thoughts, was created in November 2012, while Marites News emerged in June 2021.
Have you seen any dubious claims, photos, memes, or online posts that you want us to verify? Fill out this reader request form.
(Editor's Note: VERA Files has partnered with Facebook to fight the spread of disinformation. Find out more about this partnership and our methodology.)