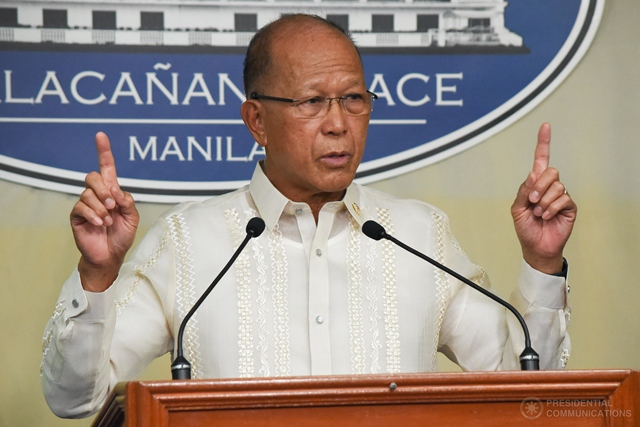 Defense Secretary Delfin Lorenzana provides updates on the operations against the terrorists in Marawi City during a press briefing in Malacañang on June 1, 2017.
More than 300 alleged members and supporters of the Maute, Abu Sayyaf and other militant groups have been ordered arrested for rebellion by the Department of National Defense, following the declaration of martial law in Mindanao.
The most recent arrests include Cayamora and Farhana Maute, parents of terror leaders behind the Marawi siege. On June 15, Metro Manila Police Chief Oscar Albayalde said both are detained at Camp Bagong Diwa for rebellion.
On May 29, Defense Secretary and martial law administrator Delfin Lorenzana issued Arrest Order No. 1.
A second arrest order was released June 8, which included members of the Bangsamoro Islamic Freedom Fighters and Maguid Group, previously reported to have pledged allegiance to Islamic State (ISIS) group.
Both arrest orders maintain that terroristic activities such as killings, kidnappings and bombings orchestrated by these terror groups form grounds for rebellion.
STATEMENT
"In connection with their having been identified as members/supporters/spies/couriers of the Maute group or the Abu Sayyaf Group and known as perpetrators/supporters/spies/couriers for indiscriminately killing, kidnapping, perpetuate (sic) bombings in Marawi City and other parts of Mindanao, sowing terror to the populace and agreed upon by them and prompted by common designs, come to an agreement and decision to commit the crime of rebellion by then and there participating therein and publicly taking arms against the duly constituted authorities for the purpose of removing Mindanao from the territory of the Republic of the Philippines or its laws by establishing an independent Islamic State and/or deprive the Chief Executive of his powers and prerogative as President of the Republic."

(Source: Department of National Defense Arrest Order No. 1)
FACTS

What is an arrest order?
An arrest order is a document issued by the Department of National Defense instructing the armed forces and other law enforcement groups to take into custody people accused of rebellion or invasion.
Following the declaration of martial law in Mindanao, President Rodrigo Duterte, through General Order No. 1, ordered the Armed Forces of the Philippines and other law enforcement groups to "immediately arrest persons and groups who have committed, are committing, or attempting to commit (acts of rebellion and lawless violence in Mindanao)."
Signed by Duterte on May 30, General Order No. 1 lays down directives on the implementation of Proclamation No. 216, which placed the entire Mindanao under martial rule.
What is the difference between an arrest order and an arrest warrant?
An arrest warrant may be issued by the Regional Trial Court or Municipal Trial Court to direct the arrest of a person accused of a crime within 10 days after a complaint is filed if the court finds probable cause, according to Section 6, Rule 112 of the Revised Rules on Criminal Procedure.
An arrest order, meanwhile, is a mere formality required by the chain of command since the government may arrest without warrant those suspected of involvement in rebellion, lawyer Romel Bagares of the Center for International law told VERA Files.
How long are the two arrest orders valid?
Arrest Orders No. 1 and 2 did not indicate a specific validity period. In Umil vs. Ramos (GR No. 81567), the high court ruled that rebellion or insurrection is a continuing offense.
Unlike other "common" offenses such as adultery, murder and arson, rebellion and subversion are anchored on an ideological base that compels the repetition of acts of lawlessness and violence until the goal of overthrowing organized government is attained.
Because it is a continuing crime, a person committing the crime of rebellion may be arrested without a warrant. This in effect makes the arrest order, which is a mere formality, valid until served.
Like arrest warrants, arrest orders are valid until they are served or recalled.
In issuing arrest warrants, the arresting officer must serve the warrant within 10 days from receipt, otherwise, the officer shall make a report to the judge who issued the warrant within 10 days why he failed to do so and arrest the accused.
According to Section 18, Article VII of the 1987 Constitution, personalities arrested or detained should be judicially charged within three days after their arrest. Else, they will have to be released.
What constitutes rebellion according to Philippine laws?
Rebellion or insurrection "is committed by rising publicly and taking arms against the government for the purpose of removing from the allegiance to the government or its laws, the territory of the Philippine Islands or any part thereof, of any body of land, naval or other armed forces, depriving the Chief Executive or the Legislature, wholly or partially, of any of their powers or prerogatives," according to the Revised Penal Code, as amended by Republic Act No. 6968.
This was the definition adopted by the Duterte administration in the arrest orders, as well as in Proclamation No. 216, which placed all of Mindanao under martial rule.
Fr. Joaquin G. Bernas, one of the framers of the 1987 Constitution, however, argued that rebellion as defined in the Revised Penal Code is different from rebellion in constitutional law.
"The Penal Code seeks to deter and punish; the Article VII, Section 18 of the Constitution seeks to maintain public safety," he wrote in a 2009 column.
What bases for rebellion were cited in the arrest orders?
Both arrest orders cite sowing terror to the public by "indiscriminately killing, kidnapping, and perpetuate [sic] bombings in Marawi City and other parts of Mindanao," ultimately to establish an independent Islamic State.
Petitioners challenging the
validity of declaring martial law in Mindanao told the Supreme Court
during the oral arguments on June 13 that "acts of terrorism are not
necessarily equal to acts of rebellion."
Albay Rep. Edcel Lagman,
who led group of opposition congressmen in the petition, said the
elements of rebellion were not present in the Marawi conflict.
"The mere act of raising the ISIS flag is not indicative of rebellion in Marawi; it is chief propaganda," Lagman said.
Is rebellion considered a separate crime from killings, kidnappings and bombings, then?
It depends on the motive.
Bernas, in his 2009 column, said rebellion absorbs murder if murder was committed in furtherance of rebellion. Otherwise, it is a separate crime, for instance when done to further reelection or other motives, Bernas said.
In the case of Marawi, Lagman said no less than Justice Secretary Vitaliano Aguirre "admitted that acts of terrorism do not automatically constitute rebellion. It is for this reason that the Human Security Act of 2007 was enacted to punish acts of terrorism."
Rebellion, murder, kidnapping and serious illegal detention, and crimes involving destruction such as arson are among those that characterize terroristic activities, under the Human Security Act of 2007.
The law defines terrorism as the act of committing certain crimes for the purpose of "sowing and creating a condition of widespread and extraordinary fear and panic among the populace, in order to coerce the government to give in to an unlawful demand."
Other crimes include:
· Piracy in general and mutiny in the High Seas or in the Philippine waters
· Coup d' etat
· Crimes involving Destruction, or under:
Presidential Decree No. 1613 (The Law on Arson);
Republic Act No. 6969 (Toxic Substances and Hazardous and Nuclear Waste Control Act of 1990);
Republic Act No. 5207, (Atomic Energy Regulatory and Liability Act of 1968);
Republic Act No. 6235 (Anti-Hijacking Law);
Presidential Decree No. 532 (Anti-Piracy and Anti-Highway Robbery Law of 1974); and,
Presidential Decree No. 1866, as amended (Decree Codifying the Laws on Illegal and Unlawful Possession, Manufacture, Dealing in, Acquisition or Disposition of Firearms, Ammunitions or Explosives)
BACKSTORY
Arrest orders during the dictatorship of Ferdinand Marcos came in the form of Arrest, Search and Seizure Orders (ASSO) and the Preventive Detention Action (PDA).
A day after he placed the country under martial law on Sept. 21, 1972, Marcos ordered the defense minister to arrest certain individuals, through General Order No. 2, s. 1972.
In 1977, he issued General Order No. 60 to limit the scope of the ASSO to offenses falling within the exclusive jurisdiction of military tribunals.
Claiming there had been persisting endeavors to overthrow the government, Marcos issued Presidential Decree No. 1877 in 1983 allowing for a "preventive detention action (PDA)" against those accused of rebellion, insurrection, subversion and conspiracy, before a proper warrant could be obtained.
Heads of the military seek a PDA against the accused persons when they are perceived to escape or commit further crimes that would endanger public safety as well as the stability of the state.
Sources:
Act No. 3815, s. 1930 or the Revised Penal Code
Bernas, Fr. Joaquin (2009). After Martial Law, what? Philippine Daily Inquirer
People of the Philippines vs. Geronimo (GR No. 8936)
Presidential Decree No. 1877, s. 1983
Republic Act No. 9372 or The Human Security Act of 2007
Revised Rules of Criminal Procedure
Saturnino Ocampo, et al. vs. Military Commission No. 25 et al. (GR No. 50155)
The 1987 Constitution of the Republic of the Philippines
CNN Philippines: Mother of Maute leaders detained in Metro Manila – PNP